Last Updated on February 10, 2023 by Dexter Roona
The new Ant-Man and The Wasp Quantumania trailer has dropped and that means we have new Ant-Man and The Wasp Quantumania Funko Pops on the way.
We finally have a trailer for director Peyton Reed's Ant-Man and the Wasp Quantumania Ant-Mans third solo movie outing where we delve deep into the Quantum Realm.
Paul Rudd -Ant-Man, Evangeline Lilly -The Wasp, Michelle Pfeiffer – Janet van Dyne, and Michael Douglas – Hank Pym, return with Johnathan Majors giving us our first glimpse of Kang the Conqueror.
Kang the Conqueror was first introduced in the Disney+ Marvel series Loki and will also play a big part in the forthcoming Avengers: The Kang Dynasty and Secret Wars.
Of course, there will be a bunch of new Marvel Ant-Man and Wasp Funko Pops released but until they are confirmed by Funko it's just speculation on my part. But it is safe to say we will get all new versions of Ant-Man and the Wasp in Funko Pop form. There will be at least one new Kang the Conqueror Funko Pop as well as an initial wave. But we won't see too many Pops until we get more trailers and much closer to the release of the movie so as not to give away any spoilers.
NB: This Funko Pops, Leaks, and Rumors post does contain product affiliate links. If you click a link and make a purchase then AFG may make a very small profit.
Get a 10% Discount on all in-stock items and Free postage on orders over $39.99
Ant-Man and The Wasp Quantumania Funko Pops
Here are the Pops we think are on the way. Images in this article are just mock-ups.
Ant-Man and The Wasp Quantumania Funko Pop
Here are all the possible Quantumania Funko Pops so far.
Scott Lang – Ant-man Funko Pop
The Wasp Funko Pop
Kang the Conqueror Funko Pop
Cassandra Lang Funko Pop
Janet van Dyne
Hank Pym
Modok
Our heroes are accidentally sucked into the Quantum Realm and become trapped in a microscopic world danger where time and space warp and intersect with other universes. The Quantum Realm is what makes travel across the Multiverse possible.
We have seen very little of the Quantum Real in the MCU so far. We explored it to a degree in Avengers: Endgame when the Avengers traveled back in time to collect the Infinity Stones. But Hope van Dyne is an expert in this expansive realm having been trapped there for decades of our time.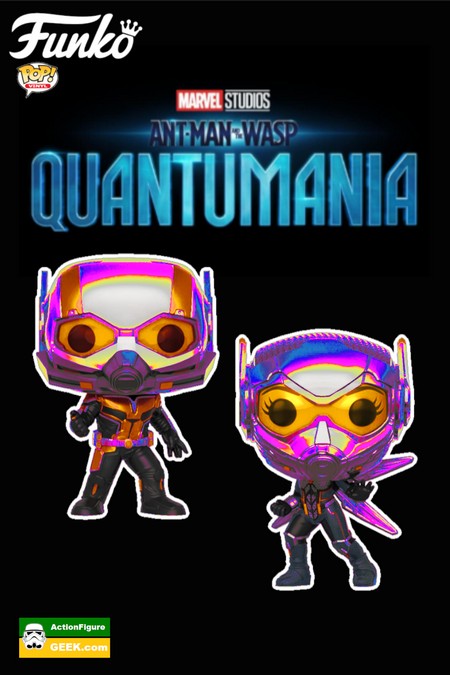 Not too much of what to expect is given away by the trailer but comic book fans will know Kang the Conqueror is a relative of Victor von Doom, aka Doctor Doom from the Fantastic 4.
So could we get some stage setting for the new Fantastic 4 movie that is coming?
Maybe as a post-credit scene?
But here is what we do know. Ant-Man and the Wasp Quantumania Spoilers Ahead!
Kang kidnaps Scott Lang's daughter Cassie.
In order for her to be returned Scott must steal the power source to Kangs Time Chair that was in turn stolen from him by Janet van Dyne who stole it from Kang during her time in the Quantum Realm.
The Time Chair is a device that allows its occupant to travel through time and space causing havoc in the universe.
Scott Lang along with Kangs righthand man Modok must retrieve the power source to save Cassie but can power source has been stolen for a very good reason. To stop Kang the Conqueror from taking over the universe.
Will you be buying any of the Ant-Man and The Wasp Quantumania Funko Pops when they are released?
Which other Marvel Funko Pops do you collect?
I really like the new Star-Lord and Groot Holiday Special Funko Pop. And the Beyond Amazing Spider-Man 5-pack is great as well.
But what Marvel Funko Pops do you like?
Let me know in the comments below.
And if you have enjoyed this rumors and leaks post then be sure to check out my Lyle, Lyle Crocodile Funko Pops post, it is a movie that we recommend, and also take a look at the Eric Killmonger Wakanda Forever Funko Pop rumor.
Regards
AFG