Last Updated on May 26, 2023 by Dexter Roona
It has been a while since we have seen any new Avatar The Last Airbender Funko Pops released but today we can bring you the new Avatar The Last Airbender Katara Metallic GITD Funko Pop. Here is everything you need to know about this new release and the best online Funko retailers to buy it from.
The Katara Metallic Funko Pop is a pretty stunning vinyl figure. She is posed using her waterbending effect that glows in the dark. There is a Volcano X  Warehouse Exclusive. You can also pick her up as an overseas Special Edition and there is also a sticker less common as you can see by the images below.
NB: This Katara Funko Pop article does contain product affiliate links. If you click a link and make a purchase then AFG may make a very small commission at no cost to you.
1130 Avatar: The Last Airbender – Katara Metallic and Glow-In-the Dark (GITD) Funko Pop Vinyl Figure
As you can see there are 3 versions of this cool Pop. They are all the same apart from the stickers.
Avatar: The Last Airbender
If you haven't seen Avatar: The Last Airbender, then where have you been. My son recently watched every episode and what did he do when he had finished? … he watched them all again.
Aang and his friends give you everything you could want in an animated series. There are masses of action and adventure. There is some subtle comedy thrown into the mix and there is even a little romance.
Avatar The Last Airbender is unlike anything else on television, and the stories are just as fascinating.
The characters are extremely likable and t.he story and the plot are engaging for the old and young alike. With the advances in CGI, there is the opportunity to make a really good live-action movie or TV series. There is a movie already, but it is not the best and we would love to see a new updated version.
Katara is a young woman. She is independent and strong. She has faced many difficult challenges in her young life. The Southern Water Tribe village where she grew up was sadly destroyed by the Fire Nation. Katara and her brother Sokka were the only survivors.
Since the loss of her home and village, Katara has used her time wisely and dedicated her life to becoming a very powerful waterbender with the goal of protecting others so as to not suffer the same hardships she and Sokka have had to endure.
Her story arc leads her to meet Aang, the Avatar who has the ability to bend all four elements. Together they set out to defeat the Fire Lord and restore peace to the lands.
The Katara Metallic GITD Funko Pop joins a long list of Last Airbender Pops that have been released.
Here are three of our favorite Avatar The Last Airbender Funko Pops
534 Aang with Momo Funko Pop Vinyl
The first Pop that Funko created for the Avatar series is probably our fav. We just love the action pose, there is just lots going on and the addition of Momo on Aangs head is cool. This is a stand-out Pop for us here at AFG.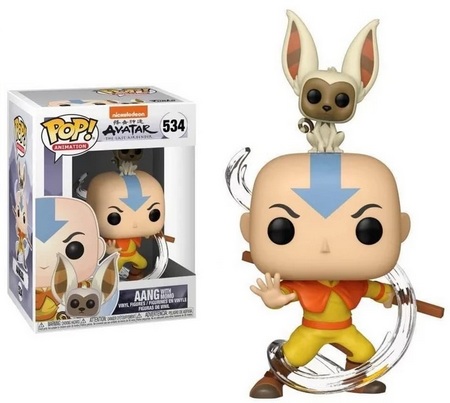 Price Check – Amazon
535 Katara Funko Pop Vinyl Figure
We love this early Katara Pop. This version is simpler than the Katara Metallic GITD Funko Pop but just as good and it's great to see how different the early Pops look to the new versions.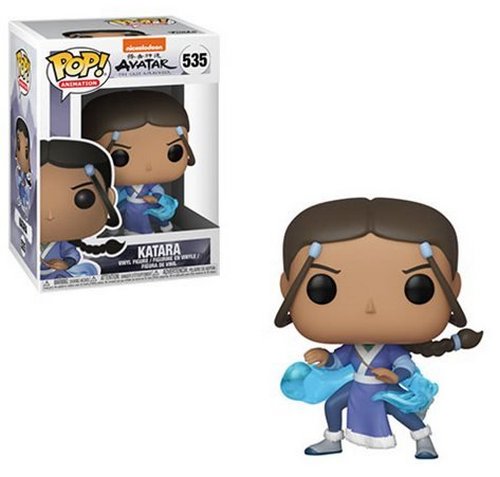 Price Check – Amazon
838 Zuko GITD – BoxLunch Exclusive
Zuko is a Fire Nation royal and firebending master. He reigned as Fire Lord from 100 AG until his abdication in 167 AG. And he makes a pretty cool Pop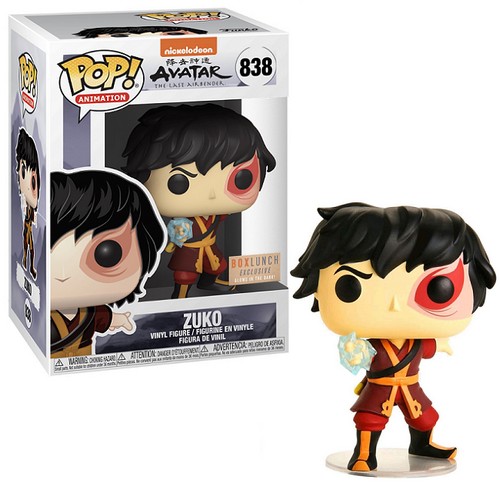 Price Check – Amazon
Exclusives and Special Editions – eBay 
So are you an Avatar fan?
Will you be buying the Avatar: The Last Airbender – Katara Metallic and Glow-In-the Dark (GITD) Funko Pop Vinyl Figure?
Which other Pops do you collect?
We really love all the anime series with the Cowboy Bebop Pops and the Full Metal Alchemist Pops being among our favorites.
Let us know what you think in the comments section below. We would love to hear from you.
Regards
AFG