Last Updated on December 15, 2022 by Dexter Roona
Today we return to one of my favorite anime, Attack on Titan and bring you Funko news on the new Attack on Titan – Cart Titan Funko Pop! Vinyl Figure – Specialty Series Exclusive.
The AOT – Attack on Titan anime series is filled with the most terrifying and ghastly titans, but none are more fearsome or strange than the Cart Titan.
This oddly grotesque abomination looks like a typical shopping cart with a pair of legs, that terrorizes anyone in its path.
When the Cart Titan is on the rampage buildings crumble and crash to the ground, and panic ensues as the town folk rush to safety.
It's an absurd anime idea to have a Titan that is half-cart barreling down the street that puts a very unexpected comedic spin on what is otherwise a very seriously intense anime.
NB: Disclaimer – This new 2022 Attack on Titan – Cart Titan Funko Pop! Vinyl Figure – Specialty Series Exclusive article contains product affiliate links. If you click a link and make a purchase then Action Figure Geek may make a very small commission at no cost to you.
1290 Attack on Titan – Cart Titan Funko Pop! – Specialty Series Exclusive
The Cart Titan Specialty Exclusive is a great AOT Funko and a very welcome addition to the existing Attack on Titan Funko Pop Figures that are available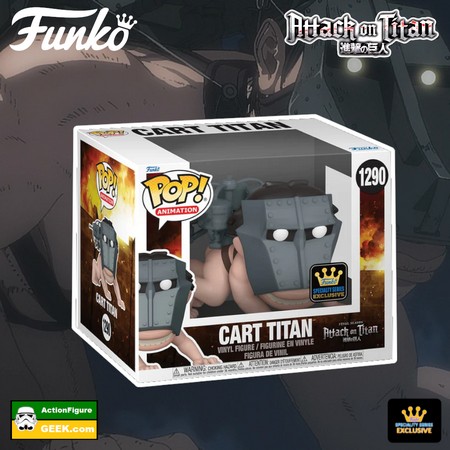 Shop for the Specialty Series Exclusive, Cart Titan Funko Pop! on the links below:
The story of the Attack on Titan anime is based on the Shingeki no Kyojin manga. With each subsequent episode, the creatures gain more and more depth, aa the story shows itself over the course of the production.
Attack on Titan was created by Hajime Isayama and follows Eren Yeager who is on a mission to save humanity, from the humanoid Titans who like nothing more than to devour human beings without mercy at will.
Episode 1 of AOT reveals that the Titans have no real consciousness and seem to only want to devour humans. But as the anime story moves forward we discover the existence of Titans with intelligence that are even more evil such as the Armored, Colossal, Female, and Beast Titans.
The first season of Attack on Titan also reveals that our hero Eren Yeager has the power to transform into one of those sentient Titans, the Attack one. Eren acquired the ability when his father, Grisha, gave him an injection that installed his transformation ability.
Before the AOT story begins Ymir Fritz made a pact with the Devil to discover the source of all organic materials. This pact gave her the power of the Titans and she became known as the Primordial Titan. When Ymir died her soul split into nine and created nine titans, Founder, Female, Attack, Colossal, Armored, Beast, Jaw, War Hammer, and our featured Cart Titan Funko Pop!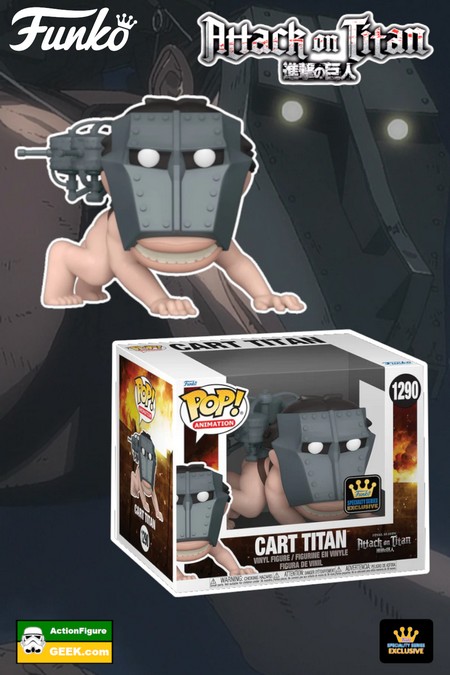 Are you an Attack of Titan Funko Pops fan?
Which AOT Pops are your favorites?
Which other anime Pops do you collect?
I am a big fan of the Jujutsu Kaisen – Yuji Itadori with Sukuna Mouth Funko Pop and the Tokyo Ghoul Funko Pops.
But what do you like?
Let me know in the comments below.
Regards
AFG
Looking to add some new Funko Pops to your collection? Get a 10% discount on all in-stock items at Entertainment Earth and free postage on orders over $39.99 with our AFGEEK Entertainment Earth Discount