Last Updated on March 8, 2023 by Dexter Roona
Your collection needs a Legend and that is exactly what it gets when you buy the new Chicago Bulls – Michael Jordan Funko Pop in his famous 45 Jersey. Here is all the Funko Pop news and info that you need and the best online retailers to buy him from.
Michael Jordan is a legend of his time and is highly regarded as the best NBA player ever. Now Funko Pop immortalizes the Chicago Bulls Hero with this new Basketball: Chicago Bulls – Michael Jordan in 45 Jersey Funko Pop! Vinyl Figure – Funko Shop Exclusive.
NB: This new Chicago Bulls – Michael Jordan Funko Pop article contains product affiliate links. If you click a link and make a purchase then AFG may make a very small commission at no cost to.
Chicago Bulls – Michael Jordan Funko Pop! 
The Michael Jordan Funko Pop figure features Jordan in his red Chicago Bulls away uniform, complete with the number 45 on the jersey which he switched to from 23 after his return to the NBA after an absence.
The figure stands at approximately 3.75 inches tall and comes in a window display box, making it the perfect addition to any fan's collection.
Available as a Funko Shop Exclusive.
Shopping Guide
You can buy the Chicago Bulls – Michael Jordan Funko Pop! figure at the following retailers:

Entertainment Earth is offering a very generous 10% discount on all in-stock items with free postage and packaging on all orders you make totaling over $39.99. You can claim this discount by clicking here – AFGEEK discount. 

If you would like more information about this discount then please refer to our Entertainment Earth Discount page.
Michael Jordan: The Greatest of All Time
When it comes to basketball, Michael Jordan is undoubtedly one of the most iconic and influential players of all time. Known for his incredible talent, competitive spirit, and winning mindset, Jordan has left a lasting legacy on the sport and beyond.
One way that fans can celebrate Jordan's legacy is through the world of collectibles. One of the newest additions to the Michael Jordan collectibles market is the Funko Pop figure such as the new Chicago Bulls – Michael Jordan Funko Pop! that we feature today.
Funko Pop figures are vinyl collectibles that are popular among collectors of all ages. They feature a wide variety of characters from popular culture, including movies, TV shows, and sports stars.
This new Michael Jordan Pop figure is a new addition to the collection and is already in high demand among fans.
But just how many Funko Pops does Michael Jordan have?
The answer is quite a few.
Some of the other versions include Jordan in his North Carolina Tar Heels uniform, Jordan in his Team USA uniform, and Jordan in a black Chicago Bulls uniform.
The full Michael Jordan Funko Pop Checklist to date is below:
54 Michael Jordan – Chicago Bulls and Michael Jordan Bronzed – Foot Locker Exclusive
55 Michael Jordan – Bulls Black – Fanatics Exclusive
56 Michael Jordan – Bulls Red – Target Exclusive 
71 Michael Jordan '96 All-Star – Upper Deck
73 Michael Jordan Home – UNC Tar Heels – Walmart Exclusive
74 Michael Jordan Away – UNC Tar Heels
75 Michael Jordan Warmups – UNC Tar Heels and Michael Jordan 10″ – Bulls Red
76 Michael Jordan 10″ – Bulls White – Foot Locker Exclusive
84 Michael Jordan – Bulls Red Warmup – Fanatics and Michael Jordan Bulls – White Warmup – Target Exclusive
100 Michael Jordan – All-Star Game – FunkoShop Exclusive
114 Michael Jordan – USA 1992 White – Target Exclusive
115 Michael Jordan – USA 1992 Navy – Foot Locker Exclusive
117 Michael Jordan – USA 1992 Navy 10″ – Walmart
126 Michael Jordan – Bulls #45 – Bait and  Michael Jordan – Bulls Pinstripes – Foot Locker and also Michael Jordan – Bulls #12 – Upper Deck
137 Michael Jordan – 1998 NBA All-Star
149 Michael Jordan – Bulls #45 – Funko Exclusive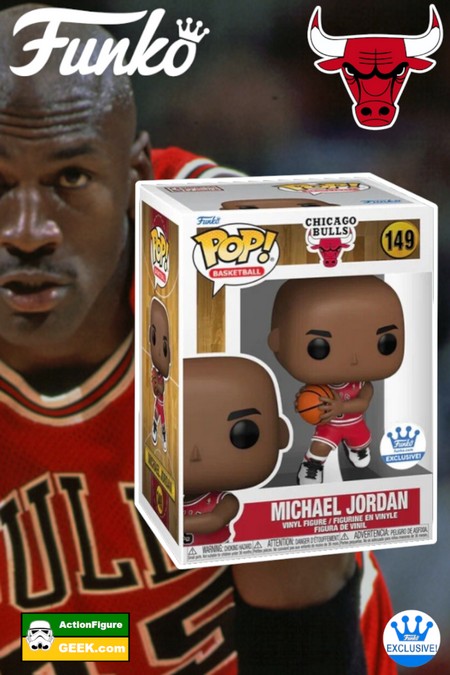 AFGeek Blog: