Last Updated on June 23, 2022 by Dexter Roona
Welcome to our AFG Cobra Kai Funko Pop Figures Checklist and Buyers Guide.
The Cobra Kai series is a spin-off of the original Karate Kid movies.
The Cobra Kai timeline jumps forward and gives us grown-up versions of Daniel and Johnny. The roles have reversed with Johnny down on his luck while Daniel is the successful businessman and owner of Larusso Autos.
Funko has so far produced only two Cobra Kai Pop figures which is nowhere near enough considering we are into Season 4 of this popular show.
There are so many cool characters missing from the lineup. Sam, Hawk, Miguel, Demitri, Tory, Robbie, and the rest of the gang are all missing from the Cobra Kai Figures roster.
What is going on Funko?
Cobra Kai Funko Pop Figures  Checklist
Here are the Pops that are available for the Karate Kid spin-off TV show Cobra Kai of which there are nowhere near enough!
970 Johnny Lawrence
971 Daniel LaRusso
NB: This Cobra Kai Funko Pop Checklist does contain some affiliate links. If you click on a link and make a purchase then we might make a small commission at no cost to yourself.
Cobra Kai Funko Pop Figures Buyers Guide and Gallery
Here are the Cobra Kai Pop figures that have been produced so far.
Funko Pop Cobra Kai – 970 Johnny Lawrence Funko Pop Vinyl
Johnny is now much older. He is down on his luck, jobless, and drinking too much.
This Pops likeness to the character is great.
A strong buy-and-hold if you are a Cobra Kai fan.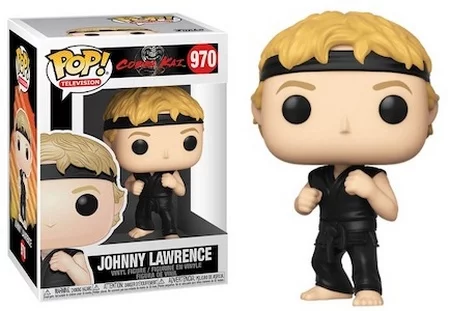 Price Check – Amazon
Price Check – eBay
Cobra Kai Funko Pop – 971 Daniel Larusso Funko Pop Vinyl
You can't have the Johnny Lawrence Pop and not buy the Daniel Larusso Pop.
Also a strong buy and hold. If more Cobra Kai Pops are released the Daniel Larusso 971 will become a very collectible Pop.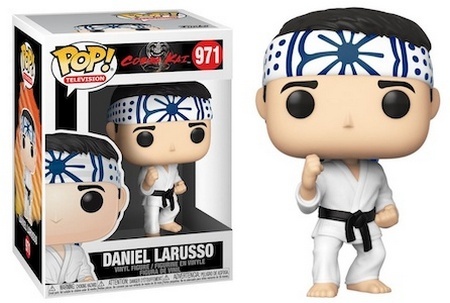 Price Check – Amazon
Price Check – eBay
So have you watched any of the Cobra Kai series? Do you own these Cobra Kai Pops already?
Which Tv show Pops are in your collection? We will be adding the House of the Dragon Pops to ours!
Let us know in the comments section below.
Regards AFG