Last Updated on January 24, 2022 by Dexter Roona
Welcome to our Death Note Funko Pop Figures Checklist and Buyers Guide. Here you will find all the great Pops that have been released for this popular anime series and the best places to buy them.
The incredibly popular Death Note anime is based on the Japanese manga series of the same name and follows high school student Light Yagami who discovers a strange  notebook known as the "Death Note."
The Death Note allows its holder to kill anyone they want to by simply writing their name inside the pages of the book.
The Death Note Funko Pop figures lineup of course features Light wearing a white shirt, tie, and coat, holding the book of death the Death Note. We have a really sinister Ryuk Pop holding a red apple. and we also have two versions of L one of which is a Hot Topic Exclusive.
All these Death Note Pops are now vaulted so the best place to pick them up is probably eBay.
Death Note Funko Pop Figures Checklist
216 Light
217 Ryuk
218 L and L (with Cake) – Hot Topic Exclusive
NB: This Death Note Anime Pop List does contain some affiliate links. Any purchase made as a result of clicking an affiliate may generate a small commission for AFG
Funko Pop Death Note Buyers Guide and Gallery
Here are all the Pops that are available from the anime series, non have been produced for the live-action movie that was made.
Death Note Funko Pop 216 Light Yagami Figure
Here we have Light Yagami wearing his coat/blazer, holding the Death Note.
Really strong buy if you are a Pop collector or anime fan, but its vaulted status will mean he won't be that cheap.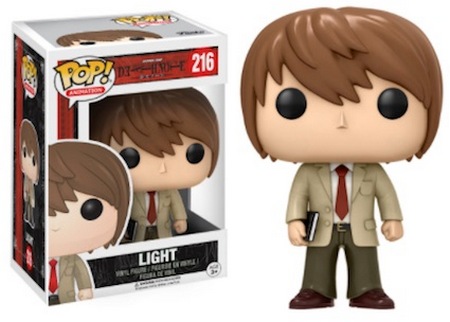 Price Check – eBay
217 Ryuk Funko Pop Figure
Ryuk kind of reminds us of Pennywise from the It Pops.
He stands tall with his sinister grin holding an apple.
This Death Note Pop is a strong buy-and-hold.
Vaulted Pop.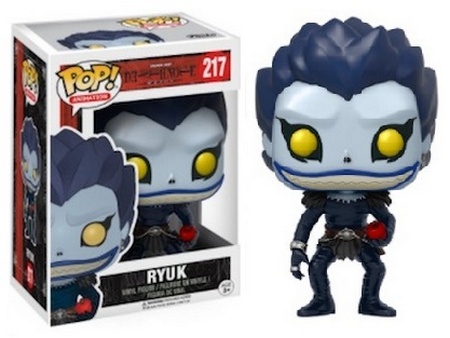 Price Check – eBay
Funko Pop 218 L and L (with Cake) – Hot Topic Exclusive
L is barefoot with black hair swept across his face wearing his blue jeans and long sleeve shirt.
The Hot Topic exclusive has him in the same clothes but this time he is sitting holding a small plate with some cake with a fork in his mouth.
Both versions of L are strong buys.
Vaulted Pops.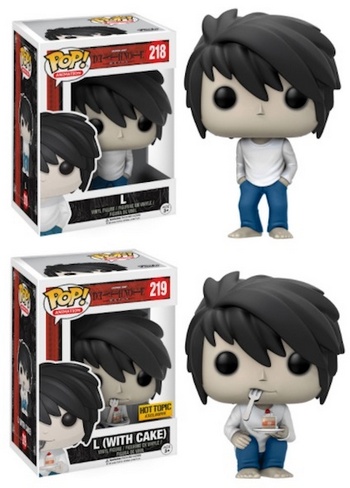 Price Check – eBay
There you have it all the Death Note Funko Pops that have been released, not enough in our opinion.
Do you own any of these cool anime Pops?
Perhaps you prefer the Naruto Pops or the Tokyo Ghoul Pops?
Let us know in the comments section below.
Regards AFG