Last Updated on June 20, 2023 by Dexter Roona
Fans of the hit HBO series Euphoria can rejoice, as Euphoria Season 3 has been confirmed! The announcement came quite early, halfway through the airing of the show's second season, easing any concerns about its future.
Everything You Need to Know About Euphoria Season 3 
Francesca Orsi, the executive vice president of HBO programming, expressed her excitement about the show's continuation, praising the cast and crew for their exceptional work in pushing narrative boundaries and maintaining the show's emotional core.
One concern that has been raised is the age of the actors playing high school students. HBO's chief content officer, Casey Bloys, acknowledged this issue, stating that having 30-year-olds portray teenagers might not be ideal. However, he expressed confidence in the creative team's ability to handle the characters and storylines effectively.
One factor that may affect the future of the show is Zendaya's flourishing career. Bloys deferred any discussion about her commitment to future seasons to Zendaya and executive producer Sam Levinson.
As for the release date of Euphoria Season 3, it has not been officially announced yet. Season 2 faced significant delays due to production issues related to COVID-19, although two special episodes helped bridge the gap for fans. Initially, there were hopes that Season 3 would arrive as early as early 2023. However, actor Eric Dane, who plays Cal Jacobs, indicated that shooting might start in November 2022, suggesting a potential release in 2024.
However, the Writers Guild of America (WGA) strike caused further delays in production, making an early 2024 release more likely. Negotiations between the WGA and the production team will need to be resolved before filming can proceed smoothly.
Who's coming back?
In terms of the cast, many familiar faces are expected to return for Season 3, including Zendaya as Rue, Hunter Schafer as Jules, Jacob Elordi as Nate, Alexa Demie as Maddy, and Sydney Sweeney as Cassie. Other cast members like Maude Apatow, Storm Reid, and Algee Smith are also likely to reprise their roles. Additionally, newcomer Dominic Fike as Eliot will reprise his role in the upcoming season 3.
Who's not down for a return?
Some characters may not return due to story developments. Barbie Ferreira, who played Kat Hernandez, announced her departure from the show on Instagram, bidding a tearful goodbye to her character. Angus Cloud's character, Fez, was arrested in the Season 2 finale, raising doubts about his future on the show though we really hope he is back in season 3 or any potential season 4. Similarly, Chloe Cherry's character, Faye, was also arrested, but the actress expressed her hopes for the character's return and further development in Season 3.
While there were rumors about Billie Eilish joining the cast as Nate Jacobs' love interest, the singer debunked the speculation. However, she expressed her enthusiasm for the show and didn't rule out the possibility of a future appearance.
What's going to happen in Euphoria Season 3?
As for the plot of Euphoria Season 3, details are scarce.
The Season 2 finale left several storylines open for exploration.
Nate will have to face the consequences of his actions against his father, Cal Jacobs, who will likely make a return despite being in prison.
Cassie's character underwent a dark transformation in Season 2, and Sydney Sweeney hopes to continue exploring her darker side in Season 3.
Additionally, unresolved mysteries, such as Nate's secret third brother and Young Cal's hidden love for Derek, may play a significant role in the upcoming season.
The show's creator, Sam Levinson, has shown a willingness to delve into individual character stories through special episodes. It's possible that similar episodes could be released prior to Season 3 to provide more depth to certain characters and their experiences, AFG would love a one-off Fezco episode post-arrest.
While the exact release date and plot details remain undisclosed, fans can expect Euphoria.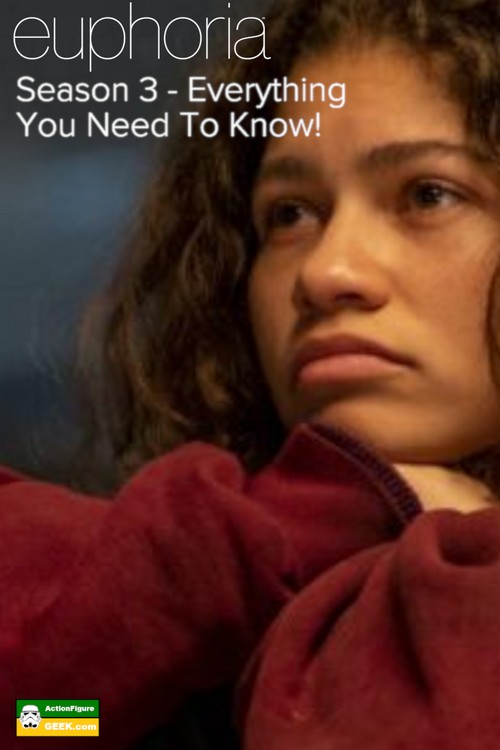 NB: This Euphoria Season 3 – Everything You Need to Know article contains product affiliate links.
More from the AFGeek Blog: