Last Updated on October 24, 2022 by Dexter Roona
There is a new Funko Pop Stan Lee Comic Cover Vinyl Figure to talk about today. Here is everything that you need to know about this new Marvel Collectible.
Stan Lee is a legend in the world of comics and popular culture.
This new Funko Pop Stan Lee Marvel Comic Cover Vinyl Figure celebrates Stan Lee creator of some of the best and most unforgettable comic book characters in history.
Stan Lee shaped the superhero genre as we know it and was instrumental in bringing us Spider-Man, The Hulk, Iron Man, and Captain America to name but a few.
NB: I have to point out that this Funko Pop Stan Lee Comic Cover Vinyl Figure article does contain product affiliate links. If you click a link and make a purchase then Action Figure Geek may make a very small commission if the purchase is a qualifying purchase.
Funko Pop Stan Lee Comic Cover Vinyl Figure
Stan Lee was one of the founding names of the Marvel Comics company, and the talented creator and writer for countless comic book heroes and villains that popular culture fans love and adore.
Stan Lee was born in 1922 but sadly passed away in 2018. He is responsible for some of the most famous and iconic comic book characters of all time.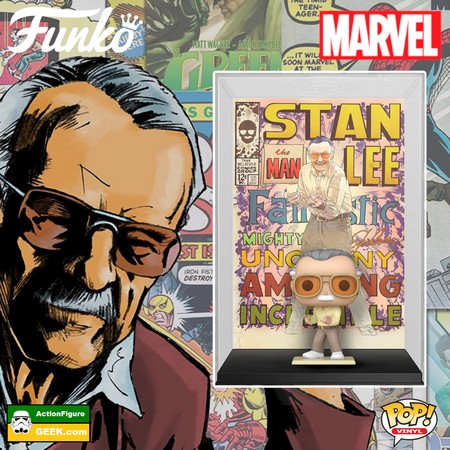 Shop for the Funko Pop Stan Lee Comic Cover at:
Entertainment Earth

( You can also receive a 10% discount on all in-stock items and free postage on orders over $39.99 on our

Entertainment Earth Discount Page

)
Stan was born Stanley Martin Lieber on December 28th, 1922, in New York City. He was the son of Romanian Jewish immigrants who came to the US in 1903.
Stanley was a shy child who loved to read Sherlock Holmes novels as a form of escapism.
His family was not wealthy and fell into poverty when his father lost his job. But despite all the obstacles that life put in his way Stan still managed to graduate from high school at the age of 16.
He quickly found his path working as an office boy at Timely Comics.
Timely Comics was the company that would eventually go on to become Marvel Comics.
Stan rose quickly in the company and at just 19 became an editor. Stanley Martin Lieber changed his name to Stan Lee, a name that he thought would help make it easier for readers to identify with him.
Big Business
Comic books became big business. They were relatively cheap to buy and offered their readers an escape from everyday life giving them heroes to look up to. They became popular with adults and children of all ages.
During this Golden Age of Comic Books, Stan Lee co-created some of Marvel's most iconic characters. These include The Amazing Spider-Man, Steve Rogers's Captain America, The God of Thunder Thor, Iron Man, Black Widow, all the mutant X-Men, and the Fantastic Four.
By 1960, Marvel had become the No1 comic company having taken the top spot from DC Comics.
Unfortunately for Stan Lee, the Golden Age of Comic Books didn't last forever.
In the 1950s, negative sentiment around comic books began to rise claiming that they were not good and damaging to children. Sales began to slow with many comic book publishers going out of business.
Stan Lee was forced to leave Marvel in 1972 over creative differences with new owners. Stan returned to Marvel in 1975, where he remained until his retirement in 2018.
On his return, he went back to what he loved most, writing comics full-time.
As his imaginative stories started to hit the big screen Stan started making cameo appearances in many of Marvel's films, a tradition that continued up until his sad passing.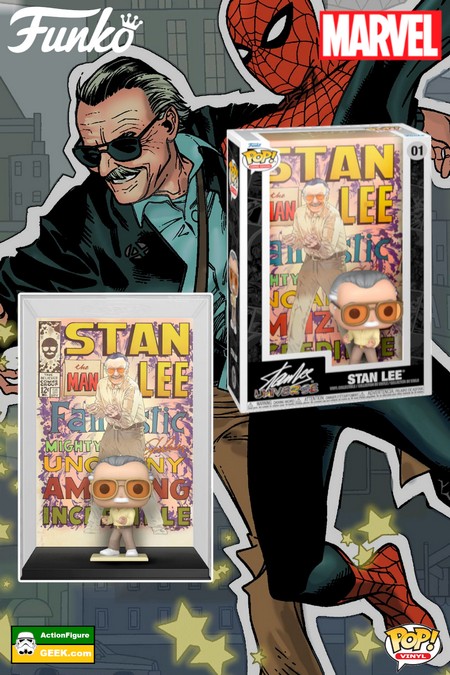 Are you a Stan Lee Marvel fan?
Which of the countless characters he created is your favorite?
Which are your favorite Marvel Pops?
I am a huge Marvel fan so I really like the new Sinister Six Funko Pop Collection and the new Spider-Man Amazon Exclusive Funko Pop 5-pack.
But what do you like?
Let me know in the comments below.
Regards
AFG