Last Updated on November 21, 2023 by Dexter Roona
Gen V's Emma Meyer aka Cricket is initially seen as a side character and not one of the true supes in Gen V but Gen V's Cricket is way more powerful than we initially thought.
NB: This article contains some affiliate links
Gen V the spin-off series of the fan fav The Boys is proving to be one of those cool shows that is full of surprises that has not stopped shocking audiences since the very first episode.
The Boys series focuses on adult supes whereas Gen V drills down on the new up-and-coming generation of potential heroes with aspirations of becoming a part of the elite Seven.
Gen V is set after the public has discovered that it is Compound V makes superheroes and takes place at Godolkin University. But Godolkin is not just any everyday college. Godolkin is a college that exists purely to train the supes of tomorrow and help them to embrace, enhance, and grow their powers.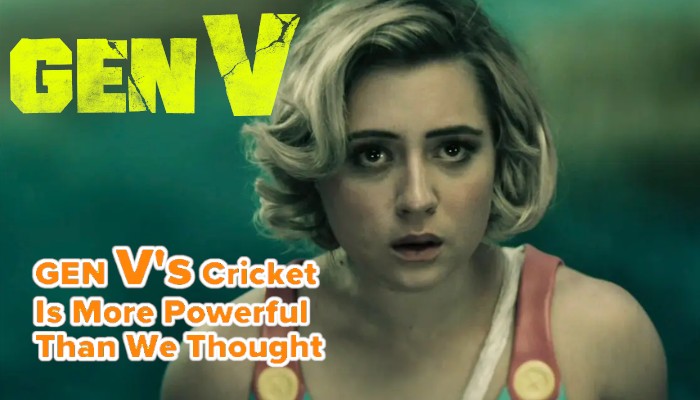 Gen V
The series revolves around Marie Moreau with the ability to control blood, Emma Meyer aka Cricket who can shrink down in size, Andre Anderson, who can control metal, Cate Dunlap with telepathic powers, Jordan Li who is able to transform genders and fire powerful blasts from his hands, Sam with superhuman strength, and Golden Boy with Thermonuclear Powers.
All of these Supes have aspirations of joining The Seven, apart from Cricket who is more of a YouTuber-type influencer who really doesn't see herself becoming a crime fighting hero.
As mentioned Little Cricket has the power to be able to shrink herself down to the size of a cricket but now a new level of power has been revealed to fans of the Amazon Prime show.
Marvel's Ant-Man has the ability to shrink down with the use of technology whereas Emma Meyers powers are the result of being given Compound V as a child.
In the very first episode of Gen V, we discover that Emma is only able to shrink to size after first purging herself. She literally has to force herself to throw up to shrink down.
However, Episode 4 of the series reveals that Cricket is not only able to shrink in size but she can also grow in size as well.
Towards the end of Episode 4 of Season 1 Marie, Jordan, Andre, and Emma have tracked down an on-the-run Sam to the home of one of the doctors from The Woods.
Together they use their formidable powers to try to stop Sam. But strangely Emma instead of engaging in the fight decides it is time to eat and quickly starts eating pasta that is laid on a table for a family dinner.
It is then revealed that Little Cricket Emma is also able to grow in size, and uses her now giant form to suppress Sam, holding him down and containing him.
This moment in the series reveals to fans just how powerful Emma-Little Cricket is.
It would seem that Emma learned of her initial power (growing) literally just by growing up and eating and then a self-conscious Emma discovered her shrinking power by developing an eating disorder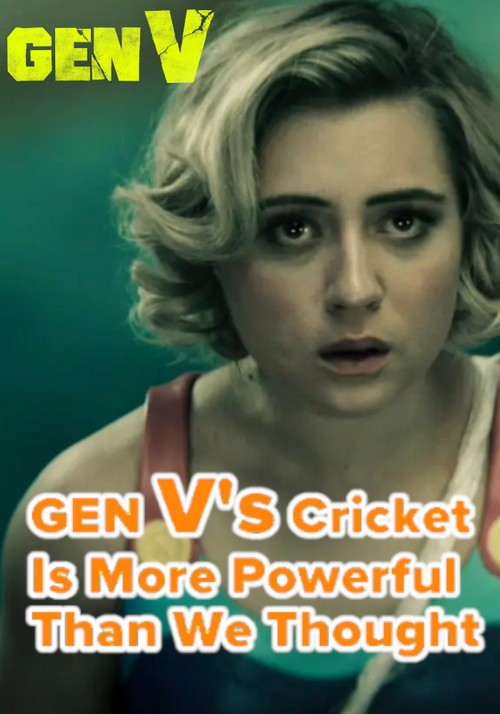 Powers Born From Her Own Self-Image
We first meet Emma in Gen V when she is in full-on tiny mode shrunk down standing in the tiniest boxing ring you have ever seen and about to display her boxing skills in a match with her pet gerbil.
Emma is a small-time influencer and in the process of going live with her internet fans.
Emma doesn't have very high self-esteem or hold any plans to become a crime-fighting superhero and join The Seven and holds no delusions about gaining one of the top spots given the nature of her power and how she herself views them.
Emma can't just will herself to become small, sadely she has to purge herself to shrink. Vomiting and eating is how Little Cricket is able to access her powers.
Her powers come from her struggles with how she looks and feels about herself and for this reason, she is probably the most relatable character in the show.
More From the AFGeek Blog: