Last Updated on September 7, 2023 by Dexter Roona
Gamers will love these Genshin Impact Funko Pop Figures let's take a closer look at these anime/gaming Funko Pops.
Genshin Impact is an action role-playing game developed and published in 2020 by Chinese developer miHoYo,
The game takes place in the fictional world of Teyvat, which is the home of seven nations. Each nation is ruled by a different god and tied to a different element. The Genshin Impact story follows you the Traveler, as the playable character, having traveled across many worlds with their sibling before becoming separated in Teyvat.
The Traveler along with their child-like companion Paimon spends the whole game searching for the Travelers sibling while becoming involved in the affairs of Teyvat's nations.
Genshin Impact features a gorgeous anime-style open-world environment, full of vivid characters offering an action-based battle system using elemental magic and character-switching.
The initial wave of Pops features just 3 characters from the game, Aether, Lumin, and Paimon
Here are all the cool Genshin Impact Funko Pops that have been released so far.
Genshin Impact Funko Pop Checklist
160 Aether Funko Pop!

161 Lumine Funko Pop!

162 Paimon Funko Pop!

182 Diluc Impact Funko Pop!

183 Keqing Funko Pop!

184 Hilichurl Funko Pop!
NB: This Genshin Impact list does contain affiliate links. If you click a link and make a purchase then AFG may make a very small commission at no cost to you.
Have you spotted a Pop that should be on this list? Let us know in the comments below!
Genshin Impact Funko Pop Buyers Guide and Gallery
Let's take a closer look at each of these great Funko Pops.
160 Aether
 Funko
Pop Figure
Aether is playable as the Traveler. At the start of the game, Aether is separated from his sister by an unknown god and wakes in a new world,
A really well-detailed Funko Pop!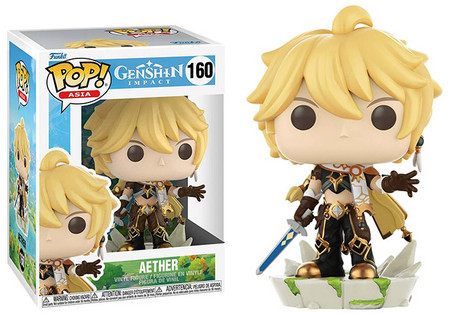 161 Lumine –
Genshin Impact
Pop Figure
Lumine is the sister of Aether. At the start of the game, you can choose to play as the female twin Lumine or as her brother Aether
The Lumine Genshin Impact Funko Pop is another highly detailed figure from the series.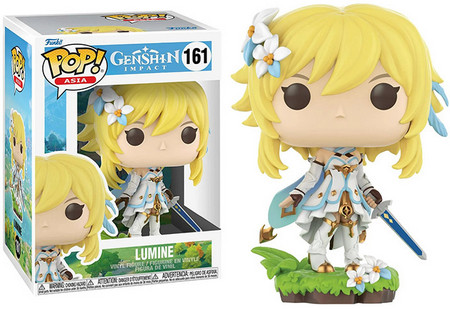 162 Genshin Impact – Paimon – Funko Pop
Paimon is a non-playable character in Genshin Impact and accompanies the Traveler (Paimon/Aether depending on who you play as) throughout their adventure in Teyvat as their guide.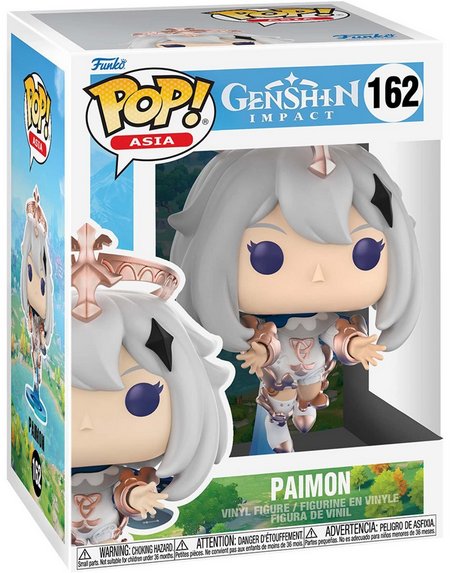 182 Keqing – Genshin Impact Funko Pop!
Keqing hails from the bustling city of Liyue. She serves as the Yuheng of the Liyue Qixing, one of the city's governing bodies. Keqing possesses Electro Vision, a power that grants her control over electricity.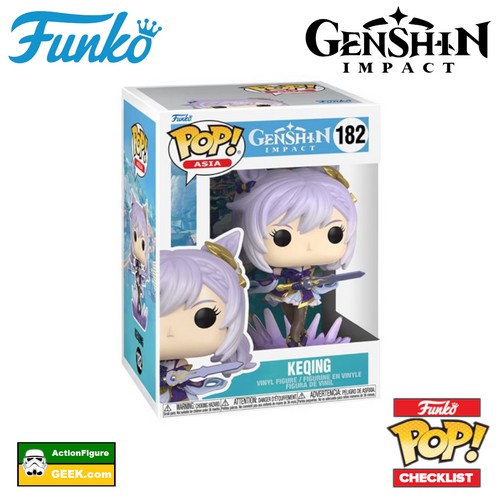 Price Check – Amazon and Amazon UK
183 Diluc Ragnvindr – Genshin Impact Funko Pop!
Diluc Ragnvindr hails from the city of Mondstadt and is the owner of the Dawn Winery, a prestigious winemaking establishment. Diluc is fiercely dedicated to protecting Mondstadt from any and all threats, notably the Fatui and their oppressive influence. Armed with his fiery Vision, he becomes the vigilante known as the Darknight Hero, fighting for the city's freedom in the shadows.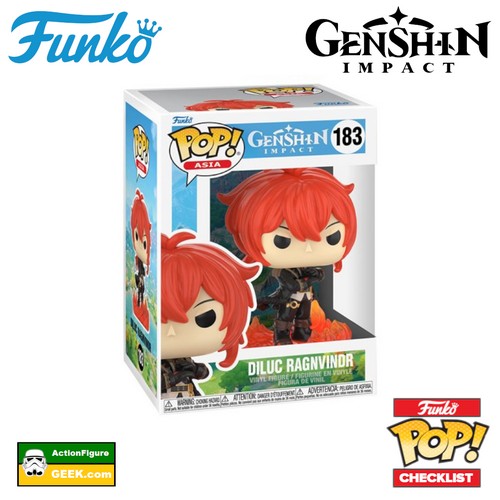 184 Hilichurl – Genshin Impact Funko Pop!
The Hilichurls are indigenous to the world of Teyvat. These tribal beings are often misunderstood as enemies. While some peacefully coexist with other races, others can be hostile and territorial.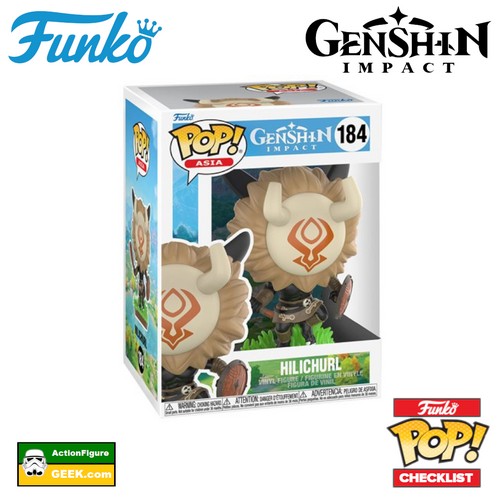 Price Check – Amazon and Amazon UK
These Genshin Impact Funko Pop! figures serve as a symbol of Genshin Impact's global success in bringing millions of players around the world together, exploring, battling, and unraveling the gameplay mysteries of Teyvat.
These colorful and vibrant characters that we have all love and adore are now forever immortalized as Funko Pop!s a move that marks a significant milestone in the game's history.
So there you have it, all the great Genshin Impact Pop figures on offer so far.
Will you be adding any of these Pops to your collection?
Perhaps you are more of a Star Wars Pop fan or a Movie Pop fan?
Let us know in the comments, we would love to hear from you.
Regards
AFG
Related Genshin Impact Merch
Genshin Impact Mona Astral Reflection Ver. 1:7 Scale Statue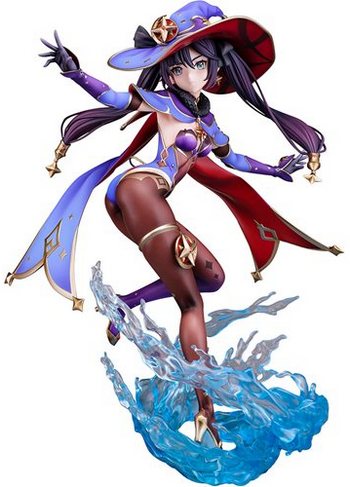 From the AFGeek Blog: