Last Updated on April 30, 2023 by Dexter Roona
Today we bring you news on the new Hannah Montana Funko Pop! that has been released are part of the Disney 100 Celebration Funko Pop! series We have all the info you want and the best online retailers to the Hannah Montana Funko Pop!
Hannah Montana is a beloved fan-favorite fictional character that captured the hearts of millions of fans around the world first appearing appeared in the Disney Channel series of the same name, which aired from 2006 to 2011.
The Disney show chronicled the life of Miley Stewart, a normal teenage girl who secretly moonlights as the famous pop star Hannah Montana.
Hannah Montana quickly became a cultural phenomenon, inspiring fashion trends, merchandise, and even a feature film. Fans of the show were enamored with Miley's dual identity, her catchy pop songs, and her close-knit relationships with her family and friends.
Now, fans of Hannah Montana can add a new item to their collections with the release of this new Hannah Montana Funko Pop! This adorable vinyl figure captures all the charm and energy of the Hannah Montana character, complete with her signature blonde wig and microphone.
NB: This new Hannah Montana Funko Pop! Disney 100 Celebration article contains product affiliate links. If you click a link and make a purchase then AFG may make a very small commission at no cost to you.
1347 Hannah Montana Funko Pop! Disney 100 Years Celebration
This new Hannah Montana Disney 100 Celebration Funko Pop! looks awesome with her signature blonde hair gold chains and purple outfit, and ready to take on the world and is the perfect addition to any fan's collection. It stands at approximately 3.75 inches tall and comes in the traditional Funko window display box, allowing fans to show off their love for Hannah Montana while keeping the figurine in pristine condition.
One of the most exciting things about the Hannah Montana Funko Pop! is the level of detail that has gone into its design. From the intricate details of her outfit to the careful sculpting of her facial features, every element of the figurine has been crafted with the utmost care and attention to detail.
It truly captures the essence of the character and is sure to be a hit with fans of all ages and is a great addition to the Disney 100 Funko Pop! list.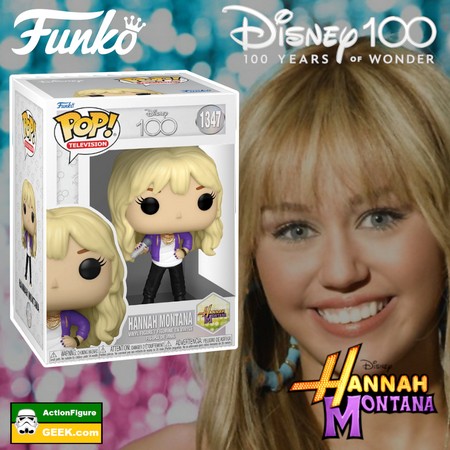 Shopping Guide
The new 1347 Hannah Montana Funko Pop! Disney 100 Years Celebration vinyl figure is available at the following online retailers:

Buy The Mandalorian Funko Pops at Entertainment Earth

Entertainment Earth is offering a very generous 10% discount on all in-stock items with free postage and packaging on all orders you make totaling over $39.99. You can claim this discount by clicking here – AFGEEK discount. 

If you would like more information about this discount then please refer to our Entertainment Earth Discount page.
In addition to being a fun and collectible item for fans, the Hannah Montana Funko Pop! is also a great way to introduce new fans to the character. Whether you're a die-hard fan of the show or just discovering Hannah for the first time, this figurine is a fantastic way to celebrate the enduring legacy of Hannah Montana.
Of course, the release of the Hannah Montana Funko Pop! is just the latest chapter in the character's rich history. Over the years, Hannah Montana has inspired countless fans with her message of being true to oneself and following your dreams. Her music, fashion, and positive attitude continue to resonate with fans of all ages, making her a timeless icon of pop culture.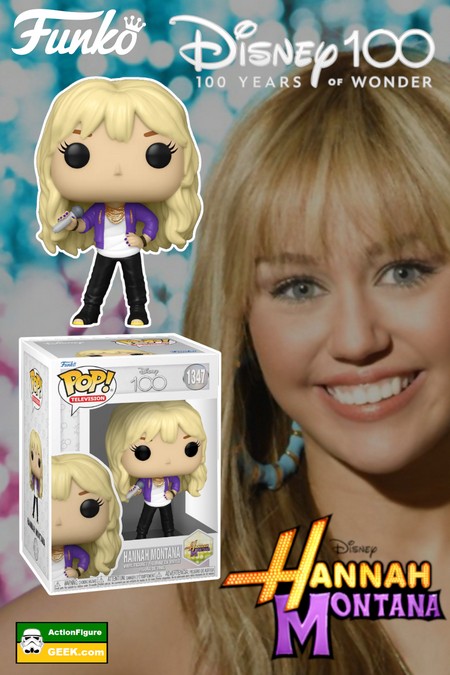 Related Funko Pop! Articles