Last Updated on February 20, 2023 by Dexter Roona
We have a new Inosuke Hashibira Funko Pop TargetCon Exclusive to talk about today. This all-new version is the 7th Form Inosuke Hashibira. We have all the news and info in this cool new Demon Slayer Funko Pop!, accompanying images, and our recommended online retailers to buy him from.
Inosuke Hashibira is one of the "Demon Slayer: Kimetsu no Yaiba"main characters and a member of the prestigious Demon Slayer Corps.
Inosuke is introduced in the series as a wild and aggressive young man who wears a boar's head mask and has a muscular, scarred body.
He is incredibly strong and skilled in combat, using dual-wielded swords to take down demons.
Despite his tough exterior, Inosuke is actually quite insecure and has a deep desire to prove himself. He often acts impulsively and can be hot-headed, but he is also fiercely loyal to his friends and will do anything to protect them.
NB: This Inosuke Hashibira Funko Pop TargetCon Exclusive article contains product affiliate links. If you click a link and make a purchase then AFG may make a very small commission at no cost to you.
1261 Inosuke Hashibira Funko Pop! TargetCon Exclusive
This new Inosuke Hashibira TargetCon Funko Pop! Exclusive features an all-new Inosuke Hashibira channeling the 7th form, or "Breath of the Beast"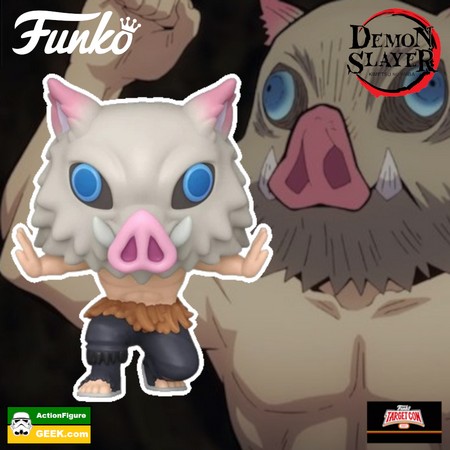 Shopping Guide
You can buy the Inosuke Hashibira TargetCon Funko Pop Exclusive at the following retailers:
Entertainment Earth is offering a very generous 10% discount on all in-stock items with free postage and packaging on all orders you make totaling over $39.99. You can claim this discount by clicking here – AFGEEK discount. 
If you would like more information about this discount then please refer to our Entertainment Earth Discount page.
Inosuke's past is revealed later in the series, where it is shown that he was raised by wild boars and had to fend for himself from a very young age.
This explains his feral behavior and lack of social skills. However, he eventually learns to trust and rely on his fellow demon slayers, forming strong bonds with them.
As a 7th form, or "Breath of the Beast" user, Inosuke is able to channel his inner strength and primal instincts to enhance his physical abilities and speed.
He can also sense and track his enemies, making him a valuable asset in combat.
Overall, Inosuke is a complex and dynamic character. He adds a lot of personality and humor to the series, while also being a skilled and formidable fighter.