Last Updated on January 4, 2023 by Dexter Roona
We have some new LEGO Star Wars sets to report on and today we feature the new LEGO TIE Bomber 75347 Empire Strikes Back Star Wars building set. 
LEGO Star Wars Empire Strikes Back fans can act out Imperial missions, hunting down and challenging the Rebel Alliance with this new TIE Bomber 75347 set.
The Tie Bombers were used to destroy large starships. They were surface assault bombers and looked similar to the more familiar Tie Fighters but were much bulkier slower and far less maneuverable and much easier to pick off in a fight.
NB: Disclaimer – this new LEGO TIE Bomber 75347 starfighter article contains product affiliate links. If you click a link and make a purchase then Action Figure Geek may make a very small commission from qualifying purchases.
75347 LEGO TIE Bomber – The Empire Strikes Back
This cool new LEGO Tie Bomber set features an opening Minifigure cockpit. There is a torpedo-dropping function along with 2 stud shooters.
The set includes the Minifigures Darth Vader, and Vice Admiral Sloane, and you also get a TIE Bomber Pilot LEGO figure complete with weapons. There is also a Gonk Droid included and a transportation cart to move torpedoes to the TIE Bomber.
The building manual for this set is digital, you will need the LEGO Builder app to construct to Tie Bomber. The building app offers a step-by-step digital building guide, with zoom and rotate tools for easy building.
The TIE Bomber model measures over 10 cm (4 inches) high, 16 cm (6 inches) long, and 20 cm (7.5 inches) wide. The set comprises of 625 bricks and is aimed at the 9 years and above.
This is a very good set with a great build level and offers value for money. When built the set would look awesome amongst any LEGO or Star Wars collection.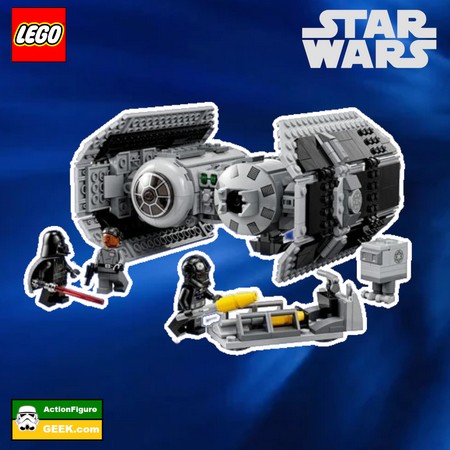 Shop for the TIE Bomber (75347) Empire Strikes Back at:
Get a 10% Discount at Entertainment Earth on all in-stock LEGO Sets and merch and Free Postage on all orders over $39.99 by using our AFGEEK discount code today.
Read more on this amazing not to be missed discount at – Entertainment Earth Discount.
The Empire Strikes Back picks up after the events of A New Hope with Luke Skywalker and the Rebels have destroyed the Death Star. But the Galactic Empire has regrouped and doubled down on their efforts to destroy the Rebellion. We join the Rebels under siege on the Ice Planet Hoth with the Imperial AT-AT Walkers bearing down on the rebel base.
Are you a LEGO Star Wars fan?
Does this new set make it onto my Best LEGO Star Wars sets to buy list?
Will you be buying this new LEGO TIE Bomber (75347) Empire Strikes Back?
Which other LEGO sets do you like?
I am a big fan of the LEGO BrickHeadz, particularly the new Lord of the Rings BrickHeadz and the.
But that is what I like.
What do you like?
Let me know in the comments section below.
Regards
AFG