Last Updated on December 31, 2022 by Dexter Roona
Today we bring you news on the new Disney Pixar Loungefly Up Mini Backpack and Wallet  – Jungle Stroll. We have all the news and info you need on this cool Loungefly apparel and the best online retailers to buy them from.
This delightful new Loungefly Disney Pixar Up Moment Jungle Stroll Mini Backpack and Wallet is sure to make the dreariest of days just a little bit brighter.
This new Loungefly Disney Pixar UP bag release features Dug, Kevin, Russell, and Carl as they amble through the tropical jungle all while Carl and Ellie's house floats high in the sky above them.
On the Disney Pixar, UP Loungefly bag's side pocket Dug is looking for a partner to play catch with while Russell and Kevin appear on the back.
This Loungefly Disney Pixar UP collection is sure to keep your travel essentials very safe on any day out or journey that you take.
If you are looking for some stylish apparel and need a new everyday bag and wallet then make sure you grab the Disney Pixar Loungefly Up Moment Jungle Stroll bag and wallet.
NB: Disclaimer: This Loungefly Up Mini Backpack and Wallet article contains product affiliate links.If you click a product link and make a purchase then AFG may make a very small commission at no cost to you.
Disney Pixar Loungefly Up Mini Backpack – Up Moment Jungle Stroll
Fans of the movie Up will remember the scene when new, but unlikely best friends Carl and Russell come across an exotic bird in the South American jungle as they travel to Paradise Falls. The bird who they call Kevin joins them on their journey. They are also joined by Dug the talking dog. This cool Loungefly Up Mini Backpack pictures our adventurers as they stroll through the jungle printed on the front of the mini backpack.
Loungefly Up Mini Backpack Product Details:
Made from premium faux saffiano leather
Printed and embossed detailing
Includes a swinging balloon string
Measures Width: 23cm x High:27cm x Depth:11.5cm (sizes approx)
Front zipped pocket and exterior side pouch pockets
Easily adjustable padded shoulder straps and hanging loop
Lined interior with printed matching themed fabric matching the Loungefly Up Zip-around Wallet.
Finished with the signature Loungefly metal badge
Vegan friendly
Shopping Guide
Disney Pixar Loungefly Up Zip Around Wallet – Up Moment Jungle Stroll
Are you ready to earn your next Wilderness Explorer badge? If you are then you are sure to need this new Loungefly Up Zip Around Wallet – Jungle Stroll Up Moment. The front of Up Zip Around Wallet features Dug, Kevin, Russell, and grumpy Carl as they calmly meander through the jungle.
The reverse side features Carl and Ellie's house as it floats through the sky under balloon power. The interior of the Up Zip Around Wallet has four slots for holding your cards and there is a clear slot for holding your photo ID.
Made of vegan leather with shiny gold hardware. The interior lining is sky blue in color and features printed details to match the interior Loungefly Up Mini Backpack.
Wallet dimensions:
6 inches Wide x 4 inches High.
Shopping Guide
Get a 10% Discount on all instock items and Free Postage on all orders over $39.99 by using our AFGEEK discount code today.

Read more on this amazing discount at – Entertainment Earth Discount 
Disney Pixar's Up really is one of the most heartwarming and hilarious animated movies that you are ever likely to watch with the unlikely story of friendship between a boy named Russell and a grumpy old man by the name of Carl.
When Carl's wife sadly passes away he makes the decision to fulfill her lifelong dream of making the journey to Paradise Falls in South America.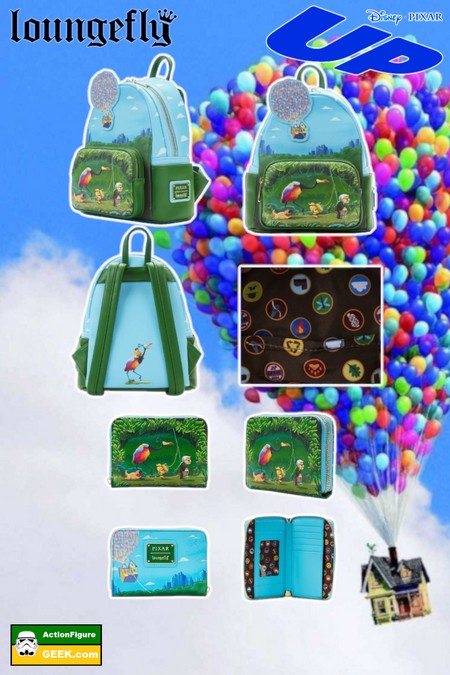 However, he soon discovers that he's not as quick and mobile as he used to be. Reluctantly a grumpy Carl agrees to allow Russell to join him on his journey to Paradise Falls. It turns out to be a wild journey with the pair losing their way in the jungle. There are dangerous encounters with hungry crocodiles and the pair have a very unexpected meeting with Dug a talking dog whom they befriend.
It is a journey that makes Carl and Russel's unlikely friendship grow stronger.
Disney Pixar's Up is a movie with a heartwarming and touching story. It makes you laugh, shed more than one or two tears and leave you cheering and wanting more.
Are you a Loungefly fan or collector?
Which other Loungefly bags or accessories do you own?
Will you be buying this new Loungefly Disney Pixar Up Moment Jungle Stroll Mini Backpack and Wallet?
Do you own any more UP merchandise?
The UP Funko Pops are pretty cool.
Let me know in the comments below.
Regards
AFG