Last Updated on July 11, 2022 by Dexter Roona
A new Pop Rocks Funko has arrived with this New Joan Jett Funko Pop.
Joan Jett Funko Pop is coming to Funko town and joining the impressive Pop Rocks series.
It's the 40th anniversary of Joan Jett's iconic album "I Love Rock 'n Roll" the first with The Blackhearts as her backing band. The album has sold over 10 million copies to date and includes what is probably her most famous song "I Love Rock 'n Roll" which is actually an Arrows song that just became part of her set list when playing live.
Other singles to be released from the album were "Crimson and Clover" and "Summertime Blues" (Canada Only).
Joan Jett and the Blackhearts – I love rock and roll  tracklist:
"I Love Rock 'n Roll"
"(I'm Gonna) Run Away"
"Love Is Pain"
"Nag"
"Crimson and Clover"
"Victim of Circumstance"
"Bits and Pieces"
"Be Straight"
"You're Too Possessive"
"Little Drummer Boy"
With Funkos tradition of producing cool music Pop Rocks vinyls Funko isn't going to let this opportunity pass by without adding Joan Jett to the Pop Rocks Funko series.
This new Joan Jett Funko Pop features Joan playing her white guitar dressed all in black outfit and red Converse Chuck Taylor sneakers.
NB: This Joan Jett and the Blackhearts Funko Pop article contains some affiliate links. If you make a purchase after clicking a link then AFG may make a very small commission at no cost to you.
Joan is available to buy from Entertainment Earth, Walmart, Amazon, and Pop in a Box.
Entertainment Earth is our chosen online retailer because of their mint condition on receiving your purchase guarantee and their Free Postage offer on orders over $39 (USA Offer).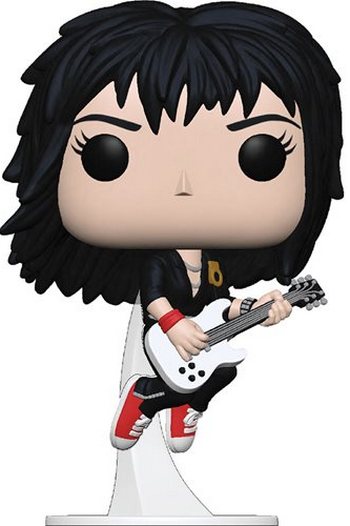 BIO
Joan Jett is a multi-talented singer-songwriter, musician, composer, record producer, and actress. Jett is best known for her work as the lead singer of her band Joan Jett and the Blackhearts. She also founded and performed with the all-female rock band the Runaways, which recorded and released the hit songs "Cherry Bomb", "Queens of Noise" and "Hollywood". Runaways were never really a huge success in America but did very well overseas, especially in Japan where "Cherry Bomb" was a huge hit.
In 2015, Joan Jett and the Blackhearts got the acclaim that they deserved and were inducted into the Rock and Roll Hall of Fame.
Now it is over to you.
What do you think of this new Joan Jett and the Blackhearts Funko Pop?
Will you be adding her to your collection?
Which other Pop Rocks figures do you like? Our favorite from the series is the Mariah Carey Pops.
Perhaps you prefer the Pop Albums? The Flash Gordon Album Pop is one that we like.
Let us know what you think of our choice and your thoughts on this article. We would love to hear from you.
Regards
AFG