Last Updated on September 25, 2022 by Dexter Roona
We have a really cool LEGO set today to talk about today and that set is the New LEGO Groot – Marvel Super Heroes I am Groot LEGO 76217. Let's take a look at this cool set and give you everything you need to know and the best places to buy the LEGO Groot online.
Has there ever been a more adorable character than Groot? If you are a Guardians of the Galaxy Fan then you will remember the famous scene in Guardians Vol 2 where Baby Groot dances in his pot.
This new set allows you to build your own dancing Baby Groot from the Marvel Cinematic Universe.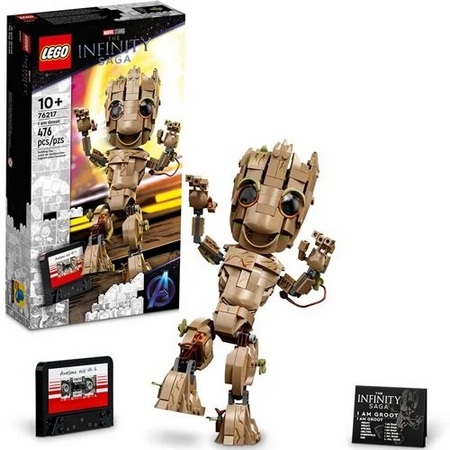 Also available from:
This new LEGO Baby Groot set is easy to build, position, and pose.
Included with the set is a pretend cassette mix tape full of music for LEGO Baby Groot to dance to.
Building instructions are provided by the free LEGO Building Instructions app. The LEGO building app allows you to view, zoom and rotate the model at every stage of the build so that you know exactly which brick goes where.
This gives you an amazing sense of immersion and interaction during the build. Not so great if the builder doesn't have a smartphone or a way to use the app.
The highly poseable LEGO figure stands an impressive 10 1/2 inches tall and comes with the Guardians mix rape cassette and an Infinity Saga nameplate.
LEGO 76217 Marvel Super Heroes I am Groot includes 476 pieces and is aimed at anyone 10 years and over.
I am GROOT!
Baby Groot is a Flora colossus, a plant-like organism that is native to Planet X. Rocket Racoon and Groot had traveled the galaxy picking up bounties until they had a chance meeting with Star-Lord and Gamora. The four of them were captured and put into the Kyln and interstellar prison run by the Nova Corps where they also met an imprisoned Drax the Destroyer. Our soon-to-be heroes agree to work together. During the Battle of Xandar, Groot sacrificed his own life to save his new friends. Rocket takes part of Groot's destroyed body in a pot and a new Baby Groot is grown.
This is a great Marvel LEGO set and will be added to our Best Marvel Lego Sets to buy article.
We hope that LEGO makes a Deluxe Dancing Baby Groot that is along the same lines as the featured LEGO Groot but the deluxe version could actually dance. That would be really cool!
Are you a Marvel LEGO fan?
Will you be buying this NEW LEGO Baby Groot – Marvel Super Heroes I am Groot 76217 set?
Which other LEGO sets do you own or like?  We love the LEGO Star Wars sets and the new Thor Love and Thunder LEGO sets. The new Icons Optimus Prime LEGO set is pretty special as well.
Let us know what you think in the comments section below. We would love to hear from you.
Regards 
AFG