Last Updated on July 20, 2023 by Dexter Roona
We bring news of a pretty awesome new Naruto Funko joining the Naruto Funko Pop! list in the shape of the NEW Naruto – Kurama Link Mode Funko Pop! with Glow Chase. We have all the news on this new anime Funko Pop! and the very best online retailers to buy him from.
Funko continues to delight Naruto Shippuden fans with an exciting new release, the Naruto Shippuden – Naruto Uzumaki – Kurama Link Mode with Glow (GITD) Chase Funko Pop! that is available as an AAA Anime Exclusive. This exclusive AAA figure showcases Naruto's incredible strength and the incredible connection he shares with Kurama, the formidable Nine-Tails.
The 1465 Naruto Uzumaki – Kurama Link Mode Funko Pop! captures the epic moment when Naruto taps into the power of Kurama for the first time and so sets a new course in the Fourth Great Ninja War and showcases his transformation from an aspiring shinobi to a beacon of immense power and determination.
NB: This NEW Naruto – Kurama Link Mode Funko Pop! with Glow Chase Funko Pop! AAA Exclusive article contains product links. If you click a link and make a purchase then AFG may make a very small commission at no cost to you.
NEW Naruto – Kurama Link Mode Funko Pop! with Glow Chase AAA Exclusive
The 1465 Kurama Link Mode Funko Pop! is an awesome Funko that Naruto fans will be hunting down but the Glow Chase is just that bit harder to find and more highly prized. The Glow-In-The-Dark (GITD) Chase edition really brings the Kurama Link transformation to life illuminating the very essence of the character, highlighting Naruto's unparalleled aura and energy when united with Kurama.
The Naruto Kurama Link Mode Funko is an AAA Exclusive but as always overseas collectors and buyers may want to sit tight until a Funko Special Edition is released.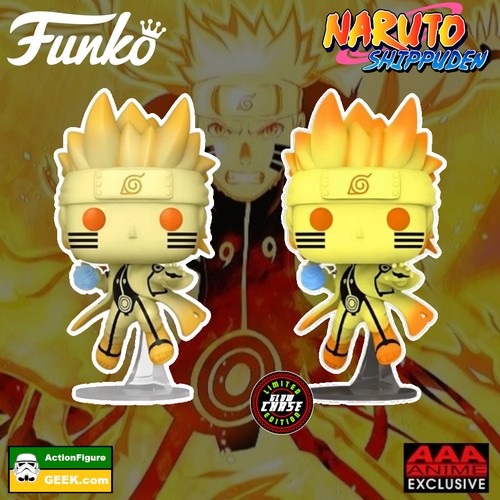 Shopping Guide
Naruto's First Connection with Kurama
Naruto, the spirited ninja hailing from the leaf village of Konohagakure, has proven that friendship can be found in the most unlikely of places. This is evident when he forms an unforeseen alliance with Kurama, the mighty Nine-Tails fox spirit sealed within him.
This union not only reshapes Naruto's path but also determines the fate of the ninja world.
Since his birth, Naruto has carried the weight of his destiny – harboring the formidable Nine-Tails.
In fact, Naruto's initial encounters with Kurama were marked by turmoil as the Nine-Tails unleashed destruction and overwhelming power that Naruto struggled to deal with.
Naruto was just a young boy struggling to find his way and faced tremendous obstacles.
But this all changed in Episode 329 of Naruto: Shippuden – "Two-Man Team."
Naruto's transformation required Naruto to tap into his inner strength and pure intentions.
Kurama was not just a creature of destruction but also a sentient being with emotions, and Naruto came to realize this as their connection grew stronger.
Naruto's realization led him to approach the Kurama with compassion rather than fear.
It was during the Fourth Great Ninja War, that a pivotal moment occurred that forever altered Naruto and Kurama's relationship.
In a heartfelt plea, Naruto expressed his unwavering determination to befriend Kurama and liberate all the tailed beasts from their captivity. Naruto's display of empathy stirred something within the mighty fox spirit, causing a seismic shift in Kurama's attitude towards Naruto.
Kurama agreed to lend Naruto his immense power, transforming their relationship from adversarial to cooperative.
This was the beginning of a new era in their relationship, that turned the tide in the Fourth Great Ninja War and established Naruto and Kurama as an unstoppable force.
From that point forward, Naruto and Kurama's paths were forever intertwined.
But Naruto did more than just befriend a beast, he broke the very long cycle of hatred, offering Kurama friendship that transcended centuries of prejudice and fear.
This alliance between Naruto and Kurama stands as a shining testament to the potency of understanding, empathy, and friendship.
Related Anime Funko Pop! Articles: