Last Updated on August 19, 2023 by Dexter Roona
We return to the recent smash hit Barbie movie with news on the release of the new Rollerskating Barbie and Ken Funko Pop! 2-Pack Hot Topic Exclusive and Funko Special Edition or as marked on the box Skating Barbie & Skating Ken. We have all the latest news on this cool new movie Funko Pop! release including the best online retailers to buy it from.
It's time to fully Immerse yourself in the bright, vibrant, and ohh-so-pink world of Barbie. Here at AFGeek, we have the pleasure of announcing the latest addition to the Funko Pop! Movies line, the new Barbie and Ken Rollerskating 2-Pack (Skating Barbie & Skating Ken) in Funko Pop! Vinyl Figure format.
This exclusive 2023 release, available as a Hot Topic Exclusive ready to join your Barbie Collection and to join our Barbie Movie Funko Pop! list.
This dynamic duo, (not Batman and Robin) is poised to grab the attention of every collector.
NB: This NEW Rollerskating Barbie and Ken Funko Pop! 2-Pack article contains product affiliate links. If you click a link and make a purchase then AFG may make a very small commission ay not cost to you.
New Rollerskating Barbie and Ken Funko Pop! 2-Pack – Skating Barbie and Skating Ken Hot Topic Exclusive and Funko Special Edition
Barbie and Ken don their rollerskating attire Barbie sports a neon leotard while Ken also rocks the day glow look with electric pink shorts pink shirt and a neon waistcoat-type jacket.
Both rock neon visors and shocking yellow/green knee pads with the look being completed with yellow/green rollerskates.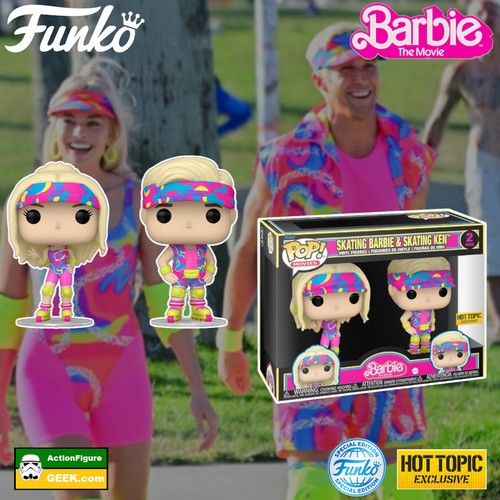 Shopping Guide
Summer's Hottest Pair: Margot Robbie and Ryan Gosling's Barbie-Ken Connection
You have to admit that Margot Robbie makes a great Barbie and Young Hercules himself Ryan Gosling (yes he was Young Hercules) makes a great Ken.
But while Margot has graced us with her remarkable performances in acclaimed roles before, Babylon and the Suicide Squad spring to mind but there are many more, few could have anticipated her extraordinary transformation into a plastic doll.
And not just any plastic doll, but the iconic Barbie herself!
Robbie doesn't just adopt the doll's iconic looks; she literally channels Barbie's spirit and adds layer upon layer to the character further proving her flexibility as an actor.
The genius pairing of Robbie with the uber-cool Ryan Gosling was an absolute stroke of brilliance. Gosling, is typically known for his brooding intensity in hero roles such as Blade Runner 2049, and The Gray Man yet here we have him as Ken a far cry from what we are used to.
The Barbie Movie has proven to be this summer's biggest blockbuster could this NEW Rollerskating Barbie and Ken Funko Pop! 2-Pack be the summer's biggest Funko Pop 2-Pack release?
Other Barbie Movie Funko Pop Figures
Here are all the Barbie Movie Funko Pop! figures released so far!
1445 Barbie – Gold Disco Barbie Funko Pop!
1446 Barbie – Western Ken Funko Pop!
1447 Barbie – Western Barbie Funko Pop!
1448 Barbie – President Barbie Funko Pop!
Available from Entertainment Earth – Use our special discount code and receive a 10% discount on all in-stock Barbie Funko Pops and merch – Action Figure Geek – Entertainment Earth Discount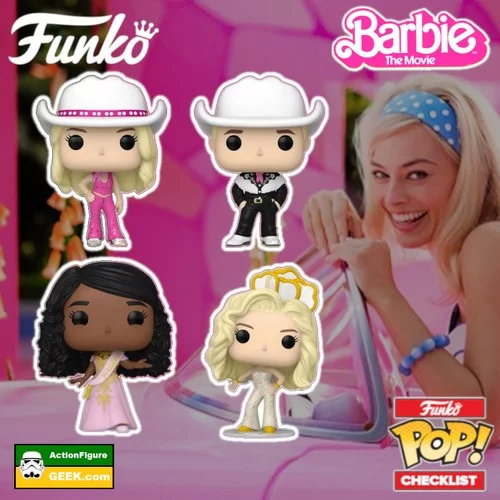 Related Movie Funko Pop! Articles