Last Updated on August 8, 2022 by Dexter Roona
A new Stranger Things Byers House Funko Pop Build A Scene – 4 pack has landed. Here is everything you need to know, set info, exclusivity, and where you can buy this cool multi-pack
If you are a Stranger Things Funko Fan then we have some good news for you. The Build A Scene Funko Pop collection from the hit Netflix series is now available as a 4-pack set of Funkos. This means you don't have to hunt them down and buy them individually anymore. Of course, if you are like us and prefer the individual figures to the multi-packs (because they take up less space) then you will still want the individual Pops.
NB: This article does contain product affiliate links. If you click a link and make a purchase then AFG may make a very small commission at no cost to you.
This new Stranger Things Deluxe Funko Pop Build A Scene Amazon Exclusive allows fans to collect all four figures to form a larger display collectible. The figures are designed to be displayed either normal or upside down.
Starting with Eleven, each figure represents an individual scene that can also be combined with the other three options. Figure two is for the Demogorgon. Figure three of the set is Will Byers and Chief Hopper is the fourth figure in the set.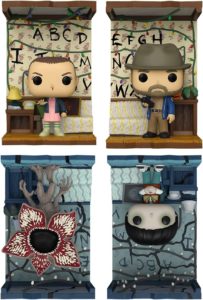 With the new Stranger Things 4-pack, you can assemble the Byers house and the Upside Down or mix them up to create your own scene.
Stranger Things is one of the best TV series to come out of Netflix for a long time. Now in its 4th season, it just seems to get better and better with us all left on the edge of our seats. Perhaps at some stage, we may even get Stranger Things the movie.
The series' success is based on a solid mix of great acting from well-cast actors who create incredibly likable and relatable performances.
Show creators the Duffer Brothers do a great job of building the tension and creating the atmosphere making the show compelling viewing.
In the dark and scary Upside Down monsters lurk in the shadows. These same creatures enter our world and wreak havoc and it is down to our heroes to save the day.
Each figure is also available separately as Amazon Exclusive and you can also hunt them down as Special Editions
1185 Eleven – Byers House Funko Pop – Figure 1 0f 4
1186 Demogorgon – Upside Down Funko Pop – Figure 2 of 4
1187 Will Byers – Upside Down Funko Pop – Figure 3 of 4
1188 Hooper – Byers House Funko Pop – Figure 4 of 4
Where to BUY the Byers House Stranger Things Deluxe Pops
All these Pops are Amazon Exclusive so the obvious place to buy the from is Amazon but you can also pick them up via eBay where you can pick them up boxed or loose and other retail outlets.
Buy Stranger Things Pops at Entertainment Earth ( Free shipping on orders over $39.99 USA only)
Buy Stranger Things Pops at Pop in a Box
1185 Eleven – Byers House Funko Pop – Figure 1 of 4 
A very cool version of Eleven with her familiar buzz-cut hairstyle summoning her powers in Will Byers house.
When Eleven makes interdimensional contact with a Demogorgon, a gate between dimensions opens at the lab.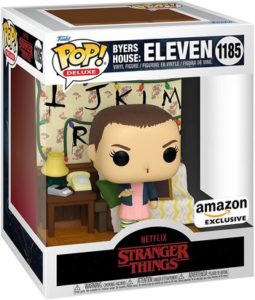 1186 Demogorgon – Upside Down Funko Pop – Figure 2 of 4
The Demogorgon is the predatory humanoid creature that entered Hawkins, Indiana in November 1983 during season 1 of Stranger Things. When Eleven, a psychic test subject from Hawkins National Laboratory, makes interdimensional contact with it, a gate between Hawkins and The Upside Down is opened at the lab and the Demogorgon is able to enter Hawkins and begins hunting and killing the locals.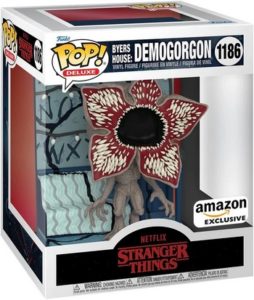 1187 Will Byers – Upside Down Funko Pop – Figure 3 of 4
Will Byers is a shy, artistic boy who lives in Hawkins and loves playing Dungeons and Dragons with his friends. Everything changes when he is abducted by a "Demogorgon" and taken into the Upside Down. For a week.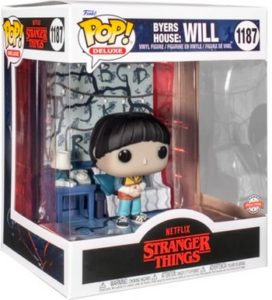 1188 Hooper – Byers House Funko Pop – Figure 4 of 4
Jim Hopper is the Chief of Police of Hawkins, Indiana. Hopper's life becomes infinitely more complicated when Will Byers mysteriously disappears.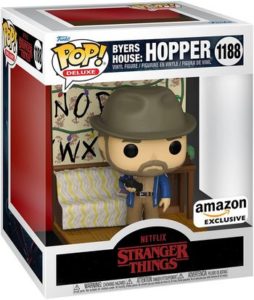 So are you a Stranger Things fan? Which other Netflix shows do you watch that have been turned into Pops?
Two that we like have been the Squid Game and The Witcher.
Both are great series with awesome Pop Vinyls.
But what do you think? Let us know in the comments section below… we would love to hear from you.
Regards
AFG