Last Updated on June 20, 2022 by Dexter Roona
We return to our Television Funko lists with our Ozark Funko Pop Checklist, Buyers Guide, and Gallery
These new Ozark Funko Pops celebrate the success of Ozark one of Netflix's most critically acclaimed and popular binge-worthy series.
Ozark stars Jason Bateman as Marty Byrde, a financial advisor who is forced to relocate his family to a summer resort community in the Ozarks after a money-laundering scheme goes wrong leaving him with substantial debts. Now to keep his family safe Marty must work for the Mexican drug lord in order to keep his family safe.
The clever writing of the Ozark provides edge-of-your-seat suspenseful, darkly humorous viewing making it not-to-be-missed TV.
The initial wave of Pops is small with vinyl versions of Marty Byrde, Wendy Byrde, and Ruth Langmore but there are lots of other characters that could be added to the series, our picks would be: Del the Mexican Drug Cartel boss, Charlotte, and Jonah (possible 2 pack) Three Langmore and  Wyatt Langmore
NB: This Ozark Pop list does contain product affiliate links. If you click a link and make a purchase then AFG may make a very small commission at no cost to you.
Ozark Funko Pop Checklist
Here are the Ozark Pops released so far.
1196 Marty Byrde
1197 Ruth Langmore
1198 Wendy Byrde
Ozark Funko Pop Buyers Guide and Gallery
Let's look at each of these cool Netflix Television Pops in more detail and give you the best places to buy them online.
1196 Marty Byrde – Ozark Funko Pop
Marty Byrde is the lead character in the Netflix series, Ozark.
He is the husband of Wendy Byrde, the father of both Charlotte and Jonah Byrde.
Ozark Season 1 sees Marty Byrde forced to move from Chicago to a summer resort community in the Ozarks to launder money for the drug cartel on a large scale after his business partner skims 8 million dollars from the Mexican Drug Cartels operation.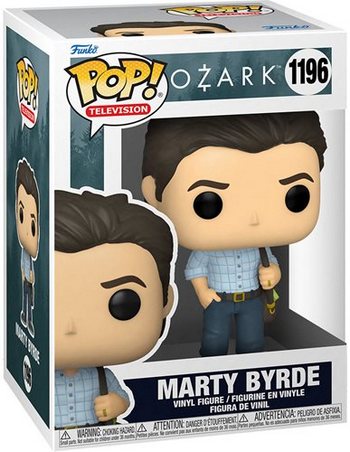 Also available from:
1197 Ruth Langmore
Ruth is sporting an outfit marking an important moment for her in Season 4's "The Cousin of Death" when she shot Javi for murdering Wyatt.  Ruth is 19 when we first meet her in the Ozark when she steals 3 million dollars of the Mexican Drug Cartels money from Marty Byrde's motel room.
She is largely independent despite her young age, she has to be. Her mother died due to a hit and run when she was just 8 and her father was in prison for most of her adolescence. She has a close relationship with her cousins, Wyatt and Three, keeping them in line.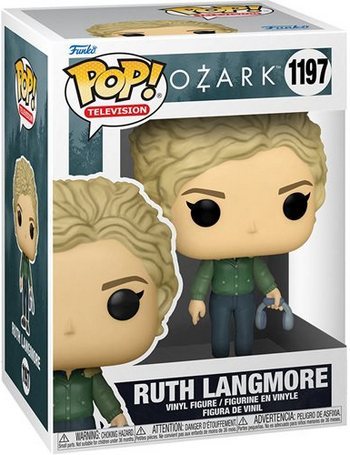 Also available from:
1198 Wendy Byrde
Wendy Byrde is in full schmoozing mode. wearing a fashionable yet conservative dress, holding a wine glass. This dress looks like the dress Wendy wore in the  Season 3 episode titled "Civil Union". Let us know if you think we have got this right or wrong in the comments below.
Wendy was raised in Boone, North Carolina, growing up in a poor, church-going family. Her teenage years were very troubled with her getting acquainted with drugs and alcohol. She had a number of relationships some of which resulted in visiting an abortion clinic. Wendy confessed her sins to her priest who quickly rejected her causing her to split from the church.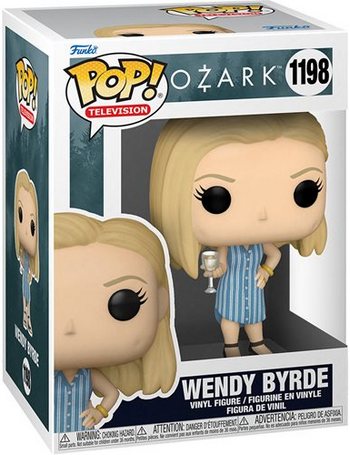 Also available from:
Are you an Ozark fan?
Which other Ozark characters would you like to see added to the Ozark Funko Pop series? There are quite a few characters that could be added after 4 seasons of Ozark.
Are there any other Netflix Pops that you like and have added to your collection?
The Squid Game Funko Pops and Witcher Funko Pops are examples of pretty cool Netflix Tv Pops.
Let us know what you think in the comments… we would love to hear from you.
Regards 
AFG