Last Updated on May 23, 2023 by Dexter Roona
We have a special Ryu Crimson Hawk Ranger action figure to report on today. Power Rangers and Street Fighter are joining forces with a unique collaboration and giving us mashups of the franchises in the form of the Lightning Collection Power Rangers X Street Fighter line. Here is all the news and info you need on this new collectible, the best online retailers to buy the Ryu Crimson Hawk Ranger from and some really cool images so you know exactly what he looks like.
The 6-inch Lightning Collection Mighty Morphin Power Rangers x Street Fighter Collaboration action figure is aimed at 4+ on the packaging. But for me, the price point of around $34 (£29 or so) puts this figure firmly into the premium action figure collectors market.
The figure has the premium paint job that you would expect of an action figure at this price and exquisite decorative details inspired by Capcom's iconic Street Fighter and Power Rangers franchises.
Ryu Crimson Hawk Ranger 6-inch Action Figure
The Ryu Crimson Hawk Ranger 6-inch action figure has over 20 points of articulation.
There is a pair of interchangeable hands and a display stand to show off this awesome figure. And there are a couple of fire-type accessories which don't seem much for the money.
Free shipping on orders over $39.99 US ONLY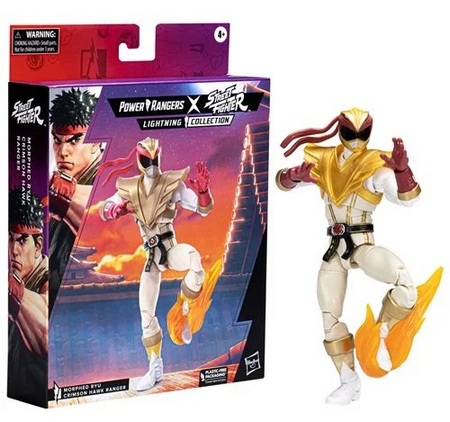 Ryu began life as an orphan and was adopted by the martial arts master Gouken. As Ryu grew up, he entered training under Gouken beside Ken Masters, the young heir to the Masters family. The two of them quickly became friends and trained together in the art of Ansatsuken.
In the games Power Rangers Legacy Wars and Power Rangers: Battle for the Grid, In the games Ryu is able to access the Morphin Grid to become the Crimson Hawk Ranger (formerly known as the Ryu Ranger).
So what do you think of this new Ryu Crimson Hawk Ranger 6-inch action figure?
Is it expensive for what it is or is it so good that you just want him regardless?
Which other action figures do you collect?
The Star Wars Black Series figures are pretty cool along with the new Andor Black Series Figures and both series are more at the price point of what this figure should be. Also, the NECA Alien action figures are favorites of ours as well.
No doubt the Ryu Crimson Hawk Ranger 6-inch action figure is a great figure. But it's just a bit pricy… but I still want one.
Regards
AFG