Last Updated on March 5, 2023 by Dexter Roona
With the premiere of Season 3 of Ted Lasso fast approaching we bring you our Ted Lasso Season 1 and 2 Recap to bring you up to date with all the goings on at AFC Richmond and is there a movie on the way?
Ted Lasso is a heartwarming and hilarious comedy series that has captured the hearts of viewers worldwide.
Created by Jason Sudeikis, Bill Lawrence, Joe Kelly, and Brendan Hunt, the show follows the story of Ted Lasso, a small-time American football coach who is hired to coach a professional soccer team in the UK.
With two successful seasons under its belt, the third season of Ted Lasso is set to premiere soon.
If you're a fan of the show, or if you're just looking to catch up on what you've missed, here's a full breakdown of Ted Lasso season 1 and 2.
NB: Please note that this article may include affiliate links, which means we could earn a commission if you purchase a product or service through one of them. Our recommendations only include products and services that we believe will be of value to our readers. The commission we earn supports the maintenance of this website and allows us to continue providing high-quality content. Thank you for your support!
Ted Lasson Season 1 Recap
Season 1 of Ted Lasso premiered on August 14, 2020, and introduced viewers to the titular character, played by Jason Sudeikis. Ted is a successful American football coach who is recruited to coach the AFC Richmond soccer team in the UK, despite having no prior experience with the sport.
Along with his trusty assistant coach, Coach Beard (Brendan Hunt), and the team's owner, Rebecca Welton (Hannah Waddingham), Ted sets out to turn the struggling team's fortunes around.
Throughout the season, Ted's unorthodox coaching methods, positive attitude, and folksy wisdom begin to win over the team and the fans.
Along the way, we meet some of the other key characters, including the team's star player, Jamie Tartt (Phil Dunster), the up-and-coming rookie, Sam Obisanya (Toheeb Jimoh), and the team captain, Roy Kent (Brett Goldstein).
The first season also explores the personal lives of the characters.
Ted is dealing with a painful divorce and missing his son, while Rebecca is struggling to come to terms with her own personal demons.
We also see the growing romance and relationship between Jamie and Keeley Jones (Juno Temple), a model and influencer who becomes involved with the team.
Season 1 ends with a dramatic twist, as we discover that Rebecca was actually behind the team's struggles all along.
She had hired Ted unbeknown to him to intentionally sabotage the team with his gaping gap of football knowledge as revenge against her ex-husband, who had cheated on her with a younger woman.
Get ready to save big at Entertainment Earth! For a limited time, you can enjoy a generous 10% discount on all in-stock items. Plus, you'll receive free postage and packaging on any orders totaling over $39.99. Simply click the link to claim your discount and start shopping today! – AFGEEK discount. 

If you would like more information about this discount then please refer to our Entertainment Earth Discount page.
Ted Lasson Season 2 Recap
Season 2 of Ted Lasso picks up right where season 1 left off.
The season explores the fallout of Rebecca's actions and the impact they have on the team and her own personal relationships.
Ted, meanwhile, is struggling with his own mental health issues and begins to see team therapist, Dr. Sharon Fieldstone (Sarah Niles) though not until the very end of the season.
As the season progresses, we see the team face new challenges, including the arrival of a possible new team owner, who has his own ideas about how the team should be run.
We also see the personal lives of the characters continue to evolve, with Keeley starting her own PR agency and Roy struggling to figure out what to do after retiring from the sport.
One of the standout storylines of season 2 is the growing romance between Sam and Rebecca.
Despite their age difference and the disapproval of some of the other characters, the two fall in love and begin a secret relationship.
Season 2 ends with a touching moment between Ted and Dr. Fieldstone, as Ted finally opens up about the root of his anxiety and depression.
We also see the team win a crucial game and qualify for the playoffs, setting the stage for an exciting third season.
What to Expect in Ted Lasso Season 3
While details about the plot of season 3 are being kept under wraps, we can expect to see the continuation of the characters' personal journeys and the team's progress.
It is confirmed that there will be some new additions to the cast, including the return of sports psychologist Dr. Sharon Fieldstone played by Sarah Niles who appeared in season 2.
The season is also expected to address some of the real-life issues faced by the football/soccer industry, such as racism and mental health.
There is also speculation that the season might explore Ted's past more deeply, including his relationship with his father and his time coaching at Wichita State.
Ted Lasso Season 4 or Big Screen Movie Release?
In an interview, Jason Sudeikis hinted that season 3 of Ted Lasso could be the show's last.
While this news may come as a disappointment to fans who have grown to love the characters and their stories, it's important to remember that all good things must come to an end.
However, there is still hope for more Ted Lasso content in the future.
Could there be a Ted Lasso movie could be in the works, giving fans a chance to revisit their favorite characters and catch up on their adventures?
While nothing has been confirmed yet, the possibility of a Ted Lasso movie is certainly exciting news for fans of the show.
Ted Lasso Merchandise Machine
If you're a fan of Ted Lasso, you can show your love for the show with some cool merchandise.
There are plenty of options available, from T-shirts and hoodies to coffee mugs and keychains.
One of the most popular items and favorites of ours is the Funko Pop! Vinyl figure of Ted Lasso himself, complete with his signature mustache and whistle. There are also Funko Pops of other characters, including Rebecca Welton, Roy Kent, and Keeley Jones.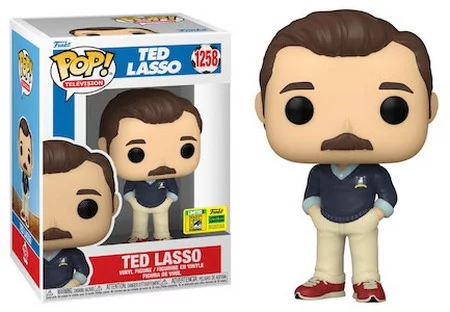 You can also find official AFC Richmond soccer jerseys, hats, and scarves to show your team spirit. With so many options available, you're sure to find the perfect piece of merchandise to show off your love for Ted Lasso.
How to Watch Ted Lasso
Ted Lasso is available for streaming exclusively on Apple TV+. If you're not already a subscriber, you can sign up for a 7-day free trial and binge-watch both seasons before the third one premieres.
The show has received critical acclaim for its heartwarming storytelling, excellent performances, and witty writing, making it a must-watch for fans of comedy and sports dramas.
Ted Lasso Season 1 and 2 Recap before Season 3
Ted Lasso is a charming and uplifting show that has captured the hearts of audiences worldwide.
With two successful seasons under its belt and a third one on the way, now is the perfect time to catch up on the story so far.
Whether you're a fan of the show or a newcomer, there's something for everyone in Ted Lasso, from the hilarious one-liners to the heartwarming character development.
So grab some popcorn, settle in, and get ready to cheer on AFC Richmond in their next season.
More from the AFGeek Blog: