Last Updated on February 28, 2023 by Dexter Roona
Today we bring news of a new Mandalorian Funko Pop in the form of The Mandalorian on Speeder (with Grogu) Funko Pop! We have all the news of this cool new Star Wars Pop! release and the best online retailers to buy it from.
With the release of series 3 of The Mandalorian comes a new Mandalorian Funko Pop on Speeder with Grogu Pop! with many more anticipated to be coming to join the existing Mandalorian Funko Pop! list
The Mandalorian, Din Djarin is the main protagonist of the Disney+ series "The Mandalorian." He is a skilled bounty hunter and a member of the Mandalorian culture.
Din Djarin is played by Pedro Pascal, who wears the iconic Mandalorian armor throughout the series.
Din Djarin is a solitary figure who prefers to work alone and avoid attention.
He is a man of few words, and his past is largely shrouded in mystery.
However, as the series progresses, we learn more about his backstory and the events that shaped him into the hardened warrior he has become.
NB: This The Mandalorian on Speeder (with Grogu) Funko Pop! article contains product affiliate links. If you click a link and make a purchase then AFG may make a very small commission at no cost to you.
579 The Mandalorian on Speeder (with Grogu) Funko Pop!
Throughout the series, Din Djarin takes on a variety of dangerous missions, often involving the retrieval or protection of a young child known as "The Child" or "Baby Yoda."
As he travels across the galaxy, he must navigate various threats, including rival bounty hunters, Imperial remnants, and other dangerous enemies and here we have a cool Mando Pop! featuring The Mandalorian on his Speeder Bike with Grogu on the back.
Shopping Guide
You can buy the Star Wars The Mandalorian on Speeder (with Grogu) Funko Pop! Funko Shop Exclusive from the following recommended retailers:

Entertainment Earth is offering a very generous 10% discount on all in-stock items with free postage and packaging on all orders you make totaling over $39.99. You can claim this discount by clicking here – AFGEEK discount. 

If you would like more information about this discount then please refer to our Entertainment Earth Discount page.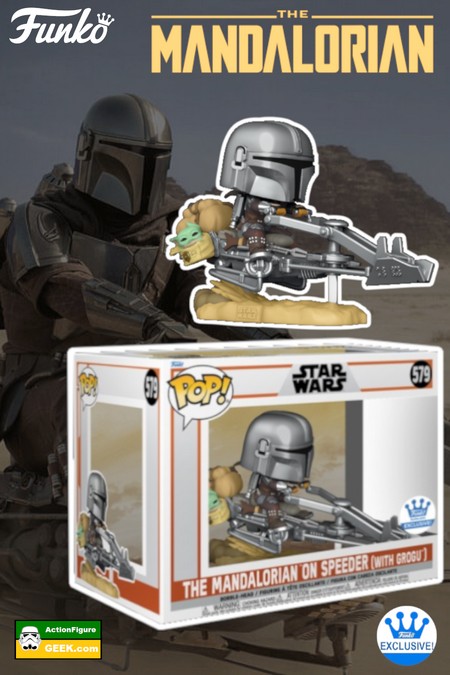 Din Djarin's character is defined by his strong sense of honor and his loyalty to the Mandalorian way of life.
He adheres to a strict code of conduct and is willing to risk his life to protect those he cares about.
Despite his tough exterior, he develops a deep bond with Baby Yoda, and their relationship becomes the emotional heart of the series.
Will you be adding the Mandalorian on Speeder (with Grogu) Funko Pop! to your Star Wars Funko Pop! collection? Let us know in the comments!