Last Updated on July 22, 2022 by Dexter Roona
We have another new Marvel Comic Cover to bring you, here is the Wolverine Marvel Comic Cover Funko Pop. We have everything you need to know about this new Funko Pop and the best online retailers where you can buy him.
Those of you who collect Marvel Comic Covers know that the numbering on occasion has had gaps. There was no 06 Marvel Comic Cover, that is until now because, yes the Wolverine Funko Pop Comic Cover Vinyl Figure has filled the number 6 spot, we just need to know who will be in the 7, 9, and 11 spots?
NB: This article contains product affiliate links.  If you click a link and make a purchase then AFG may make a very small commission at no cost to you.
Wolverine Marvel Comic Cover Funko Pop
Wolverine is one of the most popular characters in the X-Men universe. He is a big hit in both the X-Men comics and the X-Men movies.
This Marvel X-Men Wolverine Comic Cover Funko Pop is inspired by the cover of Wolverine Vol 7 #1 by Kael NGU, which was released in 2020.
Free shipping on orders over $39.99 (US Only)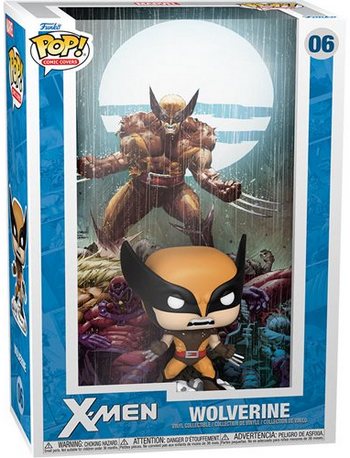 Wolverine has his trademark adamantium claws and weathered appearance that we love… he is rough and ready. His claws have never looked sharper and his facial expression is as menacing as ever.
Wolverine aka Logan was created by Roy Thomas, Len Wein, and John Romita Sr. He is known for his Adamantium claws, his bad temper, and his fast healing ability.
In the movies, Wolverine is a loner with superhuman strength. He often gets into fights which is not really a problem when you tend to win them all and have regeneration powers even when the fight doesn't quite go your way.
But it is a different story from the comic book version of Wolverine. In the comics Logan cares for those around him, he is much more of a team player and not really the loner in the movies.
Whether taking down the bad guys or cracking wise, Wolverine is always ready for a big fight. And that's what makes him a great hero.
But one thing remains the same between the comic and movie versions and that is that Wolverine is never afraid to stand up for what he believes in and always willing to protect those around him even at his own personal cost.
Are you an X-Men fan? Who would you like to see as the next Wolverine in the movies.?
Which other Marvel Funko Pops do you like?
We love the WandaVision Pops from the Disney+ Show and the Zeus Funko Pop is a great addition to the Thor Love and Thunder Pops.
Let us know in the comments section. We would love to hear from you.
Regards
AFG