Last Updated on November 18, 2022 by Dexter Roona
It's time to delve back into the Funko Anime Pops category with this new Black Clover Dorothy Funko Pop! Funko Exclusive. Here is everything you need to about this new Black Clover figure and the best online retailers to buy her from.
The Black Clover anime mixes magical battles and lovable characters together. The result is an anime/manga series that the fans love.
The Black Clover Dorothy Pop depicts Dorothy throwing the peace sign. She wants everyone to know that she is ready and very capable to take on whatever comes her way. It doesn't matter if it's a fierce opponent or a fellow powerful character with similar abilities, she is ready.
Dorothy is a witch from the Witches' Forest. She is also the Captain of the Coral Peacocks and a master of Dream Magic. Dorothy also holds some elf magic as a result of being the human host for the elf Reve. She was able to retain the elf magic after she was freed from Reve's possession.
NB: Action Figure Geek earns commission payments from qualifying purchases from affiliate programs such as Amazon, Entertainment Earth, and more.
2022 Black Clover Dorothy Funko Pop! Funko Shop Exclusive Vinyl Figure 
Dorothy uses Dream Magic. This allows her to enter other people's dreams and take control of them. She can make them believe things that are not real.
Black Clover story follows the adventures of a young boy named Asta. He dreams of becoming the Wizard King. The Wizard King is the most potent and powerful magic manipulator in the kingdom.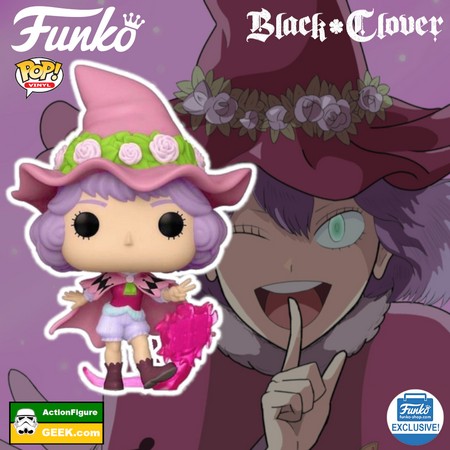 Shop for the new 2022 Black Clover Dorothy Funko Pop! Funko Shop Exclusive Vinyl Figure at: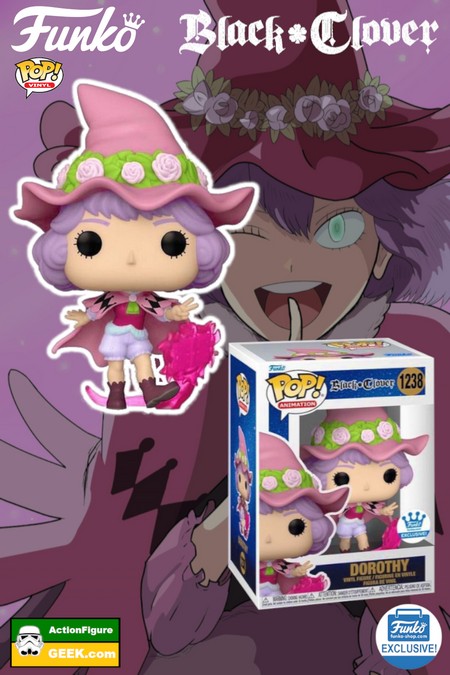 There are many types of magic in the world of Black Clover, each carrying its own unique effects and uses but there is none more powerful than Dream Magic that Dorothy is highly proficient in. She is a powerful witch. Her abilities are both feared and respected by her friends and her enemies.
Are you a Black Clover Fan?
Will you be adding the new Funko Pop! Black Clover Dorothy Funko Pop! Vinyl Figure – Funko Shop Exclusive to your anime Pop! collection?
Which other anime Funko Pops do you collect?
I really like the Naruto Pain Funko Pops and the Attack on Titan Female Titan Bait Exclusive is great as well.
Away from anime, I like the X-Men Sentinel with Wolverine PX Exclusive and I also really like the WWE Women Superstars Pop Pins.
But which Pops do you like?
Let me know in the comments below.
Regards
AFG
Looking to add some anime Pops to your collection? Get 10% discount on all in-stock items at Entertainment Earth and free postage on orders over $39.99 with our AFGEEK Entertainment Earth Discount.