Last Updated on October 31, 2022 by Dexter Roona
Welcome to our AFG Addams Family Movie Funko Pop Checklist and Buyers Guide covering all the Pops that have been released from the popular Addams Family animated movies.
Let's get started!
2019 gave us some really cool Pop Vinyl figures from The Addams Family animated movie. The premise of the movie was the macabre family moving to an everyday suburb where Wednesday Addams' friendship with the daughter of a local reality show host brings comic conflict between the families in true Addams Family style.
The vocal talents of Oscar Isaac brought Gomez to life, Charlize Theron gave us Morticia, Finn Wolfhard gave a spirited version of Pugsley, Chloë Grace Moretz did a great job as Wednesday, and Nick Kroll as Uncle Fester.
The movie was a big hit and has spawned a sequel, imaginatively titled The Addams Family 2 so we can expect some new Pops to be landing soon on this Movie Pop list very soon. Let's hope that when they arrive they are as good as the Pops from the first movie.
Addams Family Movie Funko Pop Checklist
801 Morticia Addams
802 Gomez Addams
803 Wednesday Addams
804 Pugsley Addams
805 Lurch with Thing
806 Uncle Fester
NB: Our Addams Family Pop Checklist and Buyers guide does contain product affiliate links. If you make a purchase as a result of clicking an affiliate link then we might make a small commission at no cost to you.
It is how we pay for our great site so thanks in advance for your support.
Addams Family Movie Funko Pop Buyers Guide and Gallery
Let's take a look at each of these great Addams Family Movie Pops on this list in more detail.
If you think we have missed a Pop that you think should be on this list or you discover a mistake we have made then let us know via our contact form linked in the menu and we will be happy to update this list.
801 Morticia Addams – Addams Family Movie Pop
Morticia looks great in Pop form.
The likeness to the animated movie character is great, the detailing is awesome. A great buy for your Addams Family collection.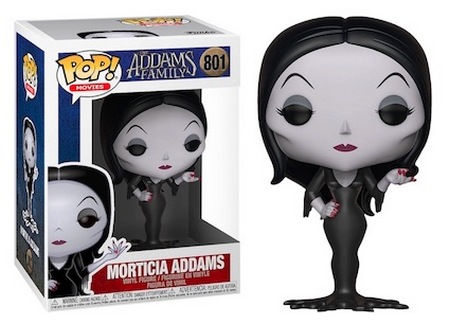 Price Check – Amazon
802 Gomez Addams Funko Pop Vinyl – Addams Family Movie
Again just like the Morticia Pop Gomez looks great in Pop form with strong detailing.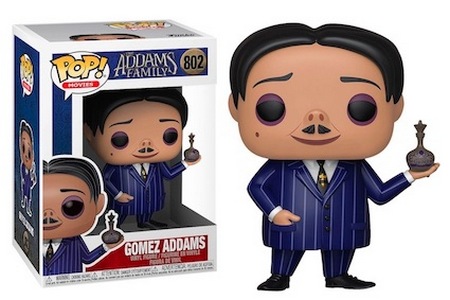 Price Check – Amazon
803 Wednesday Addams – Movie Pop
Wednesday Addams is our favorite Pop from the Addams family movie series.
She just looks great in Pop form. Wednesday has some of the strongest detailing that we have ever seen, her hair braids are awesome, and the boots look great. Netflix has also now commissioned a new series titled "Wednesday" that delves into the teenage life of Wednesday Adams and this new Netflix Series offers us a cool new series of Wednesday Adams Funko Pops.
We really like this Pop at ActionFigureGeek.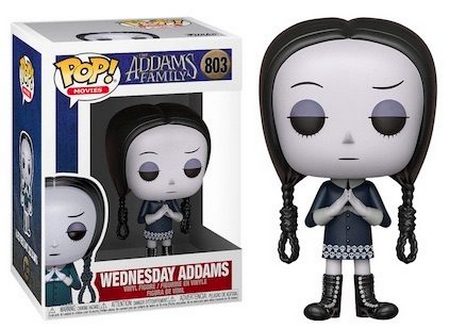 Price Check – Amazon
804 Pugsley Addams 804 Addams Family Movie Pop
Another great Pop. There really isn't a weak Pop from the series.
His little pot belly is captured in style 😉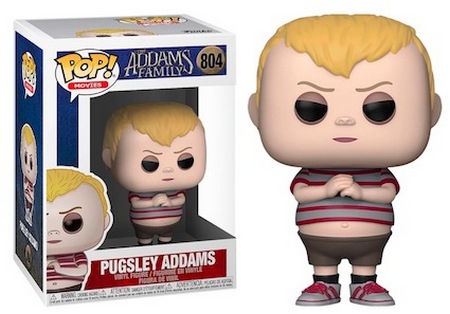 Price Check – Amazon
805 Addams Family Movie – Lurch with Thing – Funko Pop Vinyl
The Movie version of Lurch and Thing is another great Pop.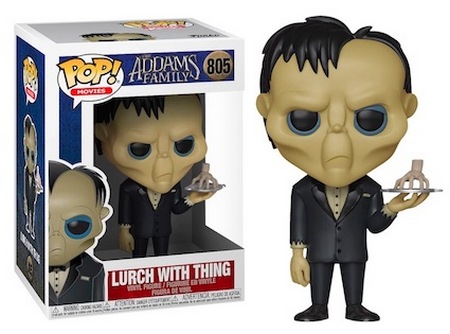 Price Check – Amazon
806 Uncle Fester – Addams Family
No Addams Family Pop list would be complete without Uncle Fester.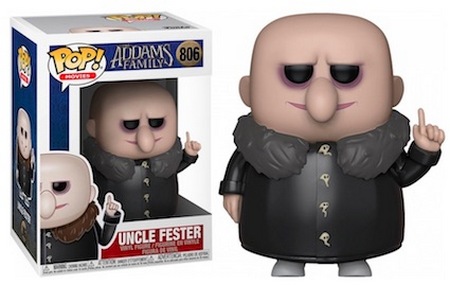 Price Check – Amazon
So will you be adding any of these cool Addams Family Movie Pops to your Pop collection?
Who is your favorite character from the Addams Family Movie Pops?
Let us know in the comments section below.
Regards 
AFG
Get a 10% discount on all in-stock items at Entertainment Earth with Free postage and packaging on all orders over $39.99 
Related Movie Checklists: