Last Updated on October 28, 2022 by Dexter Roona
We return to the Funko Pop Television category to bring news on the new Wednesday Funko Pops. There are 3 new Wednesday Addams Funko Pops to talk about.
The new Wednesday Addams Funko Pops are inspired by the new Netflix series Wednesday.
Wednesday Addams is the daughter of Gomez and Morticia Addams, born into a family of darkness and quirkiness.
She always wears black, and has black hair that is braided into pigtails. She very rarely smiles, and she has a passion for all things dark and macabre.
We are given three versions of Wednesday. There is the Wednesday Addams common Funko Pop the Diamond Glitter Funko Pop – Hot Topic Exclusive and the Wednesday Addams with Cello Funko Shop Exclusive
NB: This article contains product affiliate links. If you click a link and make a purchase then AFG may make a very small commission.
Shop Wednesday Funko Pops at
New Funko Television Netflix Wednesday Addams Funko Pops
1309 Wednesday Addams common Funko Pop 
Personally, I prefer this common version of Wednesday Adams to the Wednesday Diamond Glitter Hot Topic Exclusive.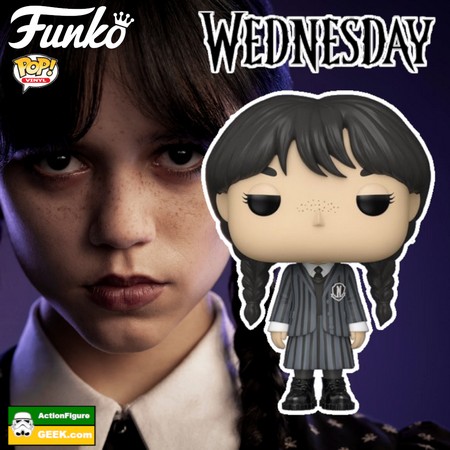 1310 Wednesday Addams with Cello Funko Shop Exclusive 
Wednesday playing the Cello, Funko Shop Exclusive.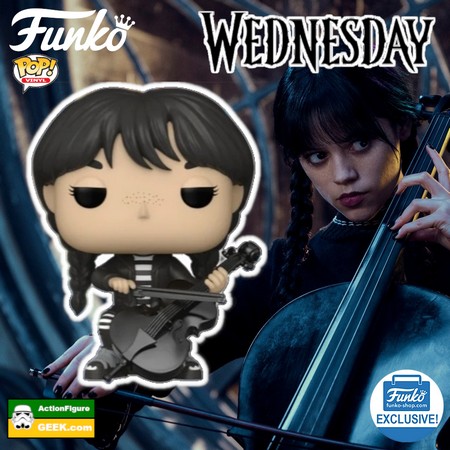 1311 Wednesday Addams Diamond Glitter Funko Pop – Hot Topic Exclusive
I prefer the common version of this Pop because the Glitter effect seems to take away the strong detailing of Wednesday Adams School Uniform.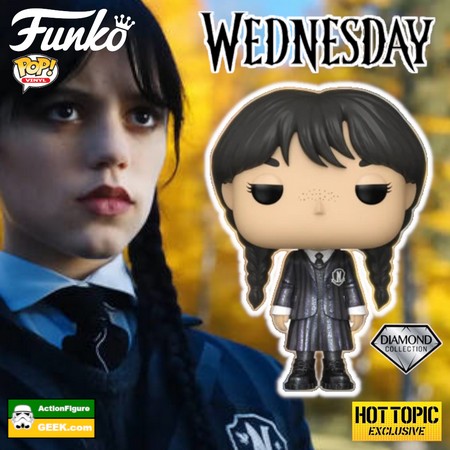 Wednesday Addams
Wednesday Addams is the most famous Adams Family member. She has a unique style of her own, the black dress, the cute braids, and the always very dry deadpan expression.
Miss Adams has a brilliant. She loves nothing more than coming up with elaborate plans and schemes and bringing them to life.
She hates being told what to do and is a determined character who is always ready to give her opinion when required and speak her mind. When something needs to be done Wednesday is the person to call on. She is always up for the challenge.
The new Netflix series gives us insight into Wednesday's informative student years at Nevermore Academy, though there doesn't seem to be much she doesn't already ready know.
At Nevermore Academy Wednesday battles to control her fast-emerging psychic abilities, and prevent a whole series of ghastly deaths that terrorize the town, and she has the small matter of solving the supernatural mystery surrounding her parents 25 years earlier.
All of this while dealing with teenage life and the new and very complicated relationships in every direction at school.
Wednesday Addams is expertly played by Jenna Ortega, Morticia by Catherine Zeta-Jones, and Gomez Addams by Luis Guzmán.
Tim Burton makes his television director's debut by directing the first two episodes of Wednesday.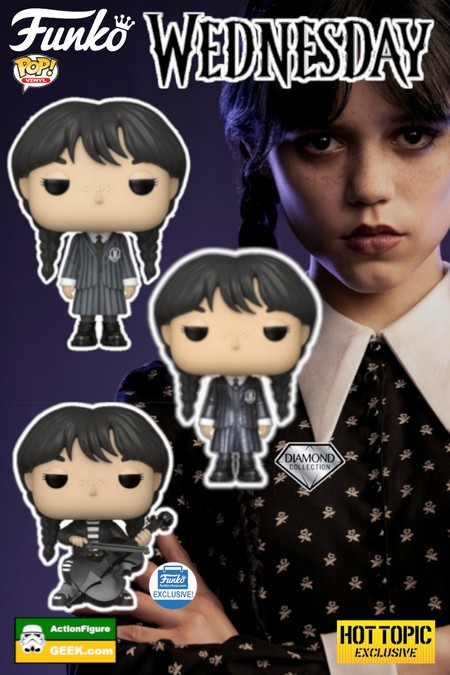 Are you an Adams Family Fan?
Will you be buying these new Wednesday Funko Pops?
Which other Television Funko Pops do you collect?
I am a huge fan of the new HOTD Caraxes Funko Pops and the wider House of the Dragon Funko Pops. The new Star Wars POTG Rey Funko Pop is very special as well.
But which TV Pops do you collect?
Let me know in the comments section below.
Regards
AFG
You can now get a 10% discount on all in-stock items and Free postage on all orders over $39.99 at Entertainment Earth by using our Action Figure Geek discount here –

Entertainment Earth Discount
Want to know what is coming before it is confirmed or released?
Checkout: