Last Updated on October 28, 2022 by Dexter Roona
We have a new Star Wars Funko Pop to report on, the new Star Wars: POTG Rey Funko Pop Vinyl Figure Amazon Exclusive. Here is all the news and gossip on this cool POTG collectible.
You know the drill, in a galaxy far, far away, etc, Funko brings us the Power of the Galaxy Rey Funko Pop.
Rey (Daisy Ridley) is the latest Star Wars movie heroine of the Star Wars franchise. Now, Rey is being honored with this new Rey Power of the Galaxy Funko Pop Amazon Exclusive.
NB: This new Rey Power of the Galaxy Funko Pop post does host some product affiliate links. If you click one of these affiliate links and make a purchase then Action Figure Geek may make a very small commission at no cost to you.
Shop Star Wars POTG Funko Pops at
Star Wars POTG Rey Funko Pop Vinyl Figure Amazon Exclusive
Rey is figure 6 of 6 from a Power of the Galaxy Amazon-exclusive Pop figure series that celebrates the powerful women of Star Wars.
Previous figures in the series include Padmé Amidala, Sabine Wren, Jyn Erso, Princess Leia, and Ahsoka Tano. Rey is the 6th strong Star Wars woman and completes the Power of the Galaxy series.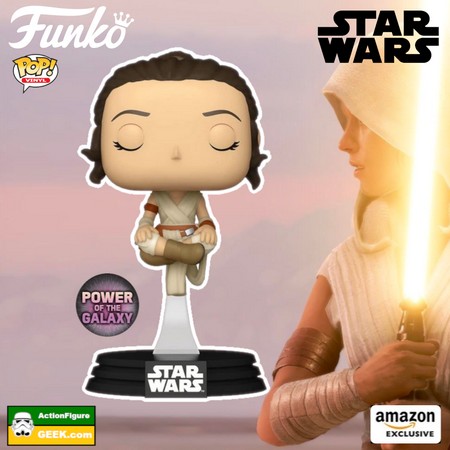 Shop for the Star Wars POTG Rey Funko Pop Vinyl Figure Amazon Exclusive at

AMAZON

and

AMAZON UK
Rey was first introduced in The Force Awakens, starting out as a scavenger on Jakku.
Rey's parents abandoned her at a very young age. She had to grow up fast to survive and quickly became a strong and incredibly resourceful young lady.
When Finn and BB-8 crash land in the desert, she is keen to join them on their quest to save the galaxy and becomes involved in the conflict between the evil First Order and the Resistance. During this period Rey discovers that she is force sensitive.
Rey develops into a powerful Jedi possessing a very deep intelligence and wisdom that serves her decision-making well.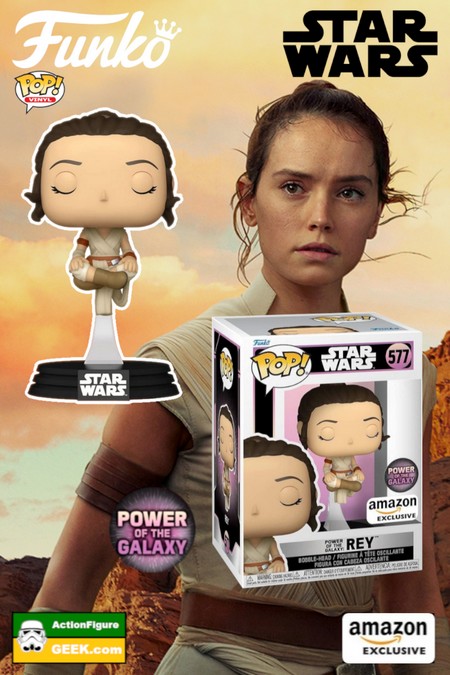 Are you a Star Wars Fan?
Will you be buying this Star Wars Rey Power of the Galaxy Funko Pop or any of the other strong Star Wars females in this Amazon Exclusive series?
Which Star Wars characters do you collect?
I really like the Star Wars Comic Covers and the Child Funko Pops.
But I want to hear from you now.
Use the comments section below to let me know what you like.
Regards
AFG
Would you like a 10% Discount and FREE postage at Entertainment Earth?