It's time to compile another checklist and buyer's guide this time for the new Star Wars Comic Covers Funko Pop. Let's take a look at what has been released and the best online retailers to buy these Funko on.
This new series of Star Wars-inspired Comic Covers is long overdue and we expect the lineup to grow fast. At the moment we have a single release, 01 Luke Skywalker Comic Cover Walmart Exclusive but we know that more characters will be joining Luke soon.
We have listed who we think will get the Comic Covers treatment. Of course, Darth Vader is a must, then there is Han and Chewy and Leia and so on and so on.
We have given our initial top 10 (including Luke). Only time will tell us how many we have got right.
NB: This article includes product affiliate links. If you click a link and make a purchase then AFG may make a very small commission at no cost to you.
Star Wars Funko Pop Comic Covers Checklist
01 Luke Skywalker Comic Cover – Walmart Exclusive
Unconfirmed Releases
None of these Star Wars Comic Covers have been released, they are merely our educated guesses of which Star Wars Characters could get the Funko Comic Cover treatment down the line.
02 Darth Vader
03 Princess Leia
04 Han Solo
05 Chewbacca
06 Yoda
07 Boba Fett
08 Jabba the Hutt
09 Lando
10 The Mandalorian
Star Wars Funko Pop Comic Buyers Guide and Gallery
Here are the Comic Covers released so far, inspired by the Star Wars comics.
01 Luke Skywalker Comic Cover – Walmart Exclusive
A great Star Wars Comic Covers series opening Funko Pop. Here we have Luke Skywalker in his white robes, with his utility belt and wielding a red light saber. In the movies, Luke is given his light saber by Obi-Wan Kenobi, with the color being blue. Luke loses this light saber when he fights Darth Vader on Cloud City at the end of The Empire Strikes Back. During the fight, Vader cuts off Luke's hand and the blue saber falls and is lost. Luke is rescued by  Leia, Lando, and Chewy in the Millennium Falcon. Lando is piloting the Falcon as Han has been frozen in carbonite and being shipped to Jabba the Hutts Palace. Luke then builds a new green light saber.
In the comics under a brief apprenticeship under the reborn Palpatine, Luke was forced to replace his green Jedi crystal with a red Sith gem. Luke wields this red light saber in the rebellion against the Soth Lord Palpatine. Luke then changed the crystal back to green giving him his signature green light saber.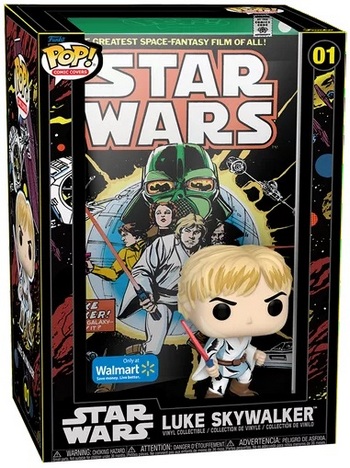 Comes in a hard case and features the cover art for the 1977 Marvel comic book Star Wars #1.
02 Darth Vader Comic Cover
The Star Wars Darth Vader Comic Cover spot is just about as locked in as it can be. Darth is one of the most well known movie and comic related villains and a standout Star Wars Character. There just has to be a Darth Vader Star Wars Comic Cover Funko Pop.
So which Star Wars characters do you think will become Star Wars Comic Covers?
Have I got it right with the selections that I have made?
I would love to know who you would have chosen, you can let me know in the comments section at the bottom of the page.
Regards
AFG