Last Updated on December 28, 2022 by Dexter Roona
Today we bring you all you need to know about the very cool Alluka Funko Pop from the Hunter X Hunter Anime Series. We have everything you need to know about the Alluka Zoldyck Funko Pop – with Chase and the best online retailers to buy her from.
Alluka Zoldyck is from a distinguished family formed by assassins. The founding assassins are some of the most feared in the Hunter x Hunter anime series. Alluka Zoldyck and the other children of the family all received tough character-building training in the art of murder with each member given the freedom to choose their own, unique kill specialty.
Alluka also has the gift of granting wishes. When three requests are fulfilled, a  transformation occurs and Alluka changes into Nanika. For unknown reasons, Alluka was possessed by the Dark Continent creature Naninka which shares Alluka's body. When the transformation occurs her appearance changes giving her completely black eyes and mouth.
NB: Disclaimer – This new Hunter X Hunter Alluka Funko Pop article contains product affiliate links. If you click a link and make a purchase then AFG may make a very small commission at no cost to you.
1028 Alluka Funko Pop! with Chase Alluka Zoldyck Chase Funko Pop! Hot Topic Exclusive 
Alluka Zoldyck has no combat abilities at all when it comes to fighting it is the presence of Nanika that everyone fears, even her own family. She has the ability to wipe out her family of trained assassins in an instant.
The Alluka Zoldyck Funko Pop Chase gives us a very cool version of Alluka in Nanika transformation mode with dark eyes and a dark smile. It is this Chase version of the Alluka Hunter X Hunter Hot Topic Exclusive that you want as a collector.
Shopping Guide
Shop for the Alluka Funko Pop Hunter X Hunter Figures at:

Get a 10% Discount on all instock items and Free Postage on all orders over $39.99 by using our AFGEEK discount code today.

Read more on this amazing discount at – Entertainment Earth Discount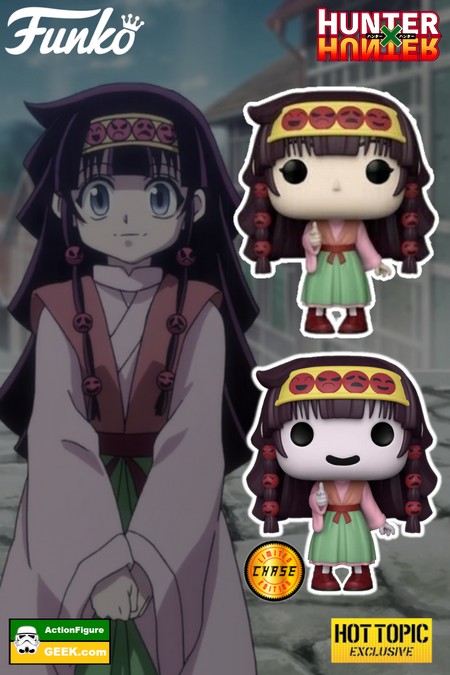 Are you a Hunter X Hunter fan?
Will you be looking to add this new Alluka Funko Pop to your Hunter X Hunter Funko Pop collection?
Which other anime Funko Pops do you like?
I am a fan of the Jiren Full Power Dragon Ball Pop and the Cart Titan Funko Pop.
But I want to hear from you. 
Which Pops do you collect?
Let me know in the comments below!
Regards
AFG