Last Updated on January 6, 2022 by Dexter Roona
In this latest AFG article, we are talking all about adult-themed LEGO and share with you the best LEGO sets for adults to buy.
Let's get started!
LEGO is for children, right? Well yes and no because there are plenty of LEGO sets for adults. Yes LEGO makes a great gift for a child and is known really for making sets for children but when you are talking about sets where the numbers of pieces go well into the thousands we are really moving into more adult-themed sets and what we really mean by that are sets that are more difficult to construct and designed to be displayed and not played with.
Even with the LEGO Minifigures, you can buy we are not just talking about the children's market we are also talking about the collectors market because LEGO Minifigures are hugely popular with collectors.
The same can be said for the LEGO BrickHeadz range. Some of the early Comic-Con BrickHeadz exclusives can change hands for hundreds of dollars if not thousands of dollars.
Why are adult LEGO sets popular?
LEGO has been with us for many years now and is a brand that has matured with its consumers. The young child who grows up with LEGO turns into an adult who likes LEGO. Even if they outgrow LEGO they will always see LEGO as a good buy for their own children.
Let's look at the Star Wars franchise. The original Star Wars figures sell for thousands and thousands of dollars and it's not children buying them, it's adults with disposable income, the fanatical collectors.
A LEGO R2D2 fits very nicely into the Star Wars collector market and at a premium price to hoover up disposable income.
Collectors are nostalgic. They like to collect things that were around when they were children and if you love your original ATST then you are going to like the LEGO Star Wars version.
Adult-themed LEGO appeals to the buyer who has grown up with LEGO and with clever marketing and investment in merch licensing crossover sets that have mass appeal to both young and old alike become have become available.
Best LEGO Sets for Adults – Checklist
LEGO Star Wars R2-D2 75308 (2,314 Pieces)

LEGO Creator Expert Volkswagen Beetle 10252 (1167 Pieces)

Harry Potter Hogwart's Castle 4842 (1290 Pieces)

LEGO Marvel Super Heroes: The SHIELD Helicarrier

76042 (2296 Pieces)

LEGO Porsche 911 10295 (1,458 Pieces)

Marvel Infinity Gauntlet 76191 (590 Pieces)
 

Please note that this best Best Adult LEGO Sets to buy article does contain some product affiliate links and if you click on one of these links and then make a purchase we might make a very small commission at no cost to you.

It's how we pay for our great site so thank you for your continued support.

 
Best LEGO Sets for Adults – Buyers Guide and Gallery
So let's take a look at some of the best LEGO sets for adults.
LEGO Star Wars R2-D2 75308 (2,314 Pieces)
We mentioned the R2D2 Star Wars LEGO set in the introduction and it is clear why it's a firm favorite with adults.
At 2314 bricks it is quite a detailed build and the price point also pushes R2 towards the adult market.
Bring R2D2 to life with authentic features including retractable mid-leg, opening, and extendable front hatches, rotating head, and adjustable periscope. There is also a hidden lightsaber in a secret compartment on the R2s head.
The buildable display stand with its information plaque makes this a set built to be displayed.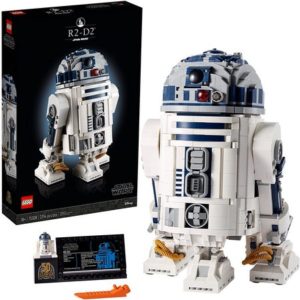 I would be very happy to receive this set as a gift and I am an adult 😉
Price Check – Amazon
Price Check – eBay
LEGO Creator Expert Volkswagen Beetle 10252 (1167 Pieces)
The LEGO Creator series allows you to build one of the most popular cars ever produced, the Volkswagen Beetle.
Bumblebee in the first Transformers movie was in the guise of a VW Beetle until he changed into the Camaro.
Authentic detailing includes traditional curved fenders, distinctive hubcaps, wing-mounted turn signals, and round headlights.
The Creators Beetle set also features opening doors, trunk, and hood.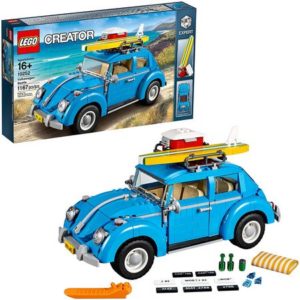 Dimensions:
Over 5 inches high, 11 inches  long, and 4 inches wide
At 1167 pieces the Beetle is aimed at LEGO fans 16+ years old. 
The Creators LEGO series is similar to the LEGO Teachics sets in that they are extremely detailed more so in fact but they feature a less technical working side.
A great buy for the adult LEGO fan or anyone with a passion for the classic VW Beetle car.
Price Check – Amazon
Price Check – eBay
LEGO Harry Potter Hogwart's Castle 4842 (1290 Pieces)
The Harry Potter franchise is absolutely huge and so the Hogwart's Castle is a very popular set to buy with mass appeal to Harry Potter fans.
Hogwarts Castle features Dumbledore's office with the Sorting Hat, a Basilisk fang, Gryffindor's Sword, and secret sliding stairs.
The Gryffindor common room features a fireplace with Sirius Black's scary face.
Tom Riddle's book is hidden in the knight's armor, there is also a restricted section of the library included. The Great Hall is decorated with traditional Slytherin and Gryffindor colors and there is also the Astronomy Tower and Vanishing Cabinet within this set.
This fan-favorite set features the collectible Harry Potter Minifigures:
Harry Potter
Hermione Grange
Professor Dumbledore
Argus Filch
Professor Snape
Lord Voldemort
Professor Flitwick
Professor McGonagall
Dementors x2
Knight
This set crosses over to the collector/fan market and is a great adult-themed LEGO gift and a great set for adults and teens.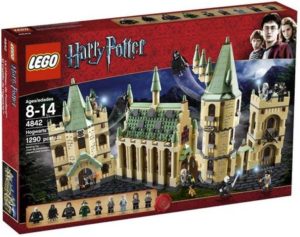 Dimensions:
Over 15 inches wide, 2.8 inches wide, and 23 inches high.
Includes 1,290 LEGO pieces
Price Check – Amazon
Price Check – eBay
LEGO Marvel Super Heroes: The SHIELD Helicarrier

76042 (2296 Pieces)
The next set that we are covering in our best adult LEGO sets to buy guide is one that we have covered previously on our Best LEGO Marvel Sets to buy post and it is the Shield Helicarrier.
We won't go into great detail on this one other than to say that this set is now discontinued so probably the best place to buy this set would be to check the Shield Helicarrier listings on eBay.
LEGO did replace this set with a smaller version, the Helicarrier 76042 that is less detailed.

We say smaller, it is still over 1200 pieces so a big build.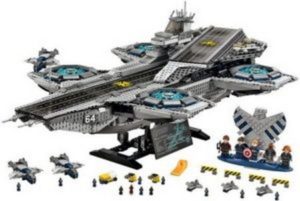 If you have someone who is a Marvel fan then this set is one to buy but it is expensive.
The complexity of the build and the price point makes this an adult LEGO set.
Price Check – Amazon
Price Check – eBay
LEGO Porsche 911 10295 (1,458 Pieces)
The LEGO Porsche 911 is a great set for anyone who loves LEGO or is into cars.
This building kit is one of many high-performance cars that LEGO has covered and is the perfect set for adults looking to build a replica 911.
Features include the rear-mounted, air-cooled flat-six engine, gearshift, working steering, emergency brake and there are even tilting seats.
This building set lets you build either the Turbo model with its turbocharged engine or you can opt for the Targa with a removable roof.
Other features include a wide rear axle, plus a turbocharged engine complete with an intercooler and an integrated spoiler.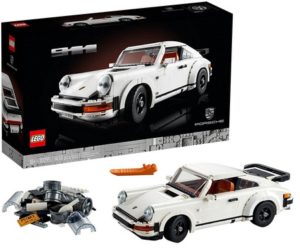 Price Check – Amazon
Price Check – eBay
Marvel Infinity Gauntlet 76191 (590 Pieces)
Have you seen the movies? If you are a Marvel Fan then this adult-themed LEGO Marvel Infinity Gauntlet is definitely one for you. It is also the perfect LEGO gift for adults.
This brick version of Thanos's Infinity Gauntlet is highly detailed with LEGO doing a great job in creating its movie likeness.
As you would expect this great set includes all of the Infinity Stones that Thanos collects ready for the snap!
A set really for collectors and designed to be displayed along with all your other Marvel figures and merchandise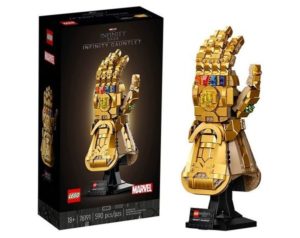 Dimensions:
Number of pieces: 590
Size: 12.5 inches (31 cm) tall, 5 inches (13 cm) wide and 4 inches (11 cm) deep.
Price Check – Amazon
Price Check – eBay
Buying LEGO for an adult? What to Look For in an Adult Lego Set
One of the biggest things to consider when buying an adult Lego is how attention-grabbing is it.
You need to look for sets that are big, the sets that will take time to complete because they are challenging. Your chosen set must be theme-related and something that the recipient is interested in.
Really consider the likes and dislikes of the lucky recipient. If they for example love Marvel movies they are sure to love Marvel LEGO sets. The same can be said for Star Wars or for a whole host of other movie franchises.
When you consider their interests it is really hard not to buy a good adult LEGO set that they will love.
That's all for now. So are you a LEGO fan?
Have you purchased any of these adult LEGO sets?
Let us know in the comments section below!