Last Updated on August 23, 2022 by Dexter Roona
The anime Pops keep coming with this new Bleach Fully Hollowfied Ichigo Funko Pop. There is a Glow-in-the-dark chase variant of this cool Pop for collectors to hunt down. Here is everything you need to know about the Funko Pop Bleach Fully Hollowfied Ichigo Vinyl Figure.
This new Funko Pop comes from the popular Bleach anime and gives us a Fully Hollowfied Ichigo with Glow-In-The-Dark (GITD) Chase Variant also on offer as an Entertainment Earth Exclusive.
Hollow Ichigo represents Ichigo's dark personality, and soul as he is the result of the fusion between the Hollow known as White.
NB: This Fully Hollowfied Ichigo Funko Pop article contains product affiliate links. If you click a link and make a purchase then AFG may make a very small commission at no cost to you.
Bleach Fully Hollowfied Ichigo Funko Pop and GITD Chase Variant
Free shipping on orders over $39.99 (US Only)
This new Funko Pop gives us a version of Ichigo in his full Lorde Vasto form. His face is twisted into a fearsome snarl as he wields his sword.
The Bleach series has an interesting story with characters that you both love and hate and this figure is sure to be a hit with Bleach Funko fans and would make a great addition adorning your shelf or posed in your collection cabinet.
Hollow Ichigo has a crazy maniacal laugh and psychotic grin. He is a brutal character, mean, arrogant, disrespectful, and sadistic. He exists to take over Ichigo's body and powers. His intent is to kill anyone and everything in his path and is opposed to Ichigo's desire to protect others. He sees Ichigo as a weak and unsuitable counterpart to himself.
Hollow Ichigo possesses brute strength he actively protects Ichigo's body whenever when it is in danger or about to die. If Ichigo dies, then he will die as well.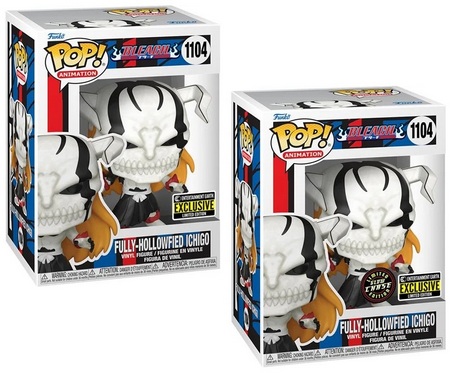 Free shipping on orders over $39.99 (US Only)
Other versions of Hollow Ichigo
96 Hollow Ichigo Common and GameStop Exclusive and Underground Toys Exclusive
There are a few versions of 96 Hollow Ichigo. There is the regular common Pop, a cool GameStop Exclusive and there is also an Underground Toys Exclusive. These Pops were released a while back now and so very hard to find with the best place to pick them up being eBay
Price Check – 

e

B

a

y
So are you a Bleach fan?
Do you own any of the Bleach Funko Pops that have previously been released?
Which other anime Funko Pops do you own? We really like the Black Clover Pops and the One Punch Man Pops.
The new Cowboy Bebop Funkos are cool as well.
Let us know in the comments section below, we would love to hear from you.
Regards
AFG