Last Updated on May 30, 2022 by Dexter Roona
So you have built up a great action figure collection but how do display your action figure collection to get the most out of it?
Well, there are a few things to consider.
How much space do you have to display your action figure collection?
Space, how much do you have? How many action figures do you have? Your collection may be way too big to display in total so you will need to implement some kind of rotation system.
Are your figures Mint On Card or Loose
Packaged figures are much harder to display and are going to take up a lot of space, you are going to need to come up with some interesting display ideas to really show them off.
Loose figures are much easier to display. They can stand up side by side in regimented formations or set into action poses. The best part is that you can just pick them up and change what they are doing and really refresh the look of your action figure collection instantly.
If you collect LEGO mini-figures these are really easy to display as they are so small, if they are included as part of a LEGO set then not so easy to display.
Most action figure collectors display both Mint On Card and Loose figures and then rotate their collection kind of how a museum will display is exhibits
With a large action figure collection comes a lot of dusting, constant dusting and it's not easy as you knock them over and get that domino rally effect. The solution to this problem is glass or perspex cabinets and boxes and shelving units.
Here are some of the best display solutions that you can look into.
How to display your action figure collection – Here are a few ideas
The APEX Action Figure Display Case by SMALLJOES.COM is a neat action figure display solution.
They provide a dust-free display environment for action figures, figurines, and collectables. The APEX Display Cases are an expandable solution. As your figure collection grows just add more cases. You can display them side by side or stack them. You can even create an action figure wall if you want to.
The Apex cases are a great solution for the 3 3/4″ scale figures as shown in the image. Figures can be displayed on 3 separate stepped levels which is a very cool feature, maximizing the space in the box.
Each box can display  20-25 loose 3 3/4″ figures depending on the space you want to give each figure
The APEX Display Case includes three parts: a crystal clear polystyrene base, a stand, and cover. The cover fits snugly around the base to keep out unwanted dust. The stand is designed to fit neatly inside of the case and to maximize space for display of 3 3/4″ – 4″ (roughly 1:18 scale) action figures, or other figurines and collectables of similar size.
If you would like to check the pricing and availability then the APEX Action Figure Display Cases are available on Amazon
Action Figure Display Shelves
Ikea offer action figure fans some great mid-price options or displaying an action figure collection. The Billy/Oxberg is my favourite.
This shelving unit has adjustable shelves so that you can adapt space between shelves according to your needs. Perfect for any scale of action figure and statue and just about any collectable.
The doors on these action figure display shelves have adjustable hinges allowing you to adjust the doors horizontally and vertically. Glass panels keep your action figures dust free but still highly visible.
The only downside of these shelving units is the lack of built-in lighting. If you are displaying figures and especially if displaying expensive statues in shelving units like these then you really need built-in lighting to show them off. Of course, you can add lighting to these units but its an additional cost.
High-end action figure and statue display options
Glass cases are really a high-end option for displaying your action figure collection. My preference between these two is the Narrow Frameless Glass showcase as it gives the appearance of being less imposing in a room. Great for both action figures, statues and really any collectables that you collect. If you are interested in these options then you can check the latest pricing and availability on Amazon.
How to display your Pop Vinyl figures
Collecting Pop Vinyls has become extremely popular. Some of the figures can now cost you upwards of $2000 if you want to add them to your Pop collection. The Headless Ned Stark from Game Of Thrones is an example of this and I want one;-)
The display shelving units below are designed for the Pop Vinyl figures but they would work well with any pop culture items. They are stackable and can be wall-mounted. They also have an environmental edge to them for those of us with a conscience in that they are made from recycled corrugated cardboard. Each stackable case comes with 3 backdrops that you can choose from.
Available from Amazon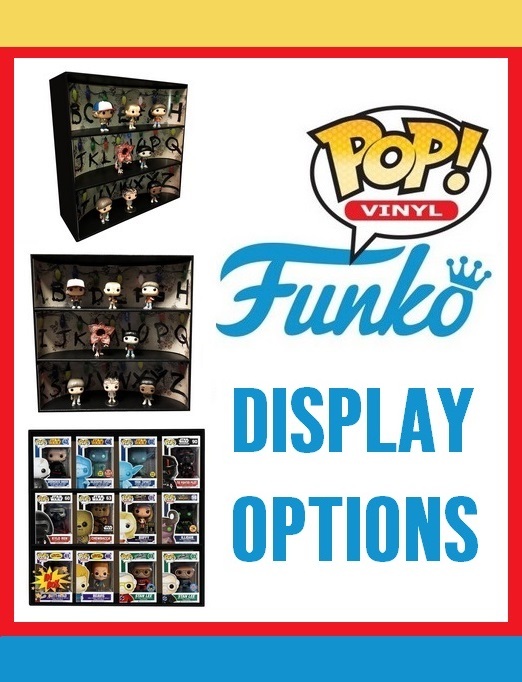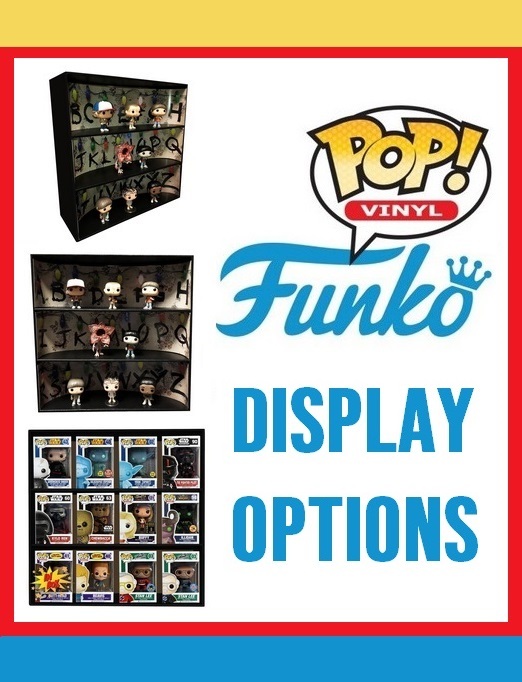 How to display your action figure collection – Takeaways
As you can see there are some great options to help you display your action figures to suit all budgets.  If you are looking at shelving units then you really do need some built-in lighting to really show off your prized possessions but you really are looking at the high-end display cases. They are expensive but then if you have spent $400, $500 or more on a statue or figure then is it expensive compared to the value of the collection you are displaying. Only you can decide.
One thing is for certain is that you can only have so many display cases in a room or house. You will at some point have to rotate what you display. Or just move house 😉
Regards Dexter
Now it's over to you. Are you a collector? 
Do you have any cool ways that you display your action figure collection?
Let me know in the comments below!