Last Updated on May 30, 2022 by Dexter Roona
Starting an action figure collection can be a fun and rewarding hobby to begin. It takes us back to our younger years and brings back that inner child. And who doesn't want to go back to the days when life was simpler.
We all have our favorite Tv Shows and Movies that we love. And collecting action figures, merchandise and memorabilia is a great way to celebrate what we love about these shows and movies.
An obvious example of a favorite movie would, of course, be Star Wars.
Star Wars is really where it all began for many a collector. The 3 3/4 inch plastic characters spawned a whole generation of collectors. All looking to relive their younger years and continue the nostalgia of the time. I remember when the figures first came out. My local toy shop, Deesons had racks and racks of the figures. Wave upon wave of characters, Leia, Han, Luke, Chewwy, Storm Troopers galore. If I had a time machine I would go back and buy them all and I would really like to see how they would have displayed Funko Pops if they were still around today
Star Wars was the first franchise to adopt the smaller size figures. Until the release of Star Wars figures by nature were much bigger
The smaller 3 3/4 inch figures made sense going forward with the creation of all the ships and vehicles that were in production. Luke Skywalker needed to be small enough to fit inside the X-Wing. Han Solo and Chewbacca needed to be small enough to fit inside the Millenium Falcon, 3 3/4 inch was a perfect size. Kenner was making the Star Wars Universe for us to immerse ourselves in
Jumping forward we now have Star Wars board games, costumes, mugs, toothbrushes. There is a Star Wars-branded version of just about any product you can think of. LEGO has even got in on the act and is producing lots of movie-related LEGO Sets incorporating mini-figures that are extremely collectible
Action figure collecting is not just about Star Wars. There is many a franchise that has spawned an action figure series. Favorites of mine include the Marvel Legends Series and the Lord Of The Rings Trilogy.
Both of these action figure series were 6-inch scale and produced by a brilliant Toy Manufacturer called Toy Biz. Unfortunately, Toy Biz no longer exists.
Toy Biz started out making toys for DC Comics. DC Comics Super Heroes was one of the early series.
They also made the first toys for 1989's blockbuster film "Batman" – notably the Joker, Bob the Goon, and the Dark Knight himself, as well as its vehicles and Batcave playset.
You can in fact still buy some of the Batman Series on Amazon today
I have seen the original Batman and Bob The Goon available there. Just check Amazon for the up to date pricing and availability.
Toy Biz then switched to Marvel where they made some great action figure series.
The thing that I remember about Toy Biz was that they created great figures at very affordable prices and they really were great value for money.
When you hold an original Marvel Legends Hulk in your hands you know you are holding something special.
He has bulk, weight, great articulation and was all for under $10 or so I seem to remember (if I'm wrong on that drop me a comment and I will fix that)
I know the Marvel Legends action figures sold here in the UK  for £5.99. (Marvel Legends are still with us but now under Hasbro and really quite expensive, more on this in a bit)
The original Marvel Legends Series 1 Toad now sells from anywhere between $70 and $100, and even more here in the UK. I actually found one of the early Toads in a bargain bin in Woolworths in Newport. The packaging was completely crushed. I picked him up for £2.00. I later sold him loose on eBay for over £50 plus p/p. That's around $70. The auction was for 7 days and there were just so many bids. This was an action figure that was incredibly difficult to find in the UK and everyone wanted him.
I actually wish I had kept him, but that is part of the fun of action figure collecting, well for me anyway. You find a rare figure you want at a really good price and you know it is worth a hell of a lot more. Do you cash in and sell that rare figure and then buy a stack more? or do you keep him? Sometimes I sell sometimes I don't. On this occasion I sold. I'm always following the eBay auctions looking for another but no luck yet.
Marvel filed for bankruptcy in the late 90s, Toy Biz jumped in to help them and the two companies merged.
Toy Biz created many successful action figure lines with Marvel but then for some reason, more than likely financial Marvel decided to sell their toy license to Hasbro.
The overall quality of the figures dropped overnight but the prices increased and have continued to increase.
So much so that the Hasbro Marvel Legends figures are now really just aimed at collectors and those with disposable income. They are rarely seen in toy shops as they are too expensive for kids to buy.
You can get them in ToysRUs but they are not stocked in the same numbers as they used to be.
The best places to now find Marvel Legends Figures are high street stores like Forbidden Planet and of course from the many collector sites on the web.
Toy Biz or Marvel Toys as they were to become known went on to make two series of Legendary Heroes and some Wrestling lines. But unfortunately, the company dissolved in 2008 and is sadly no longer with us.
Hasbro pretty much now has a monopoly on the action figures that you would see in toy shops.
How to start an action figure collection
First, decide which figures you want to collect. Star Wars, Marvel, Dc or maybe you are more into the whole Horror genre with Cult Classics or into movie franchises like Alien.
Decide what you are collecting and why.
Are you collecting figures that you grew up with or are you looking for great sculpts for you to display rather than figures aimed to be played with?
And before you begin your collection consider the space you have at hand because starting an action figure collection can seriously have space implications in your home.
Another consideration is the cost of figures and the means by which you store and display them to keep them in pristine condition
Starting an action figure collection – Mint in packaging or loose?
The whole Mint In Packaging V.s Loose is a major debate between collectors around the world.
There are those who say that to have the ultimate action figure collection you must keep your figures sealed in their plastic prisons, in a smoke-free room with the curtains drawn with blackout blinds.
Others are happy to just have a good quality loose collection. The advantage of this type of collection is that you get to handle what you buy and it is way easier to then display them.
Figures kept in their packaging tend to hold their value and increase over time. Loose figures are cheaper to buy and are less valuable. But it really depends on the figure and how rare it is.
So whats the answer? Well, I just collect both, but it does come down to space and money you have.
Mint In Packaging terminology on collectable and auction sites

"MIB" – mint in box

"MIP" – mint in package

"NM"  – near mint, meaning the figure is still in the package but has some wear and tear on the packaging
Displaying your action figure collection
How you display your action figure collection is absolutely key. Loose figures are easier to display than those mint in packaging. Loose figures can easily be displayed on shelving but if you want to do it right then you really need to go for the very cool display cases that are on offer
These are ideal for displaying collections in a specific area of your house or office. They help keep your collection from spreading all over the place. There are some very affordable options on the high street. If you want to check the current pricing and whats on offer on the web then you can start your research by visiting Amazon
There are some very good looking perspex/glass cabinets and display cases on the market but these do tend to be pricier but do really show off your collection in the best light. These types of display options are very popular with the statue collectors for obvious reasons.
If you are on a budget then regular shelves work just as well for a loose action figure collection. Just be prepared to do some dusting 😉
Here are some quick tips on where to buy action figures from
eBay Auctions
eBay is a great place to buy new and loose action figures from. But there are a few things to note before you do buy from eBay.
You are going to be ok when buying loose figures as they will survive the postal journey.
Buying Mint in packaging is a different ball game altogether. There are a lot of private sellers on eBay who are not collectors and really don't appreciate that quality is everything for action figure collectors. They will just post your purchases out in a sealed jiffy bag (bubble wrap) because it's cheap and they want to make a profit. Action figures sent out like this have just about zero chance of making it to you in a mint or near-mint condition.
When this happens to me they tend to be added to my loose figure collection.
Buying Tip –  Make sure that you contact the seller prior to buying and ask about their shipping methods and request that your items are shipped in a sturdy box. Mention that you are a collector and that condition is everything.
Online Stores
The overall delivery practices of online stores like Amazon tend to be much better than sellers on eBay. They use couriers rather than the postal service. But there are still no guarantees that your purchases will arrive mint in packaging.
Facebook Market Place
You can pick up some real bargains and rarities from the Facebook Market Place. Sellers are often just doing so to clear space. Their children have grown up and it's just a decluttering process. The downside is you normally have to go and collect and pay on the day. Still a very good option.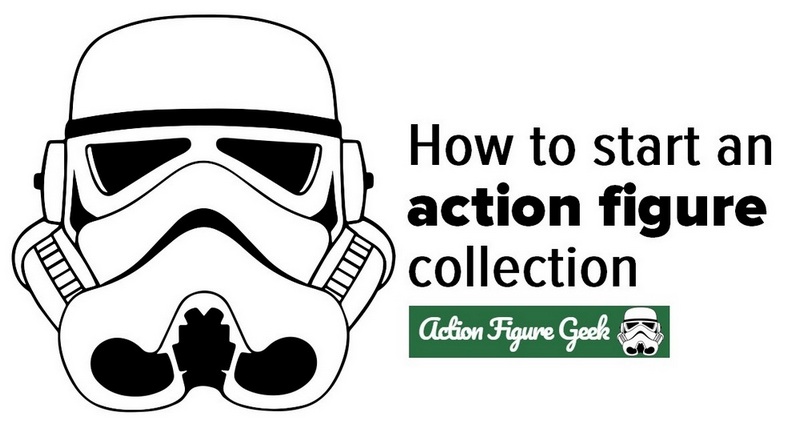 I hope I have given you some ideas on how to start an action figure collection and some great ways of displaying your figures.
If you have any questions or comments or any of your own display solutions that you want to share then feel free to leave us a comment below.
Happy collecting
Regards Dexter