Last Updated on October 31, 2022 by Dexter Roona
Today we bring you details on the Coco Alebrije Dante Funko Pop GITD BoxLunch Exclusive and Funko GITD Special Edition spirit animal. Here is everything you need to know about these Coco movie Pops and the best online retailers to buy them from. Keep reading until the end where you will find our Entertainment Earth discount.
Coco tells the story of a boy named Miguel, his family, and Dante a street dog. Music has been banned and forbidden for generations in Miguel's family but despite this, the boy dreams of becoming a music artist as great as his idol, Ernesto de la Cruz.  Miguel is so desperate to prove his talent, that he inadvertently ends up in the stunning Mexican World of the Dead.
Dante is a stray Mexican street dog and a major character from the 2017 Disney Pixar movie Coco who is looked after and cared for by Miguel and Riveras family. Dante always shows extreme loyalty to his friend Miguel and his family for the kindness that he receives daily.
But Dante has one big weakness, food. This leads Dante and Miguel into some embarrassing and compromising situations throughout the movie.
NB: This Coco Alebrije Dante Funko Pop article contains product affiliate links. If you click a link and buy a product then Action Figure Geek may make a very small commission.
1086 Coco Alebrije Dante Funko Pop GITD BoxLunch Exclusive and GITD Special Edition
This Coco Alebrije Dante Funko Pop shows Dante the Mexican street dog in his Alebrije form. An Alebrije is a spirit animal, that guides you through your life. They protect you and keep you from danger but at the same time push you towards life adventures ensuring that you live a life filled with magic.
The Glow in the dark BoxLunch Exclusive and Special Edition work really well as GITD Pops. The colors are vibrant and bright in the daylight and come to life when the sun goes down like any good Alebrije. The color scheme captures Alebreje Dante's playful and kind-hearted spirit personality perfectly with beautiful bright glowing colors and great good-looking patterns.
Just turn off the lights and watch his eyes and tongue glow.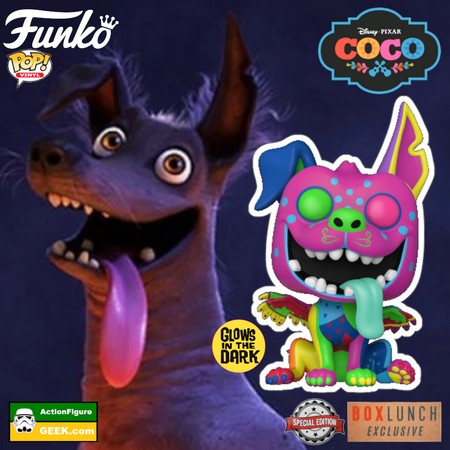 Shop the Coco Alebrije Dante Funko Pop BoxLunch Exclusive and Special Edition at: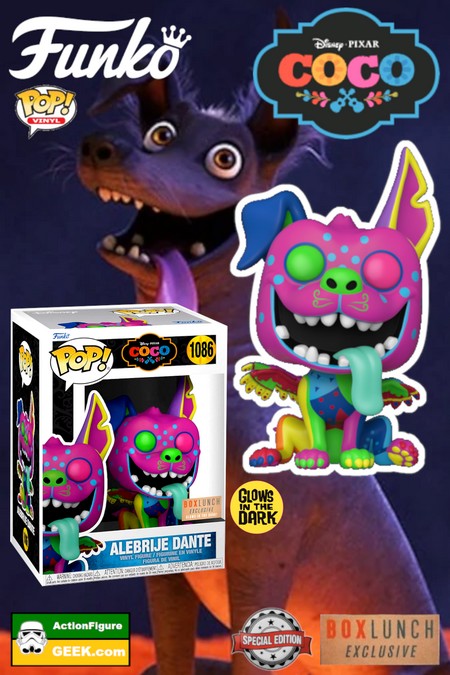 During Coco, Dante is keen to help Miguel find who he is looking for. But because he is a dog he struggles to always get his message across. Often his actions come across as those of an excited dog.
Dante is able to sense the presence of spirits and he is the only living creature to have lived in the Land of the Dead. He is caring towards Miguel's well-being. Sensing all is not well tries to prevent Miguel from finding Ernesto de la Cruz.
Dante is also sensitive when those close to him hurt his feelings. And proves his loyalty when he never gives up looking for Miguel. It is this action that reveals Dante's true nature as an Alebrije spirit guide.
The COCO Dante Alebrije is fashioned from Mexican street dogs called Xoloitzcuintli (Xolo for short).
The Xolo are dogs that are loyal and protective and can sense evil spirits. They are also said to have healing powers and often serve as spirit guides for the dead to get to l the land of the living and to the land of the dead.
Have you seen Coco? If you are looking for a good family film then it does come highly recommended.
Will you be looking to add this Coco Alebrije Dante Funko Pop GITD BoxLunch Exclusive or Special Edition to your collection?
Which other movie Pops do you like?
I really like the ET 40th Anniversary Funko Pops and the James Bond No Time To Die Funko Pops are awesome as well.
Away from the movie Pops I really like the  WWE Pops and particularly the Alexa Bliss Funko Pops.
But what about you?
Let me know in the comments section below.
Regards
AFG
Get a 10% discount on all in-stock items at Entertainment Earth with Free postage and packaging on all orders over $39.99