Last Updated on October 30, 2022 by Dexter Roona
Today we bring you details on all the Alexa Bliss Funko Pop figures that are available to buy. We have all the news and images on these great WWE Pops and the best online retailers to add them to your roster with. And take advantage of our Action Figure Geek Entertainment Earth Discount. Details are at the bottom of the page.
Alexa Bliss real name Alexis Cabrera is a high-flying, suplex-smacking, clothesline-crunching WWE (World  Wrestling Entertainment) wrestler.
Alexa was born on August 9, 1991, and is currently signed to WWE. She got her big break in 2013 when she signed a contract with World Wrestling Entertainment joining the roster of their developmental brand NXT. Three years later in 2016, she made her debut on Smackdown where she fast became a two-time SmackDown Women's Champion. She is the first woman to hold the prestigious title twice.
NB: This Alexa Bliss Funko Pop Figures article contains affiliate links. If you click a link and make a purchase then AFG may make a very small commission.
Alexa Bliss Funko Pop Figures
Here are the Pops released so far.
49 Alexa Bliss
104 Alexa Bliss Walmart Exclusive and Special Edition Funko Pops
107 Alexa Bliss and Alexa Bliss Chase Variant Funko Pops
Buy Alexa Bliss Merchandise at
49 Alexa Bliss Funko Pop
In 2017 Alexa Bliss transferred to the Raw brand taking it by storm to become a three-time Raw Women's Champion. Making her the first woman to win both the coveted Raw and SmackDown Women's WWE titles.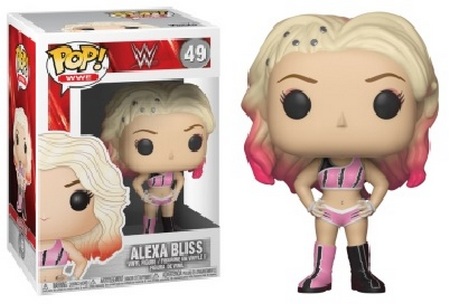 104 Alexa Bliss Walmart Exclusive Funko Pop and Special Edition
Along with Nikki Cross, Alexa also claimed the Women's Tag Team Championship with the pair winning the titles twice. This feat made Alexa Bliss only the second Women's Triple Crown Champion.
This version of Alexa has her holding her creepy doll Lilly.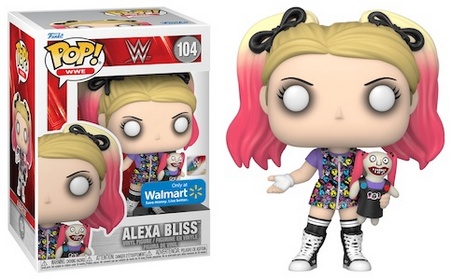 Shop for Alexa Bliss Funko Pop Figures at
107 Alexa Bliss and Alexa Bliss Chase Variant
Jumping forward to 2018, she won the only second women's Money in the Bank ladder match and also the inaugural first women's Elimination Chamber match. She also went on to win the WWE 24/7 Championship making her the first woman to have won every championship in WWE history.
107 Alexa Bliss and Alexa Bliss Black Chase Variant are both great Pop figures and worthy of a spot in your collection but the rarity of the chase variant Alexa Bliss makes that version the better buy if you can find one.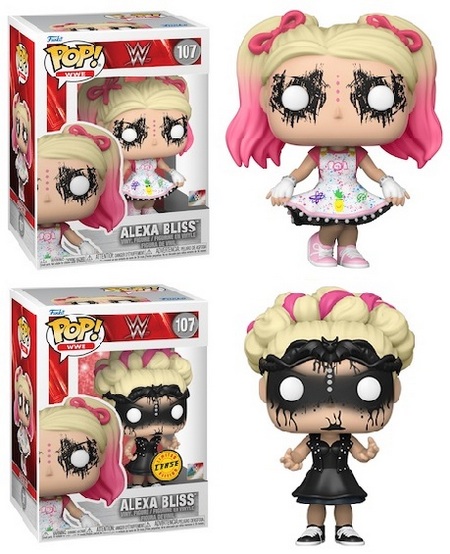 Shop for Alexa Bliss Funko Pop Figures at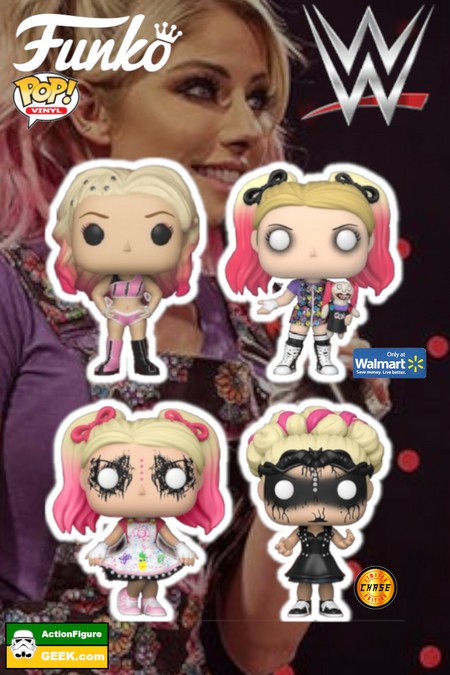 Are you a WWE fan?
Do you own or will you be adding any of these Alexa Bliss Funko Pop figures to your WWE Funko Pop Collection?
Which other Sports Funko Pops do you own?
I really like the Formula One Funko Pops and the Golf Funko Pops are great as well.
And sticking with the fighting theme the Conor McGregor Funko Pops are ones to get as well.
Outside of Funko Sports I really like the new Netflix Wednesday Funko Pops and the POTG Rey Funko Pop.
But I want to hear from you. Which Funko Pops are you buying?
Let me know in the AFG comments below.
Regards
AFG
Get a 10% discount on all in-stock items and free postage on all orders over $39.99 with our Entertainment Earth Discount.