Last Updated on October 14, 2022 by Dexter Roona
McFarlane Toys has expanded their Megafig 7-inch action figure range with this cool DC Collector Megafig Mongul Superman Villains Action Figure. Here is everything you need to know about this cool action figure. Make sure you read till the end because I have a cool 10% discount to share with you for Entertainment Earth at the bottom of the page.
Conquer the Mongul is the brutal ruler of the planet-sized weapon of mass destruction called Warworld. Warworld is a mobile weaponized satellite built for death and destruction by the Warzoons. Warworld is around the site of a dwarf star and equipped with weapons that can easily obliterate planets it is the DC version of the Galactic Empires Death Star.
Conquer the Mongul uses the mobile planetoid to conquer planets far and wide across the vast cosmos. The villainous tyrant enslaves the homeless inhabitants of the destroyed planets forcing the very strongest among them to serve in his horde army with the alternative being to suffer a very uncertain fate in the gladiator-style games that he hosts for his own amusement.
NB: This DC Collector Megafig Mongul Superman Villains Action Figure article contains affiliate links. If you click a link and make a purchase then AFG may make a very small commission at no cost to you.
Shop DC Megafigs at
DC Collector Megafig Mongul Superman Villains Action Figure
This DC Collector Megafig Mongul Superman: Villains Action Figure is a great figure to add to your action figure collection. Mongul features ultra articulation with up to 22 moving parts and stands an impressive 7-inches tall in the DC Multiverse line (sold separately). The figure comes with a collectible card featuring Mongul artwork on the front, and a short character bio introduction on the back.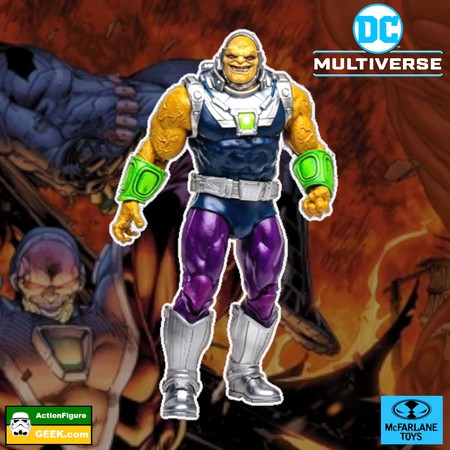 Shop for the DC Collector Megafig Mongul Superman Villains Action Figure at

Entertainment Earth
The price point of these cool DC Megafigs put them into the collector bracket rather than the Toy market. If you are looking for more of an action figure designed to be played with then you should take a look at the DC Page Punchers series of action figures.
Conquer the Mongul is a formidable villain very much in the style of Thanos.
Mongul is a big guy, with a strong rock-like body. Even when injured his rapid regeneration fixes him back up making him almost invincible. Mogul also possesses super strength, lightning-fast speed, and agility. He is quite the opponent.
Have you purchased any of these McFarlane Toys DC Megafig action figures?
I really like the DC Gaming Arkham Knights Action Figures and the McFarlane Black Adam Movie Megafigs.
Away from the DC theme I also really like the new Andor Black Series Action Figures and the Super 7 The Simpsons Ultimates.
But that is enough from me.
Which action figures do you collect?
You can let me know in the comments section below. And as promised here is your 10% discount and free postage on all in-stock items at Entertainment Earth.
Regards
AFG