Last Updated on August 10, 2022 by Dexter Roona
We have more Black Adam merch to report on and today it's the DC Black Adam Movie Megafig Action Figures – Atom Smasher – Sabbac. Let's take a look at these impressive action figures and offer you the best places to buy them online
The Black Adam movie is set 5,000 years after Black Adam was bestowed with the powers of the Egyptian gods, and imprisoned just as quickly. Now Black Adam is free from his earthly tomb and ready to unleash his own unique form of justice on the modern world.
The movie stars The Rock as Black Adam, Noah Centineo as the Atom Smasher, and Marwan Kenzari as Sabbac.
NB: This Black Adam Movie Megafig article does contain product affiliate links.
If you click a link and make a purchase then AFG may make a very small commission at no cost to you.
DC Black Adam Movie Atom Smasher Megafig Action Figure
This DC Black Adam Movie Atom Smasher Megafig is a highly detailed action figure. Atom Smasher comes with a display base and collectible art card and character bio. With premium articulation, the large Atom Smasher is sure to look great in your figure collection.
Al Rothstein is one of the newest recruits of The Justice Society. He can transform his molecular structure to grow to towering heights. He can also alter his density to become Atom Smasher. Atom Smasher lacks experience but makes up for this with brute force and can-do optimism.2
Free shipping on all orders over $39.99 (US Only)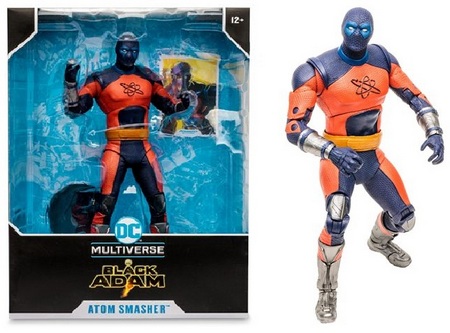 DC Black Adam Movie Sabbac Megafig 10-Inch Action Figure
Free shipping on all orders over $39.99 (US Only)
The DC Black Adam Movie Sabbac 10-Inch Megafig is a giant Action Figure. He is highly detailed and features premium articulation. Sabbac comes with a collectible art card with the character's bio on the back. The figure also comes with a display base.
Sabbac is the only being whose powers are equal to those of Black Adam. He is determined to take over Kahndaq and has ambitions to take over the whole world.
Are you a DC Black Adam fan?
Which other DC characters are you a fan of?
We are a fan of Bane and will be buying the Bane DC Multiverse Megafig Action Figure McFarlane Toys.
The Star Wars Black Series figures are also worth checking out along with the Neca Alien Action Figures.
Let us know what you think in the comments section below.
We would love to hear from you.
Regards
AFG