Last Updated on August 3, 2022 by Dexter Roona
Another new Funko Pop Moon Knight figure has been released. Here is all you need to know about the new Moon Knight with Weapon Funko Pop, Funko Shop Exclusive.
Marc Specter is your average everyday guy working in the gift shop of a museum. That's the base of the story if you are watching the Disney series but the story line is different if you are going by the comics. But  the constant is that everything changes when Khonshu the Egyptian moon god calls upon him for help and unknowingly obliges as the Moon Knight.
The 1074 Moon Knight – Moon Knight With Weapon Funko Pop Figure is a highly collectible Funko Shop Exclusive that is sure to have Funko fans reaching for their money.
NB: This Moon Knight with weapon Funko Shop Exclusive figure article does contain product affiliate links. If you click a link and make a purchase then AFG may make a very small commission at no cost to you.
Moon Knight is a vigilante with multiple personalities. There is an army of people inside his head all looking to be in control
But despite his chaotic nature Moon Knight is still a superhero.
1074 Funko Pop Moon Knight With Weapon Funko Shop Exclusive
The exclusive 1074 Moon Knight With Weapon Funko Pop joins a decent list of cool Moon Knight Funko Pops that have been increased recently by the release of the Disney + Moon Knight series and the Pops that accompany the series.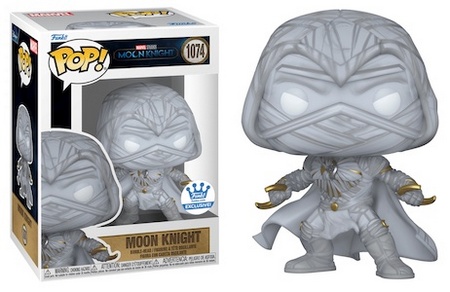 Moon Knight first appeared in Marvel Comics in 1975 in the comic "Werewolf by Night" (#32). He was created by writer Don Perlin and artist Doug Moench who are also known for creating Batman's adversary, Black Mask. He is a vigilante who fights crime using the powers granted to him by the Egyptian god Khonshu.
The "Werewolf by Night" (#32) sold for $0.25 when it first came out. A high-grade 9 copy is now valued at around $20k depending on who you talk to.
Moon Knights' multiple personalities lead him to erratic behavior. He often has a strong tendency to use excessive force as a vigilante.
His relationship with the Egyptian god Khonshu gives him a very unique perspective on how justice looks.
The comic version and the Disney+ version are very different.
4 things the Moon Knight Disney+ Show changes from the comics
1/ British Accent Please
The made-for-TV version gives us a Steven Grant with a British accent. This was a request by Oscar Issac who wanted to steer away from the more widely used New York accent that we normally see.
2/ Marc Spector also has a wife
Marc's estranged wife, Layla El-Faouly (Scarlet Scarab) never appeared in the Moon Knight comics. In the comics, Moon Knight's love interest is Marlene Alraune who is much more waiting to be saved than Layla.
3/ Set in the Post Endgame world
Disney writers gave Moon Knight a modern-day storyline that was post-Thanos but make no reference to the Marvel villain.
At the end of the first Moon Knight episode, there is a cameo scene with The Hulk (Mark Ruffalo) and Captain Marvel (Brie Larson) making it clear that the story is set post-Endgame.
4/ Moon Knight is much calmer
The superhero-villain dynamic in Moon Knight is where the antagonist has some kind of mental illness and is a social outcast. The protagonist does not and is loved by all. The Moon Knight Disney show reverses this dynamic.
Have you watched the Moon Knight series?
Do you prefer the comic version of Moon Knight?
Let us know in the comments section below. We would love to hear from you.
Regards
AFG