Last Updated on August 3, 2022 by Dexter Roona
We love Marvel Collectors Corps Boxes and today we have news about a brand new Funko Pop Collectors Corps "I Am Groot" Marvel Collector Corps Box.
It has been a great year for Disney+ Marvel projects. We have seen Ms. Marvel and Moon Knight hit the small screen and the new She-Hulk series is here. The good news is there are plenty more new Marvel shows coming out in 2022. One of these is "I Am Groot", which features everyone's favorite Flora colossus.
I am Groot is a series of 5 short animated shorts. Very little is else known about the upcoming series of shorts, other than it features the plant-like organism Groot the hero with very few words.
We know that Rocket Raccoon is in the show as he is listed on the IMDB I am Groot page.
With new Disney Movie and Streaming projects come new Funko Pops and one new release to be announced is the Marvel Collector Corps "I am Groot"
NB: This article contains product affiliate links. If you click a link and make a purchase then AFG may make a very small commission at no cost to you.
The new NEW Funko Marvel Collector Corps: "I am Groot" Box is available via Amazon on the following links:
The Marvel Collector Corps is a subscription box service that delivers cool merch to your door every other month that celebrates all your favorite Marvel moments and crossovers and this new "I Am Groot" Funko Mystery Box celebrates Groot as he appears on the Disney+ show.
Collectors Corps Mystery Boxes typically contain 4 to 5 exclusive collectibles.
The I am Groot Box includes an exclusive Groot Funko Pop, a pin, a very cool T-shirt, and more.
We also love this! I am GROOT!
Off the back of this new Disney+ Series LEGO has given us a really cool LEGO Dancing Groot. We basically grew up with LEGO. We have the scars on our feet to prove it and this new LEGO Groot – Marvel Super Heroes I am Groot LEGO 76217. If yu collect Marvel Pops then surely there has to be a place on your shelf or within your display cabinet for this new LEGO Groot.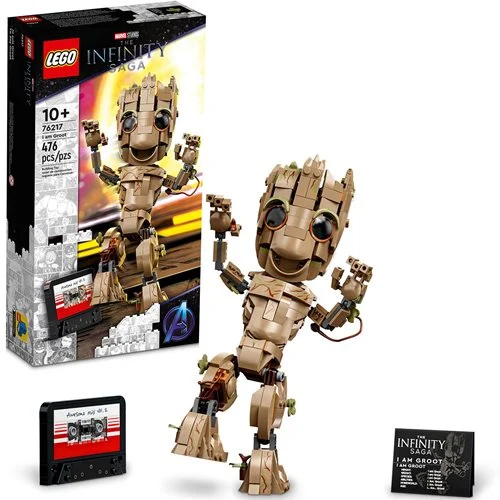 Also available from:
Are you a Marvel Collector Corps subscriber?
Which new Disney+ series are you excited about seeing?
Which Marvel Funko's have you recently added to your collection? We love the NEW Funko Pop Thor Love and Thunder Exclusive Figures and will be looking to add them to our collection.
Let us know in the comments section below. We would love to hear from you.
Regards
AFG