The hit Disney+ Show Ms. Marvel is proving to be a huge success and we think that the Pops in this Funko Pop Ms. Marvel Checklist and Buyers Guide are going to be a success with Funko fans as well. This list will cover all the common Pops released for the series along with any store exclusives, chase variants, and special editions.
Disney+ is building quite the catalog of great shows that you can stream. With the likes of  Obi-Wan series, Loki, and Moon Knight it is no wonder that the Disney+ subscriber base is looking very healthy.
Kamala Khan's (Iman Vellania) MCU debut is a big hit with fans and critics and with a new hit Marvel series, comes a new series of Marvel Funko Pops to celebrate the series and she becomes Marvel's first Muslim superheroine.
This wave of new Marvel Superheros begins with Pops of Kamala Khan holding a very cool Peace sign pose. She appears again in a much more detailed superhero action suit that makes her look a lot more like Captain Marvel and there is also an appearance by Bruno in his Bruce Banner lab coat doing scientific things.
Ms. Marvel's Back Story
Kamala Khan is the youngest daughter of a strict Pakistani family that moved to the United States, however she was born on American soil and leads a modern western life but still manages to remain close to her Pakistan culture.
Kamala loves to write about superheroes and make fan videos and is a huge fan of both Iron Man and Steve Roger's Captain America. She is also a huge fan of Carol Danvers – Captain Marvel.
She struggles with life's dramas. On one hand, she wants to be a teenage girl, have fun and hang out with friends, but her culture and parents can often make it difficult.
Kamala decides to have some fun and disobeys her parents' orders and sneaks out to Avengercon taking a mysterious bangle/bracelet that her mother received in the mail from her grandmother. The bangle fits in nicely with her homemade themed Captain Marvel costume.
At Avengercon Kamala participates in the Captain Marvel Cosplay contest, as she moves to the stage she puts on the mysterious bracelet. Instantly she is given super powers that she cannot control.
Funko Pop Ms. Marvel Checklist
Here are the Pops released for the Ms. Marvel show.
1077 Ms. Marvel and Diamond Collection Hot Topic Exclusive
1078 Ms. Marvel Kamala Khan Pop
1079 Bruno 
1080 Red Dagger 
1081 Najma 
Here is what we think is coming if the rumors are true but as of yet, they are unconfirmed.
Aisha 
Captain 
Kamala Khan (Halloween) Funko Pop
Other Ms.Marvel Funko Pops Checklist
190 Kamala Khan – Marvel Comic Pop
631 Marvel's Avengers (2020) – Kamala Khan -Ms. Marvel Gameverse
NB: This Ms. Marvel Checklist article does contain product affiliate links. If you click a link and make a purchase then AFG may make a very small commission at no cost to you
Funko Pop Ms. Marvel Checklist Buyers Guide and Gallery
Here are the Pops released so far with the best places to buy them online.
1077 Ms. Marvel Funko Pop 
Ms. Marvel, Kamala Khan is an avid gamer and Super Hero fan. She loves to write and is a keen fan-fiction writer. She has a wild imagination and is a huge Captain Marvel fan. But unfortunately, Kamala struggles to fit in at high school and sometimes even has problems fitting in at home.
This first Ms. Marvel Funko Pop is a very cool introduction to Kamala Khan and features the hero in her red, gold, and blue superhero costume. The look is completed with her blue mask with gold edging and her red and white sneakers/trainers.
The 1077 Ms. Marvel Funko Pop is also available as a very sparkly Diamond Collection Target Exclusive.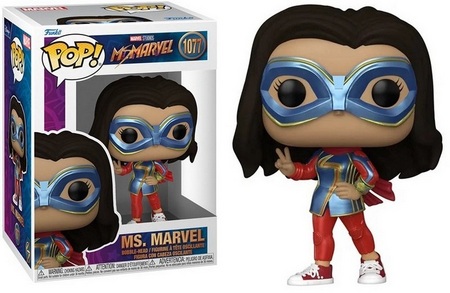 The Diamond Collection Hot Topic Exclusive is probably the more collectible Pop for collectors but is harder to find in the UK. We do anticipate that there is be a Ms. Marvel Diamond Collection Special Edition very soon for the overseas collectors.
Also available to buy from:
1078 Ms. Marvel Kamala Khan Pop
This version of Ms. Marvel Kamala Khan Pop gives us a version of Kamala in her homemade costume making her look much more like Captain Marvel. She is also wearing the mysterious bracelet/bangle.
As with all Pops, she stands approximately 3 3/4-inches tall.  And comes packaged in the familiar window display box that we have all come to love.
Also available to buy from:
1080 Red Dagger – Ms. Marvel Funko Pop
The Red Dagger is a hometown hero in Karachi, Pakistan. Red Dagger travels to the USA and teams up with Kamala Khan, AKA Ms. Marvel.
He is a self-taught superhero and an expert marksman from watching online videos. He harbors several daggers on his utility belt.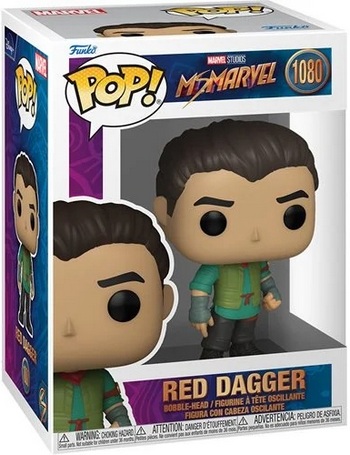 1081 Najma Funko Pop
Najma helps Kamala evade the Department of Damage Control and initially appears a noble and honorable Djinn who simply wants to return herself, her son back home.
Najma requests that Kamala gives her, her bangle as its powers are the only way for Najma and her exiled clan to return home. But Najma quickly reveals her true colors when Kamala expresses reservations for what Najma is asking. She sends the Clan Destine to kill Kamala and claim the bangle.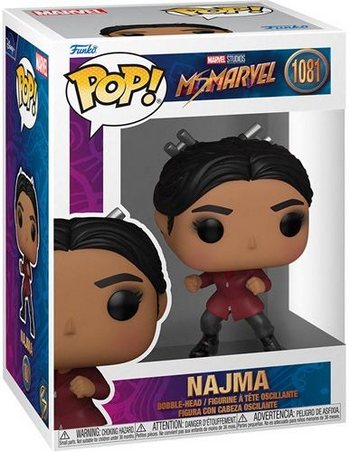 1079 Bruno – Ms. Marvel Series Bruno Funko Pop
Kamala Khan and Bruno Carrelli have been best friends since childhood. She is the Super Hero nerd and he is the science nerd. They go hand in hand.
Bruno is also the only friend of Kamala Khan who knows she is secretly Ms. Marvel and helps her cover up her heroic activities from her parents.
This version of Bruno has him wearing what he refers to at Avengercon, his Bruce Banner lab coat.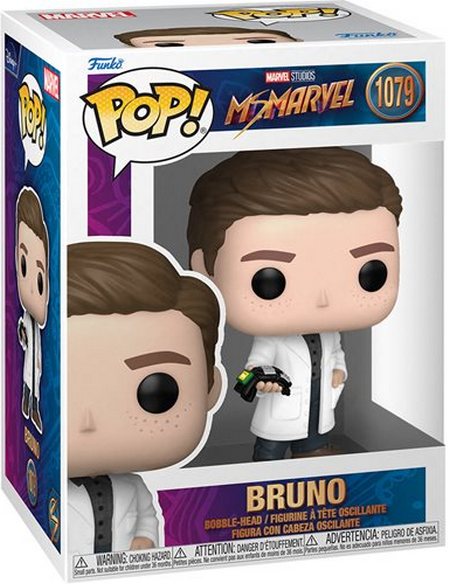 Also available to buy from:
Other Ms. Marvel Funko Pops Buyers Guide and Gallery
Here are all the other Ms. Marvel Pops aside from the Pops for the Disney+ show.
190 Kamala Khan – Marvel Comic Pop
This version of Kamala Khan has a much more comic book look and feel about her, it is a lot more simple in design.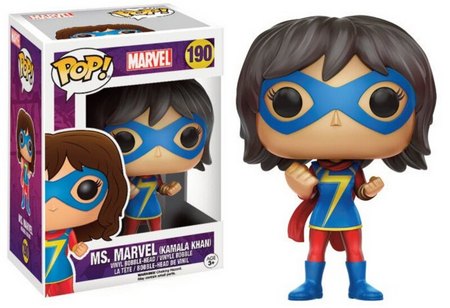 631 Marvel's Avengers (2020) – Kamala Khan -Ms. Marvel Gameverse
A pretty cool Gameverse version of Kamala Khan looking pretty similar to the new Ms. Marvel Disney series Pops.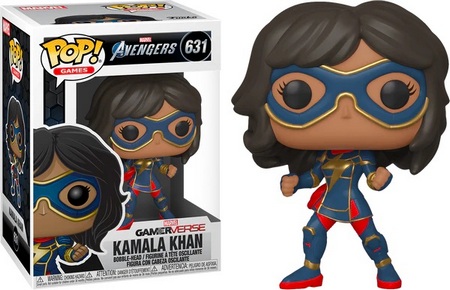 Have you watched Ms. Marvel? Is it as good as reviews say?
Will you be buying any of these cool Ms. Marvel Pops? Maybe you prefer DC Pops like the Black Adam Funkos.
Oh, and a quick mention for the new Ozark Funko Pops… they are very cool, and also the House of the Dragon Pops.
Let us know in the comments section below…we would love to hear from you.
Regards
AFG