Last Updated on July 11, 2022 by Dexter Roona
Funko brings us a very cool NEW Funko Justice League Superman Funko Pop – AAA Anime Exclusive with a GITD Chase Variant for collectors to go crazy for.
NB: This article contains product affiliate links. If you click a link and make a purchase then we may make a very small commission at no cost to you.
The latest AAA Anime exclusive Funko Pop figure has arrived, and it's based on Henry Cavill's Superman from Justice League.
DC Pop fans are sure to go crazy for this new Funko collectible.
The common version is an AAA exclusive, but the Pop you really want as a collector is the AAA Exclusive glow-in-the-dark Chase variant that features The Man of Steel Superman's heat vision power.
This new Superman AAA Exclusive Funko Pop is available at Entertainment Earth priced at $19.99  with free US shipping on all orders $39+ and comes with Entertainment Earths' mint condition guarantee so you know your purchases will always arrive in perfect condition.
Buy the Justice League Superman Funko Pop Figure – AAA Anime Exclusive
The bad news when you buy this Pop is that you don't get to choose which version of Zack Snyders Superman you will receive.
The GITD Chase variants will be sent to customers at random.

The chase variant is a version that is slightly different from the common version and produced in much smaller numbers making them highly collectible.
This new AAA Exclusive Superman looks great in the flying/hovering pose that he has been given with a clenched fist and red Cape billowing.
The chase variant is the same figure but has the addition of GITD red eyes.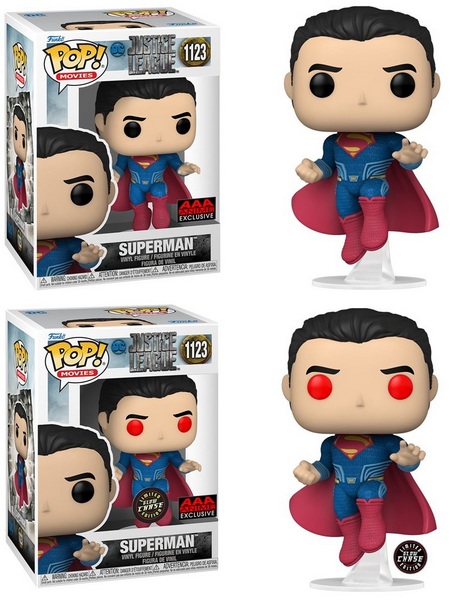 If you like that you will like this!
A good alternative to the new AAA Exclusive would be the Justice League – Black Suit Superman Funko Pop. This version of Superman is again taken from the Zack Snyder cut and features the Man of Steel in his Black Suit.
The Justice League – Black Suit Superman figure is the same figure as the AAA, same pose, same clenched fist it is just the suit and packaging that is different.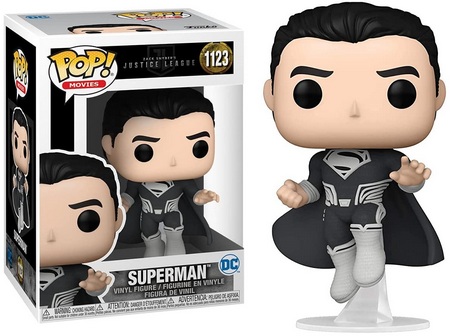 Price Check  – Amazon
Price Check – eBay
Will Henry Cavill return as Superman?
We don't know if we will ever see Henry Cavill in the Superman role again or if Superman will cross paths with Dwayne "The Rock" Johnsons Black Adam. With the arrival of the Black Adam movie, there is huge speculation about them meeting because Superman and Black Adam have crossed paths in the comics.
What we do know is that we will be seeing Henry Cavill return as Geralt in Season 3 of Netflix's The Witcher.
Are you a DC Funko Pop Fan? We really like the Harley Quinn Pops and Peacemaker Pops and let's not forget The Batman Movie Pops.
Let us know in the comments section below… we would love to hear from you.
Regards
AFG