Last Updated on February 3, 2022 by Dexter Roona
Welcome to our Funko Pop Stickers Guide. If you are new to collecting Funko Pops then you are probably wondering what all the different stickers that you find of the Funko boxes mean.
In this article, we explain the basics for the most common stickers that are found on Funko Pops.
Funko Pop Stickers Explained
The Funko Pop Stickers that you see on many Pop vinyls are very important particularly to collectors because they symbolize the importance of a particular Pop or the rarety or the exclusivity of a Pop.
Let's look at the stickers that you see and put some meaning behind them.
Funko Pop Chase Sticker
The Chase sticker is a sticker that tells the buyer that the Pop they are buying is a Chase Variant Pop.
A chase Variant Pop is usually a common Pop with a twist that has a lower production run making it rarer and more collectible than the regular common Pop. Collectors seek out the Chase Pops to buy (they literally Chase around looking for them).
When a Chase Pop is produced it is normally to the ratio of 1 in 6 that is the Chase. Big stores will put the Chase on the shelves with the common Pops at no extra cost but smaller, independent stores will often acknowledge the Chase as rarer than the common and increase the price knowing that collectors will pay a premium for the Chase.
Not all Chase stickers are the same. The regular sticker is orange/yellow but the color can differ depending on whether it is a store Exclusive Chase or type of Pop. For example, a GITD Chase (Pop Type) normally has a different color sticker to that of the common Chase because it is GITD.
Exclusive Stickers
The aim of any Funko Sticker is to highlight something that is interesting or important about a Pop.
Exclusive stickers highlight the exclusivity of Pops and there are many different types of exclusivity stickers.
Event Exclusives
The big comic con events link San Diego Comic-Con, New York Comic-Con, Emerald City Comic-Con, etc. Funko attends these conventions and sells Pops that are exclusive to these events. These Pops are normally limited Editions with 1000 to 5000 pcs being produced so they very quickly can become highly prized with collectors. Some of the early comic con exclusives have become very rare and collectible Pops and can sell for a premium price.
The Headless Ned Stark Game of Thrones Funko Pop was a 2013 San Diego Comic-Con release that was limited to 1008 pieces and will cost you $1000 or more now depending on where you buy him from and the condition he is in.
Shared Exclusives
Shared Exclusives are Pops from events that are then also released to chosen shops and stores for sale. These shared exclusives are exactly the same as the ones in the event they just have a different sticker.
Stores/Shops
There are lots of different store exclusives available. You very often see Hot Topic Exclusives, FYE Exclusives, Target Exclusive, and GameStop Exclusives to name a few.
These Pops although exclusive are only exclusive to these stores in a specific area or country and are often made available to overseas buyers as Special Editions.
Special Edition/Exclusives
You can often buy Silver Stickered Exclusives or as they are more commonly known now Special Editions.
Special Editions are USA store exclusives, Hot Topic FYE exclusives for example that are made available to the overseas market. These Special Edition Pops are given the Special Edition stickers. They are identical to the Store Exclusives apart from the stickers.
Collectors view Store Exclusives as more collectible than the identical Special Editions same is said for Event Exclusives and shared exclusives.
Speciality Series
Next in our Funko Pop Stickers Guide, we have the Specialty Series exclusives. These are Pops that are sent to small niche stores, comic-book stores for example.
PX Exclusives
In the USA PX Exclusives are sent to small shops, usually comic book stores. The Pops are generally related to the comic-book market.
Disney Treasures
Disney Treasures was a subscription box collaboration between Disney and Funko featuring exclusive Disney collectibles, Pops from these boxes carry the Disney Treasures sticker.
Collectors Corps
Corrketors Corps also known as Marvel Collectors Corps is another subscription box featuring exclusive Marvel Funko Pops that carry the Collectors Corps Sticker.
Mystery Boxes
A Funko Pop Mystery Box is a purchase where you are buying blind. You do not know which Funko Funko Pops you will get in your Mystery Box hence the name.
The content of the Mystery Box can be valued higher than what you pay for the box because you have the chance of picking up some really really rare Pops. Some Pops can be worth many times more than the price of the Mystery Box.
Other Funko Pop Stickers
Flocked
Funko Pops that have the Flocked Sticker on the box are Pops that have a furry textured feel to them. Certain animal Pops or alien/monster Pops are sometimes given a Flocked exclusive.
It is not really advised to take Flocked Pops out of their boxes as they are hard to keep clean as dust tends to like the flocked textured surface.
GITD – Glow In The Dark
Some Pops actually glow in the dark. There are lots of Star Wars Pops and Marvel and DC Pops that are GITD.
When the lights go out these Exclusive GITD Pops literally glow in the dark and carry the Glow in the Dark Sticker on the box.
Scented
The meaning behind some stickers is clearly obvious and the Scented Sticker tells the buyer that the Pop smells like something.
The Swamp Thing Scented Pop shown below is an example of a scented Pop and reportedly smells of grass. It is also a flocked version though the flocked sticker has been omitted from the packaging.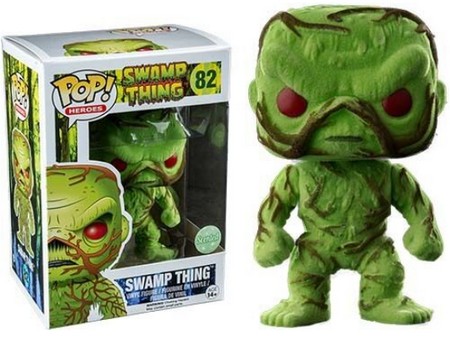 Glitter – Diamond Collection
Some Pops carry the Glitter or Diamond Collection stickers, these tend to be Disney Pops, but there are others, the Pop Ricks Elton John 63 would be a good example. As the Glitter sticker suggests there is glitter involved.
Keep these types of Pops in their boxes and the glitter can come off very easily.
The Funko Collector Market
Funko has developed a superpower that can get Funko fans to literally part with their money multiple times for the same item.
By simply swapping out the stickers for new stickers they create new products in the eye of the collector.
They have created a formula where Pop collectors will literally buy the same product again and again and often pay even more for it the second or third time around.
Clever Funko 😉
So there you have it, your Funko Pop Stickers Guide.
Now it's over to you. Do you collect Funko Pops and what is the most you have paid for a Pop?
Do you own any Exclusives, if so we would love to know which ones?
Let us know in the comments section 
Regards AFG