Last Updated on July 18, 2022 by Dexter Roona
The Marvel Pops keep coming and today we bring you the new Kamala Khan – Ms. Marvel with hard light power Funko Pop Amazon Exclusive. The season 1 finale saw Kamala's family embracing Kamala as Ms. Marvel and even gifting her a new superhero costume. And what about that end credit scene? OMG. That's all we will say about it. But if you did switch off on the end credits, you might want to just go revisit the ending and watch till the very end ;-).
We have all the news and info on this very cool Ms. Marvel with hard light power Funko Pop Amazon Exclusive and the best places to buy her as she's not just available at Amazon.
If you are looking for the other Ms. Marvel Funko Pops then checkout:
NB: This MS. Marvel Pop article does contain product affiliate links. If you make a purchase after clicking a link then AFG may make a very small commission if the purchase is a qualifying purchase.
Ms. Marvel with hard light power Funko Pop Amazon Exclusive
The Disney+ Ms. Marvel series has been a big hit for the streaming giant.
Ms. Marvel features our hero Kamala Khan as the first Marvel heroine from a Muslim background to have her own comic book and Tv Series.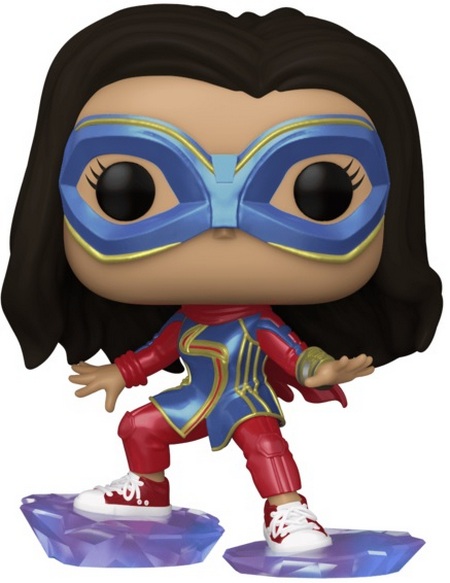 Buy Ms. Marvel Funko Pops from Entertainment Earth
with free shipping on orders over $39.99 (US ONLY)
Kamala is the daughter of immigrants from Pakistan and lives in the USA with her parents and older brother.
She has a strict family, who are always pushing for her to follow their muslin beliefs but sometimes Kamala just wants to be a regular American teenager. She has a nerdy side to her nature that she is rightfully proud of and does not hide for the fact that she is a huge fan of superheroes, with Captain Marvel being her idol.
The origin of Kamala's powers differs greatly between the comics and the TV series. In the comics, she acquires her powers after being exposed to a Terrigen Bomb. In the Disney series, her powers are awakened by an ornate bracelet.
She will find a magical artifact in the series that will allow energy projections, probably of cosmic origin.
Buy Ms. Marvel Funko Pops from:
Did you watch the Ms. Marvel Series?
What do you think of the Pops they have released?
Which other new releases do you like? We love the WandaVison Wanda vs. Agatha Funko Pop Moment 2-pack and the Zeus Funko Pop – Thor Love and Thunder.
Let us know in the comments section below.
We would love to hear from you.
Regards 
AFG