Last Updated on July 18, 2022 by Dexter Roona
If you are a Scarlet Witch, Wandavision fan then we have good news as there is now a WandaVison Wanda vs. Agatha Funko Pop Moment 2-pack. Here is all you need to know about this new Marvel Funko Pop 2-pack and the best places to buy it online.
The climactic final episode of WandaVision gave us a couple of very cool showdowns for Wanda and Vision. We had Vision square off against White Vision and we had what is the most talked-about moment in the series, the epic battle between Wanda Maximoff and Agatha Harkness that has been honored as a Funko Pop Moments 2-pack.
NB: This article contains product affiliate links. If you click a link and make a purchase then AFG may make a very small commission at no cost to you.
WandaVison -Wanda vs. Agatha Funko Pop Moment Target Exclusive 
The last episode of Wandavision gave us the eagerly anticipated battle between Wanda and Agatha. It was clear from the beginning of the series that Agatha was not the friend that Wanda thought she was, but it wasn't until the final episode of the series that we saw Agatha's true colors.
The final battle gave us two powerful women dueling in the sky. For a time it seemed like Agatha would prevail but Wanda was really only just discovering just how powerful she really was and it is Wanda who emerged victorious.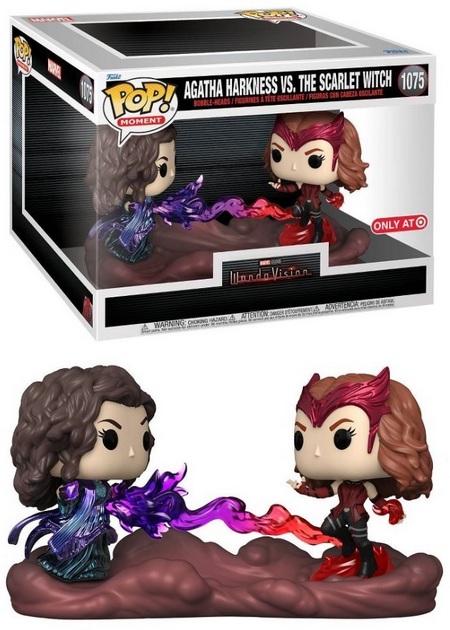 In the final battle, we see Wanda trying to manipulate Agatha mentally, to no avail so the fight becomes physical very quickly.
Wanda's strategy becomes for her to pretend to yield her magical powers to Agatha who absorbs everything she can with her plan being just to distract Agatha. The plan works and Wanda is able to absorb her powers back weakening Agatha. It is at this moment that Wanda embraces the Scarlet Witch as her costume changes.
Our 3 favorite WandaVision Funko Pops
This WandaVison -Wanda vs. Agatha Funko Pop Moment Target Exclusive joins a number of very cool Wandavision Pops that we love with our 3 Wandavision Funko Pops from the series being:
718 70s Vision – Game Stop Exclusive
824 The Vision – Glow In The Dark – Walmart Exclusive
828 Scarlet Witch – Hot Topic Exclusive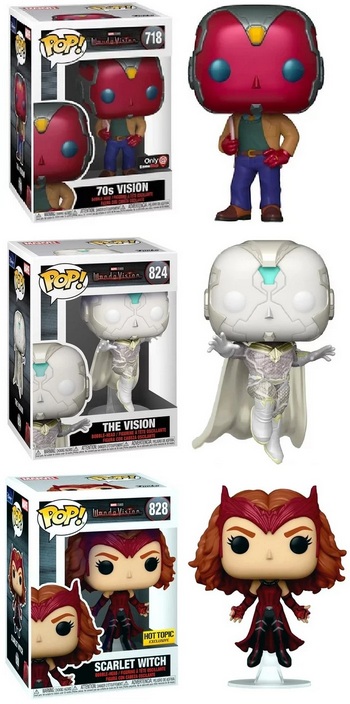 Are you a Wandavision Fan?
Which other Marvel Pops do you like and collect?
We really like the Marvel Comic Cover Miles Morales Funko Pop Target Exclusive – Ultimate Fallout and the Ms. Marvel Funko Pops.
Let us know what you like in the comments section below.
We would love to hear from you.
Regards
AFG