Last Updated on September 2, 2022 by Dexter Roona
Big news Marvel Funko fans, we have a new Marvel Comic Cover Miles Morales Funko Pop Target Exclusive – Ultimate Fallout. Here is everything you need to know about this new Marvel Comic Cover Funko Pop.
Into the Spider-Verse Marvel Movie was a surprise hit in our household. I really had no great expectations when I went to see the movie but the Miles Morales' Spider-Man really has turned out to be one of the best Marvel Comics characters created in recent years. Funko acknowledges this and the success of the character in the comics by adding to their cool Marvel Comic Covers series and giving us the new Marvel Comic Covers Miles Morales Ultimate Fallout Funko Pop Target Exclusive.
NB: This article does contain affiliate links. If you click a link and make a purchase then AFG may make a very small commission at no cost to you.
Marvel Comic Cover Miles Morales Ultimate Fallout Funko Pop Target Exclusive
This is a Comic Cover Pop so as always the figure stands in front of the comic book cover art in this case for Marvel's Ultimate Fallout Volume 1 Issue 4 as seen below.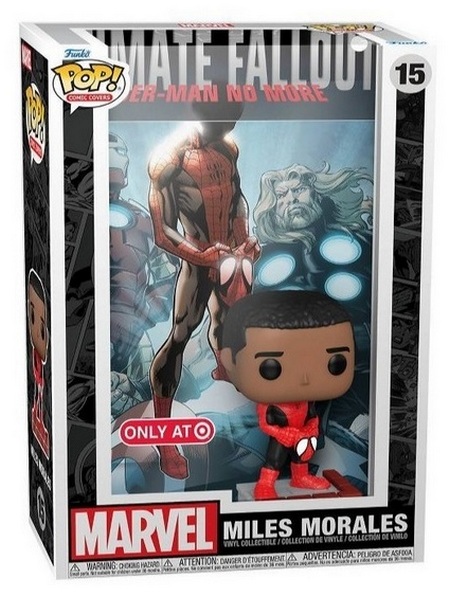 Miles Morales is a teenager who has to fill the boots of Spider-Man after Peter Parker dies.
Miles is a quiet young that is brave and determined. He always tries to do the right thing even if the path is not an easy one to take.
Just like Peter Parker he makes mistakes but is always quick to acknowledge them and learn from them.
This Miles Morales Comic Cover is inspired by Marvel's Ultimate Fallout #4 comic book that was created by Brian Michael Bendis and Sara Pichelli and published in August 2011.
In Ultimate Fallout Peter Parker dies after battling with the Green Goblin and Miles is left to fill the boots of Spider-Man.
Miles gets his powers when he is bitten by a genetically modified spider that his uncle stole from Oscorp. Just like Peter Parker, Miles struggles with carrying the burden of being a hero as he slowly learns to control his new super abilities.
Just like Peter Parker, Miles goes out to fight crime wearing a store-bought Spider-Man costume. He is later presented with a more appropriate outfit by Nick Fury. A black suit with red trim.
Miles' powers are in some instances different from Peter's. Miles has accelerated regeneration. He can also generate a vicious blast that paralyzes his opponents. He of course has super-strength and heightened reflexes and you can't really be Spider-Man without the famous Spidey Sense.
Miles Morales is just your regular fun-loving teen. He likes to joke around but does have a serious side and always puts 110% into everything he does.
Are you a Miles Morales Spider-Verse fan?
Will you be buying this cool Pop?
Which other Pops do you collect? We love the Funko Pop Moon Knight With Weapon Funko Shop Exclusive and the Spider-Woman Mattie Franklin Funko Pop Amazon Exclusive.
Let us know what you like in the comments below.
Regards 
AFG