Last Updated on September 8, 2022 by Dexter Roona
Another great addition to the Marvel Funko Pop series has been announced with this Beyond Amazing Collection: Spider-Woman Mattie Franklin Funko Pop Amazon Exclusive.
Martha "Mattie" Franklin was a regular teenage girl living in New York City. She was the daughter of Jerry Franklin a wealthy businessman. Her uncle was J. Jonah Jameson, editor, and owner of the Daily Bugle.
Funko Pop Marvel – Beyond Amazing Collection: Spider-Woman Mattie Franklin Funko Pop Amazon Exclusive
This Spider-Woman Mattie Franklin Funko Pop is a pretty cool-looking Pop. This Beyond Amazing Collection Amazon Exclusive figure gives us a version in a sleek black outfit and red leather gloves.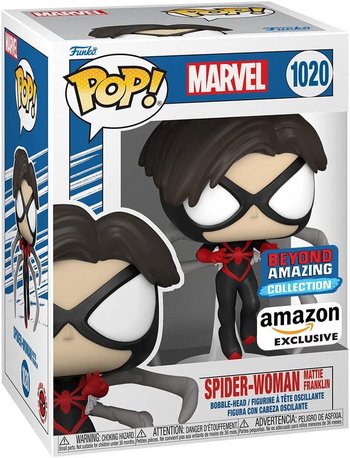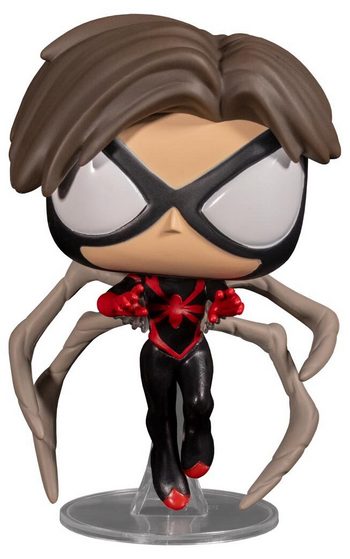 Mattie Franklin was subject to Norman Osborn's experimental ritual when she was just 15. The result was that Mattie was left with extraordinary powers and decides to use them in the same way that her lifelong Hero Spider-Man does so becoming Spider-Woman.
Norman Osborn's ritual experiment was called the Gathering of the Five.
As the name suggests five participants were required.  Three of the experiment participants would receive power, knowledge, or immortality. The remaining two would not be so lucky and risked being cursed with madness or even death.
Osborn's former partner Jeremy Franklin declined the offer to be a participant so Mattie his teenage daughter took his place.
Things went horribly wrong for Osborn who did not get the powers he craved. Instead, he becomes even more insanely dangerous. Mattie on the other hand was lucky and received superhuman powers.
She chose to use her new powers for good and became Spider-Women after her hero Spider-Man had retired, but Spider-Mans retirement was temporary when he had to rescue Mattie in a fight against a dangerous supervillain. Mattie continued on as Spider-Woman and received the blessing of previous Spider-Women, Madame Web, and Julia Carpenter.
Mattie disappeared for a while and eventually went missing. She crossed paths with Jessica Jones when she broke into Jessica Jones's apartment in a drug-induced state. Jessica did some digging and discovered Mattie's boyfriend was sedating her and harvesting her as a source for Mutant Growth Hormone, needed in creating a power-inducing drug.
So are you a Spider-Woman fan?
Will you be buying this cool Pop for your collection?
Have you seen the Spider-Man No Way Home Unmasked Spider-Man AAA Anime exclusive that has been released?
And a special mention for the new NYCC Statue of Liberty Funko Pop with Steve Rogers Shield in place of the torch is pretty special as well.
Let us know in the comments section below. We would love to hear from you.
Regards
AFG