Last Updated on September 8, 2022 by Dexter Roona
A new Spider-Man No Way Home Funko Pop is on the way… we present to you the No Way Home Statue of Liberty NYCC Funko Pop.
The latest Spider-Man movie titled No Way Home made a huge change to New York's most iconic landmark the Statue of Liberty when it was transformed into a memorial for Captain America when the torch was replaced by Captain America's Sheild as a tribute to the Avenger Steve Rogers.
The famous New York landmark made for a great backdrop and battleground when the three Spider-Men joined forces swinging into action against most of the Sinister Six with the Green Goblin, Electro, Sandman, and The Lizard all battling the three Peter Parker,s
NB: This article contains affiliate links. If you click a link and make a purchase then AFG may make a very small commission at no cost to you.
Spider-Man No Way Home Statue of Liberty NYCC Funko Pop Exclusive
The Statue of Liberty has now been immortalized into Funko form as a New York Comic-Con Exclusive.
This new No Way Home Pop is a great addition to your Spider-Man Pop Collection and the fact that it is an NYCC Exclusive only adds to its appeal. Strong buy if you can get it as it should increase in value over time.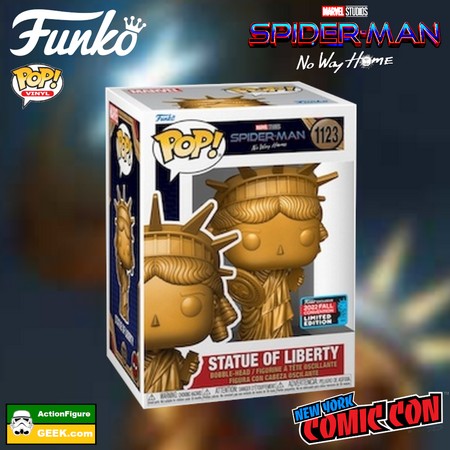 Buy Spider-Man Funko Pops at AMAZON and AMAZON UK
In Spider-Man: No Way Home,  the Statue of Liberty is damaged during the climax of the movie with Cap's shield crashing to the ground. We have to wait and see if the shield is replaced in future movies or if the Avengers-inspired Liberty is even referenced again.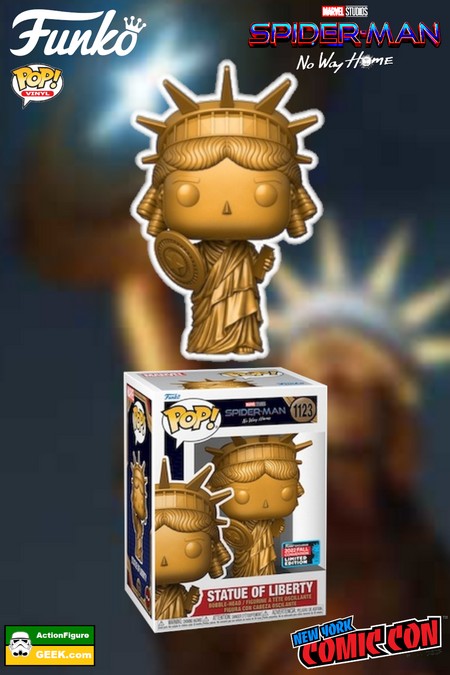 What do you think of this new Spider-Man No Way Home Statue of Liberty New York Comic Con Exclusive?
Which other Pops from the series do you like?
The new Wong – She-Hulk Attorney At Law Pop is very cool along with the Abomination Funko Pop from the She-Hulk Disney+ Series.
And a special mention goes to the Sinister Six Funko Pops
We want to hear from you so have your say in the comments below.
Regards
AFG