Last Updated on October 21, 2022 by Dexter Roona
Funko has given Marvel fans a really cool series of Sinister Six Funko Pop figures though there are seven Pops in the series. Here is all the news and info on these new deluxe Marvel Funko Pops, associated images, and the best online retailers to buy them all from
The new Marvel Sinister Beyond Amazing Collection Funko Pops are all Amazon Exclusives.
The infamous Sinister Six are a group of really, really bad guys. They are the worst of the worst. A group of notorious supervillains who joined forces in The Amazing Spider-Man Annual #1released in January 1964.
Doctor Octopus has always been the leader of the Sinister Six though the lineup has changed occasionally. But the lineup that Funko has immortalised is Doctor Octopus, Vulture, Sandman, Mysterio, Electro, and Kraven the Hunter. The Sinister Six are joined by one final Pop in the series, your friendly neighbourhood Spider-Man. He is not confirmed yet but we know he is coming.
The Beyond Amazing Collection is a wave of deluxe Pops that all come with bases that slot together to make a bigger scene. So if you like one or two of these then these new Pops might not be for you because you have to buy the full set to get the desired effect that Funko is pushing.
Sinister Six Funko Pop Checklist
Here are all the Sinister Six Beyond Amazing Collection Funko Pops:
1013 Doctor Octopus
1014 Vulture
1015 Sandman
1016 Mysterio
1017 Electro
1018 Kraven the Hunter
1019 Spider-Man
NB: This article contains product affiliate links. If you click a link and make a purchase then AFG may make a very small commission.
Sinister Six Funko Pop Buyers Guide and Gallery
Here are all the Pops in the Sinister Six Beyond Amazing Collection.
1013 Doctor Octopus – Sinister Six Funko Pop Amazon Exclusive
Doc Ock first appeared in Marvel Comic – The Amazing Spider-Man #3.
We last saw Doctor Octopus on the big screen when Doctor Steven Strange fractured the multiverse in Spider-Man No Way Home.
The botched spell allowed villains from the multiverse to jump into Peter Parker's world.
1014 Beyond Amazing Sinister – Six Vulture – Amazon Exclusive
Vulture's real name is Adrian Toomes. Toomes is able to fly at high speed using the suit that he built from scrap that he salvaged from his company Bestman Salvage. It was easy for Toomes to turn to a life of crime after a joint venture between Tony Stark, Stark Industries and the Government named Damage Control took over New York City's salvage operations.
1015 Sinister Six Sandman Funko Pop Amazon Exclusive
William Baker, a.k.a. Flint Marko is Sandman is a shapeshifter who has the ability to turn himself into sand. Sandman started out as a for to Spider-Man but over time the character redeemed himself and took on the mantle of becoming an antihero.
1016 Mysterio –

Sinister Six – Amazon Exclusive Funko Pop
Mysterio recently appeared on the big screen in Spider-Man: Far from home.
Mysterio, real name Quentin Beck, tricks the world into thinking that huge elemental monsters are attacking the world by using super advanced virtual reality technology and then pretending to defeat the monsters to gain the trust of Spider-Man.
1017 Funko Pop Deluxe  Sinister Six – Electro – Amazon Exclusive
In the comics, Max Dillon – Electro is struck by lightning while working on the city's power grid still connected. The accident changed his nervous system mutating him into a human capacitor.
1018 Kraven the Hunter Amazon Exclusive
Kraven is the ultimate hunter. His superpower is his tracking ability, he is known for his animalistic viciousness and sheer brutality in how he treats his prey. He possesses super strength and has even upon occasion been known to kill his opponents with just his bare hands.
1019 Sinister Six Spider-Man Funko Pop Figure – Amazon Exclusive
Spider-Man is probably our favorite superhero of all time. I grew up watching the cartoon Spider-Man and his Amazing Friends, a real classic. As you can see Spider-Man is outnumbered in this Beyond Amazing Sinister Six Funko Pop series. But you just know he has got this covered.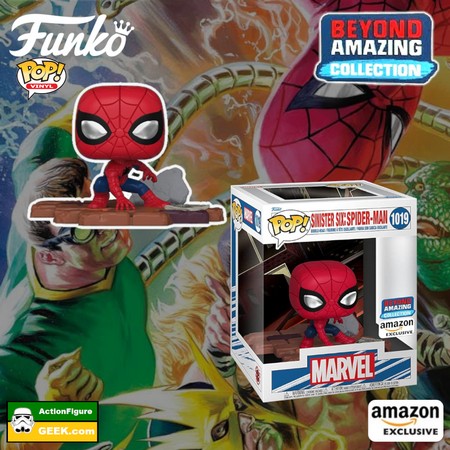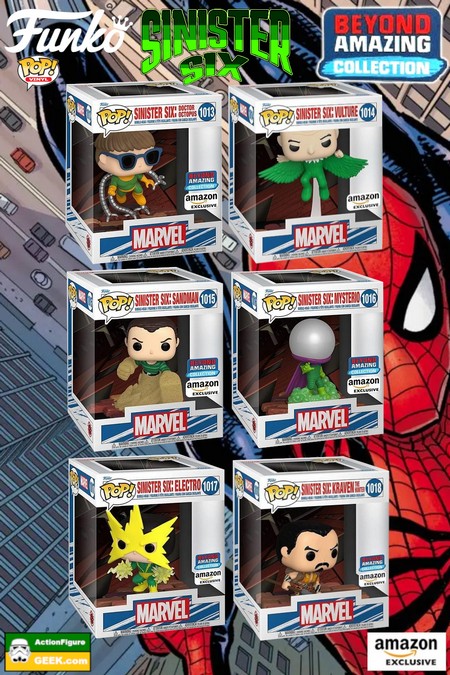 Will you be buying these Deluxe Sinister Six Beyond Amazing Collection  Funko Pops?
Which other Marvel Funko Pops do you like?
We love the new Black Panther 2 Wakanda Forever Funko Pops and the She-Hulk Attorney at Law Funko Pops are pretty cool as well. And let's not forget the Thor: Love and Thunder Funko Pop Figures.
Let us know what you think in the comments.
Until next time.
Regards