Last Updated on November 27, 2022 by Dexter Roona
We have a brand new Funko Pop! Rocks: The Cure 5-Pack Funko Pop! Set to talk about today. Here is everything you need to know about this new Funko Pop Rocks collectible.
The Cure Funko Pop Rocks 5-Pack features all the band members,  Jason Cooper, Reeves Gabrels, Simon Gallup, Roger O'Donnell, and of course frontman Robert Smith.
The iconic sound of the Cure was fashioned in the 80s when they rose to prominence with their dark gothic, atmospheric music and introspective lyrics. Chunky yet often melodic guitar work and the distinctive voice of Robert Smith formed the perfect music recipe. They are as relevant as ever having headlined the Pyramid stage at Glastonbury as recently as 2019.
NB: This Funko Pop! Rocks: The Cure 5-Pack Funko Pop! article does contain product affiliate links. If you click a link and make a purchase then AFG may make a very small commission from qualifying purchases at no cost to you. Also, please note that some items may be pre-order items depending on when you read this.
Funko Pop! Rocks: The Cure 5-Pack Funko Pop!
This new Funko Pop 5-Pack features "The Cure" band members:
Jason Cooper
Reeves Gabrels
Simon Gallup
Roger O'Donnell
Robert Smith
The Cure formed back in the late 1970s. It wasn't until the 80s that the band rose to prominence.
Their hits include "Boys don't cry", "Friday I'm in love", "Love Song", "Lullaby" and "Pictures of You" to name but a few.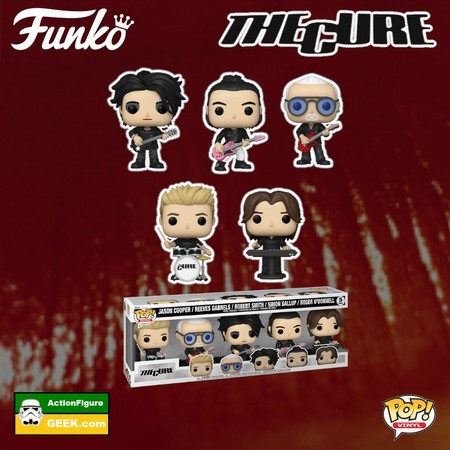 Shop for the Funko Pop! Rocks: The Cure 5-Pack Funko Pop at:
As a Cure fan
As a fan of the Cure I would love to see Pop Rocks Album Pops for the albums "Kiss me Kiss Me" and their eighth studio album "Disintegration".
Disintegration is an album that really has it all. It is the album made that them massive stars with the songs "Pictures of You", "Lovesong", and "Fascination Street". It is an album from a band very much at the peak of its creative powers. And we definitely need a Pop Rocks Robert Smith in full "Lullaby" guise complete with spider webs. In fact, let's make it a Robert Smith Pop Rocks Deluxe and include the bed that he spends most of the video in.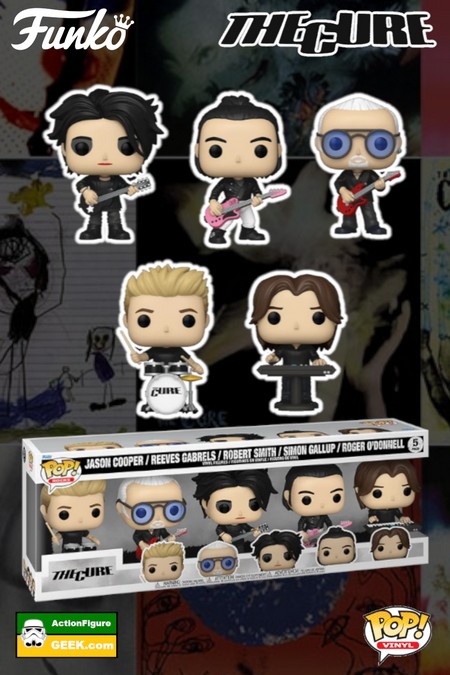 Are you a Cure fan?
Will you be adding this new Funko Pop! Rocks: The Cure 5-Pack to your Funko Collection?
Which other Pop Rocks figures do you like?
I'm a fan of the Guns N Roses Funko's and the Pop Rocks Prince Figures and the new Concert Moments Funko Pops are awesome with the AC/DC Concert Moment and the Metallica  Master of Puppets Concert Moment Pops being my picks for what has been released so far.
But I'm interested in what you like and dislike.
Let me know in our AFG comments below.
Regards
AFG
Looking to buy Pop Rocks Funko Pops?

Get a 10% discount on all in-stock items and free postage on all orders over $39.99  buy using our AFGEEK discount code which can be found here –

ActionFigureGeek Discount